The Great North Season 2 E10 Review: A Gingerbread & Big Foot Xmas
FOX's The Great North investigated stolen costumes and if a "perfect Christmas" is real at all in the latest episode. As per usual, turn back now unless you're ok with spoilers… you have been spoiler-warned!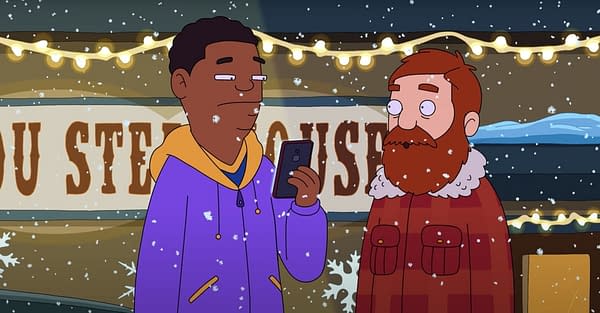 Beef Tobin's attempt at navigating around talking to Honeybee's brother, Jerry, before getting him the perfect gift as he does for the rest of the family. Before talking to him out at a local restaurant, we got to see multiple Lone Moose stores setting up for the holidays, including a personal favorite the feminist bookstore, "Desperately Reading Susan". Panic seems to set in for both sides of the Tobin holiday coin, with Ham going into anxiety-induced stress during his annual gingerbread creation while Jerry's bigfoot costume gets stolen from the van outside the restaurant he and Beef were in. Going undercover, Beef & Jerry go as Winter World employees as they follow the tracking for the phone in the costume.
The Great North has a way with references and witty dialogue that continues to impress me, like references to Water World and the conversations Beef and Jerry have while accidentally high on mushrooms. The exploration of Lone Moose's richest man's mansion in an attempt to get back the bigfoot costume, with the funniest and deeply frightening room full of costumes featured. Dick Chateau is maybe the one unique combination of insane wealth with the lack of chin present in someone like Big Ed from 90 Day Fiancé. Claiming he's a "costume hunter" and describing an activity out of a PG-rated Purge, this Dick is insane in the best ways. It was great to see Jerry being brought on as a regular, his character has a lot to offer from his infectious positivity to smart sense of humor. Patty trying to make everything better, along with crying about being a potato, has me feeling slightly attacked, but in a way that makes me also feel seen. While Ham's gingerbread house was taken over by "helpful" family members, gifts meant a lot more when placed with actions. Beef going into the cold water with Jerry on Christmas morning because that's what Jerry traditionally did with his dad was incredible and spoke to Beef's character so much. This episode was quick but a lot of fun and something I'd place in my annual "Holiday episodes to watch" list.
The Great North Season 2 Episode 10 "Dip the Halls Adventure"
---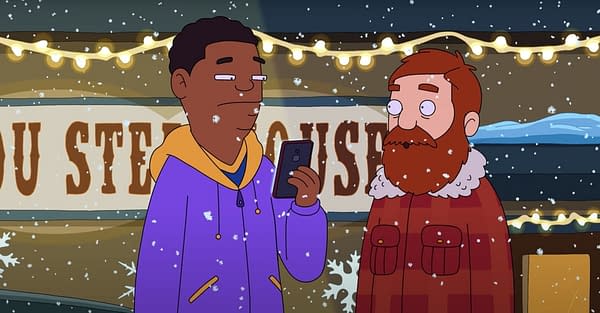 ---
FOX's The Great North gave a lot of holiday joy with this episode, combining hilarious Tobin family adventure with smart writing that will make plenty come back to this episode year after year.
Credits
---