The Umbrella Academy Season 2: Number Five Answers Our Ax Question
With the second season of Netflix's adaptation of Gerard Way and Gabriel Ba's comic book series The Umbrella Academy ready to hit the streaming service on July 31 and in eager anticipation of the official trailer, fans have been treated to a steady stream of GIF profiles of the Hargreeves siblings (Ellen Page, Tom Hopper, David Castañeda, Emmy Raver-Lampman, Robert Sheehan, Aidan Gallagher, and Justin Min) as well as some philosophical-slash-slightly creepy "motivational thoughts" (???) that don't exactly leave us feeling too "bright-n-shiny." Sheehan's Klaus and Raver-Lampman's Allison got into the dancing spirit of things, while Min's Ben did more of a jump-thing and Hopper's Luther performed a form of "dance-boxing." Castañeda's Diego and Page's Vanya looked like they gave up on the dancing for now (we're definitely not going to second-guess Vanya). On the image front, we've seen odd milk, an ax, an old television, a BINGO card, shellfish, a dire warning about family barbecues, and a fondness for hairdryers.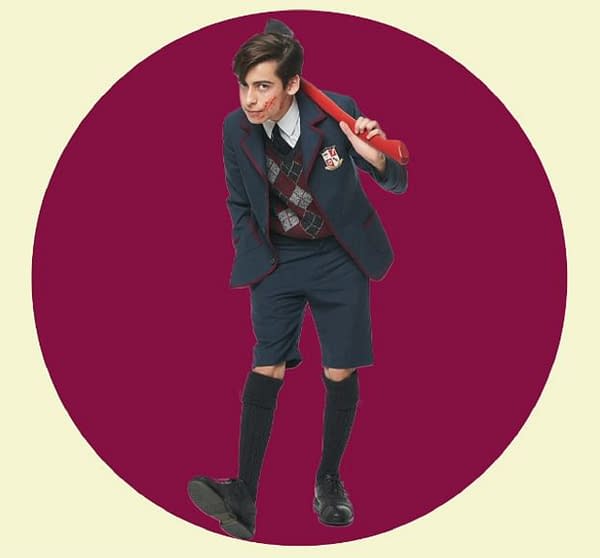 Which brings us to the last Hargreeves: Gallagher's Five, who not only answers some of our questions about the ax but also has us wondering exactly whose "red" that is on his face. Should we assume it's Swedish blood? Speaking of questions, that's exactly what the two images following the Five profile raise in our brains and it all involves wibbly-wobbly, timey-wimey" stuff. Side note? Dark Horse should consider putting out an art book of the images and profiles because they're incredibly well-done and would look sweet as a "coffee table" edition.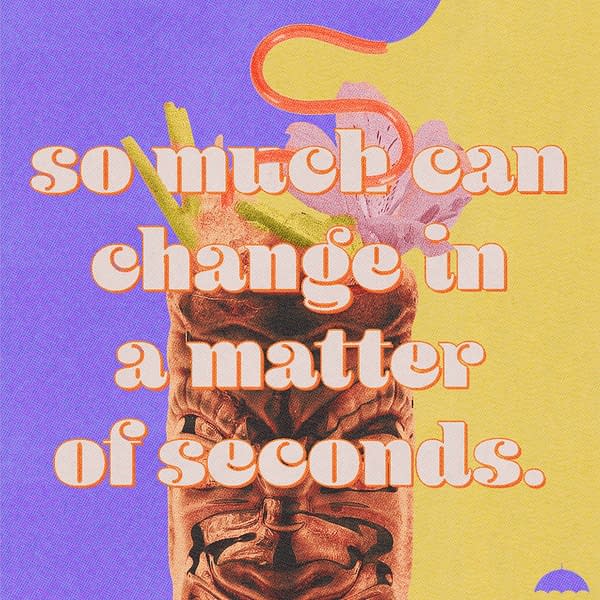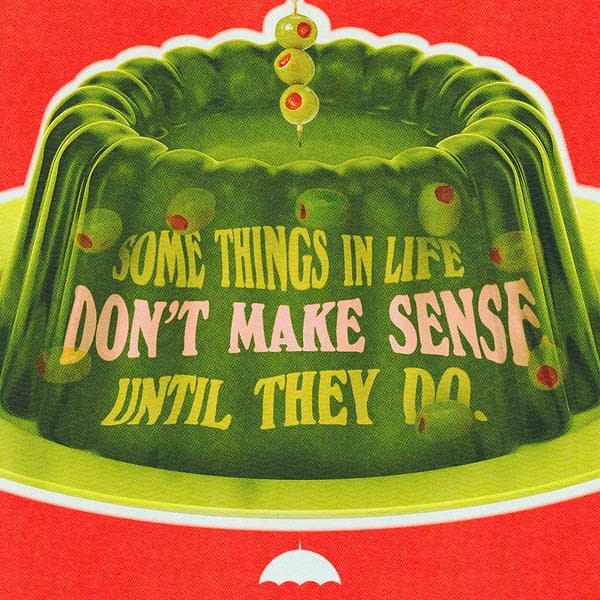 Five warned his family (so, so many times) that using his powers to escape from Vanya's 2019 apocalypse was risky. Well, he was right – the time jump scatters the siblings in time in and around Dallas, Texas. Over a three year period. Starting in 1960. Some, having been stuck in the past for years, have built lives and moved on, certain they're the only ones who survived. Five is the last to land, smack dab in the middle of a nuclear doomsday, which – spoiler alert! – turns out is a result of the group's disruption of the timeline (déjà vu, anyone?).
Now the Umbrella Academy must find a way to reunite, figure out what caused doomsday, put a stop to it, and return to the present timeline to stop that other apocalypse. All while being hunted by a trio of ruthless Swedish assassins (Tom Sinclair, Kris Holden-Ried, Jason Brydenwait). But seriously, no pressure or anything. Joining them on their time-twisted mission are Texas housewife Sissy (Marin Ireland); brilliant yet insane "chameleon" Lila (Ritu Arya); and devoted husband and natural-born leader Raymond (Yusuf Gatewood).