The Walking Dead EP Greg Nicotero Was All For Maggie Killing Negan
For fans of the Walking Dead universe, things are pretty much status quo as we head into Memorial Day weekend. We're still a way's away from Fear the Walking Dead season 6, with spinoff series The Walking Dead: World Beyond and the original series' Greg Nicotero-directed tenth season finale "A Certain Doom" still loosely penciled in for some time later in 2020. For Nicotero, the Walking Dead work is just one of a number of plates he keeps spinning at any one time. Let's not forget that he's also one of the creative forces behind AMC and Shudder's horror anthology series Creepshow, which is about to see its first season hit DVD and Blu-Ray next month and a second season (tentatively) set to debut this fall.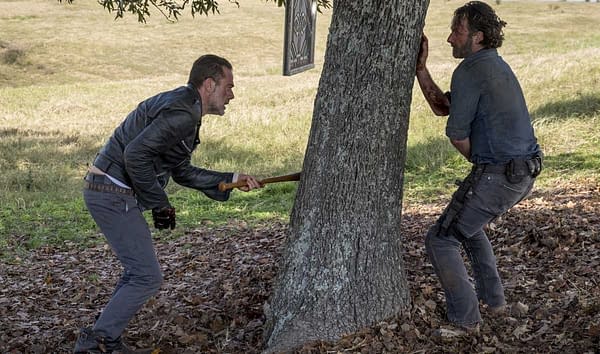 Speaking with Collider's The Witching Hour for an episode set to drop Friday, May 29, Nicotero was asked about his time working on the long-running AMC series and the executive producer had some interesting revelations for us. Our biggest takeaways: he was 108% right to keep with the comics regarding who killed Shane (Jon Bernthal); second only to The A-Team, I've never seen that many bullets fired without anyone getting hit and/or killed in the numbers there should've been; and we're glad he lost the fight to have Maggie (Lauren Cohan) kill Negan (Jeffrey Dean Morgan):
Consulting producer LaToya Morgan recently updated fans on how the show's writers have been working from home on the eleventh season and that a popular online meeting program is making the experience easier on both a personal and professional level: "I think Zoom offers a great opportunity to check in with people visually. Seeing everyone's faces, even if it is in those Brady Bunch boxes, you're like, 'Okay, you're safe. We're all going to get through this together. So it's reassuring in a sense."
The writers' room's group video conference meetings usually include 6-9 people, and last between four and five hours, with breaks in-between. Interestingly enough, the team finds they are on Zoom meetings less time than they would if they were physically meeting. For Morgan, that shortened time creates a deeper focus because everyone is now well-aware of the amount of time they have to work with to get things done. As much as it's not the ideal situation for the writers, she appreciates having the ability for them to continue doing their job. "Of course this is all disruptive in certain ways, but at the end of the day, we're still able to do our jobs. We are tremendously fortunate and lucky that we're able to do that, and any burden or small technological glitches that we have really pale in comparison to the work that's being done by all our essential workers, our doctors, our nurses, our mail carriers. So we're able to endure."