The Walking Dead: Samantha Morton On What She Misses Most From Series
You may have noticed a certain "theme" to our Walking Dead universe updates as of late, and if you're a fan then you pretty much understand the reason why. Even as states slowly start thawing themselves our from months of pandemic restrictions, the future of dozens of television and film productions are still up in the air. That means the sixth season of Fear the Walking Dead is still left in "this summer" status, while spinoff series The Walking Dead: World Beyond is still listed as happening later this year. But the biggest hurt we're feeling is for the original series' Greg Nicotero-directed tenth season finale "A Certain Doom", which brings us the return of Lauren Cohan's Maggie and what appears to be the defining battle in "The Whisperers War".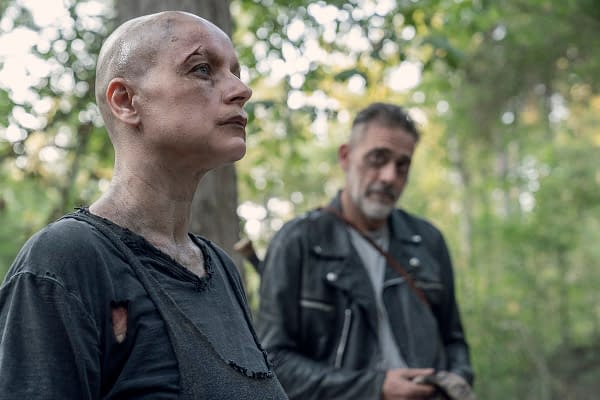 Two big reasons why the season worked so well on so many levels, and why so many are talking about The Walking Dead finding its mojo again? Jeffrey Dean Morgan's ex-Saviors leader Negan and Samantha Morton's Whisperers leader Alpha. Leave it to Morgan, Morton, and series showrunner Angela Kang to keep even readers of the comics guessing where everything was going. While losing Alpha by Negan's hand was something we were expecting (and yet, still played out amazingly), it was Negan's deal with Carol (Melissa McBride) to bring Alpha down that still has me kicking my dropped-jaw around when I think about it. Morgan and Morton had a chance to reunite on a recent episode of his and his wife Hilarie Burton's AMC series Friday Night In With the Morgans (starting at the 4:46 mark), where the two share stories on what it was like working together during the season while sharing stories fans will definitely want to hear. Make sure to stay through to viewers questions, when Morton reveals what it's like to finally be able to grow her hair back:
So what can we expect when the series does return to wrap up its tenth run? Norman Reedus (Daryl) went bold with his season finale comparison: "It's going to be an epic battle. It's like a full-on Game of Thrones super war battle." From the way Reedus describes it, readers could take his words and interchange them with someone giving an interview about working on HBO's global phenomenon: "It was a lot of fun to shoot, but we really pushed the crew and pushed the actors on that one. Everyone really had to dig deep because… talk about exhausting episodes! There were huge battle scenes until the wee hours of the morning consistently, and it looks so grand on an epic scale. Those battle scenes are going to be legendary." That said, it's nothing that Reedus and anyone who's been on the series for more than one season isn't used to: "They really stick it to us on that show, but it always pays off. This show will go down in history. And I feel like every time we get to a finale or even a mid-season finale, we could be in over our heads, but there's a confidence there and everybody really brings it.