"The Walking Dead" Season 10: Samantha Morton, Ryan Hurst & Thora Birch Set High Bar with "We Are the End of the World" [SPOILER REVIEW]
While the cast and crew of AMC's The Walking Dead roll along with their deep-dive production-wise on the tenth season, life in the franchise's universe has become a lot like the NFL: neither have off-seasons anymore. With a strong ensemble cast (and a "Big Bad" fronted by Samantha Morton in an award-earning turn as Whisperers leader Alpha) and richly layered writing, showrunner/executive producer Angela Kang did the near-impossible: made the show feel fresh and dangerous again.
We didn't mince words over how impressed we were with season opener "Lines We Crossed" (check out our review here). With this week's "We Are the End of the World," viewers were given some backstory on how Alpha and Beta (Ryan Hurst) first met, what it was that bonded Beta to Alpha's cause, and how the Whisperers began to gather their unholy horde.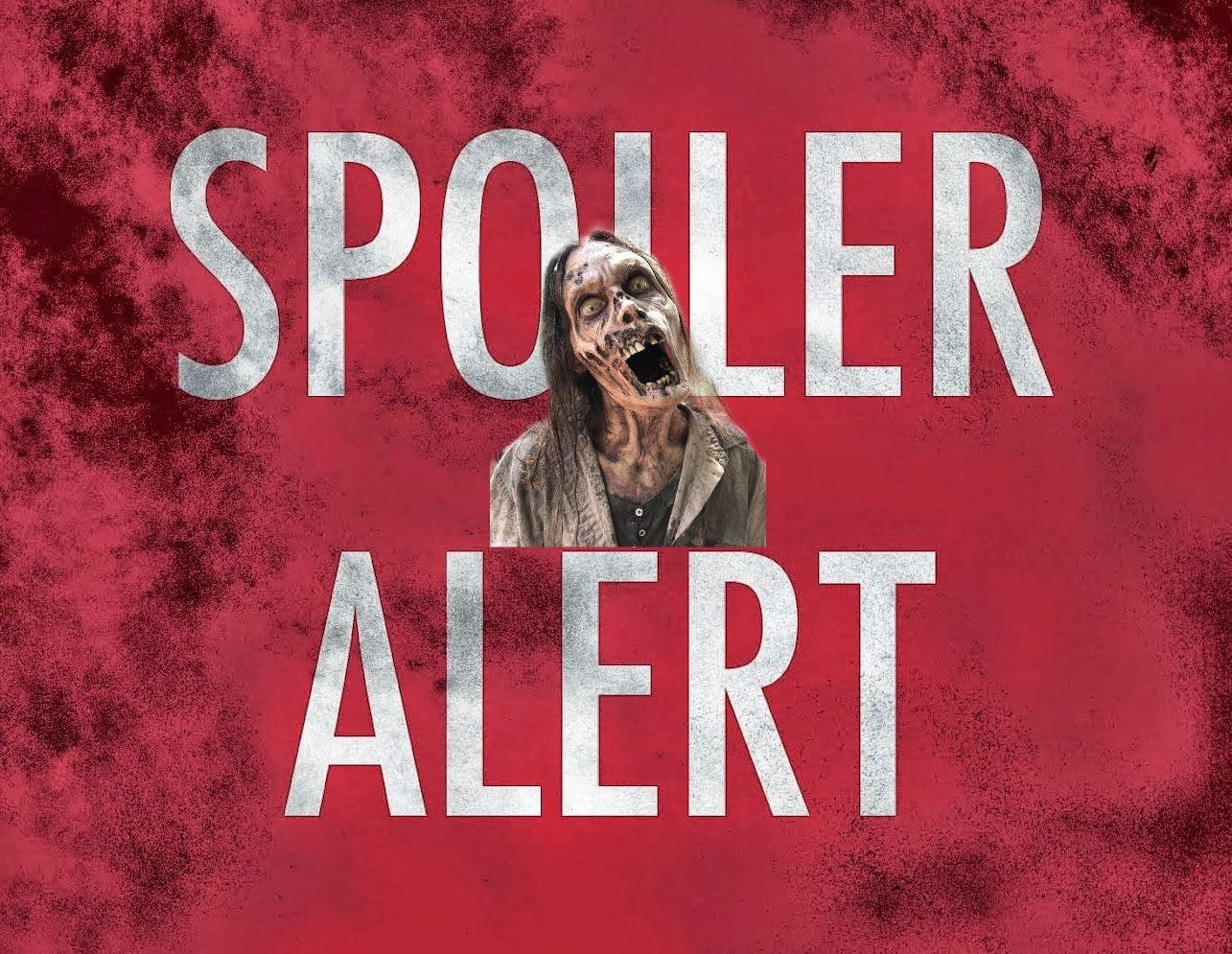 "The Walking Dead" season 10, episode 2 "We Are the End of the World": A flashback reveals the origins of Alpha and Beta; Alpha attempts to toughen up Lydia as they prepare to walk with the dead; the Whisperers create their herds.
Directed by Greg Nicotero and written by Nicole Mirante-Matthews (Marvel's Luke Cage, NCIS), this week's "We Are the End of the World" not only continues the momentum started with last week's opener but it stands as one of the best "single" episodes from the series' run. But as much as Nicotero and Mirante-Matthews deserve much of the credit, all of the words in the world and all of the cameras in Georgia can only get you so far – and that's where the acting skills of Morton, Ryan Hurst, and Thora Birch come into play.
While we never forget that we're in the Walking Dead universe, our main Whisperer trio had us wanting to know more about them and spend more time in their world. For someone who's "ride-or-die" for Rick, Michonne, and our fellow survivors, that's one of the nicest compliments I can give this outing.
But let's take a look at some highlights that better show what we're talking about:
● We saw what you did there, Nicotero… we're talking about that moment when Alpha, Beta, and young Lydia first set their sights on each other in the hospital. Visually, a truly disturbing scene in the most classic of horror movie senses – and props to whoever found a look for Hurst that would make him look scarier than he does when he's wearing walker flesh.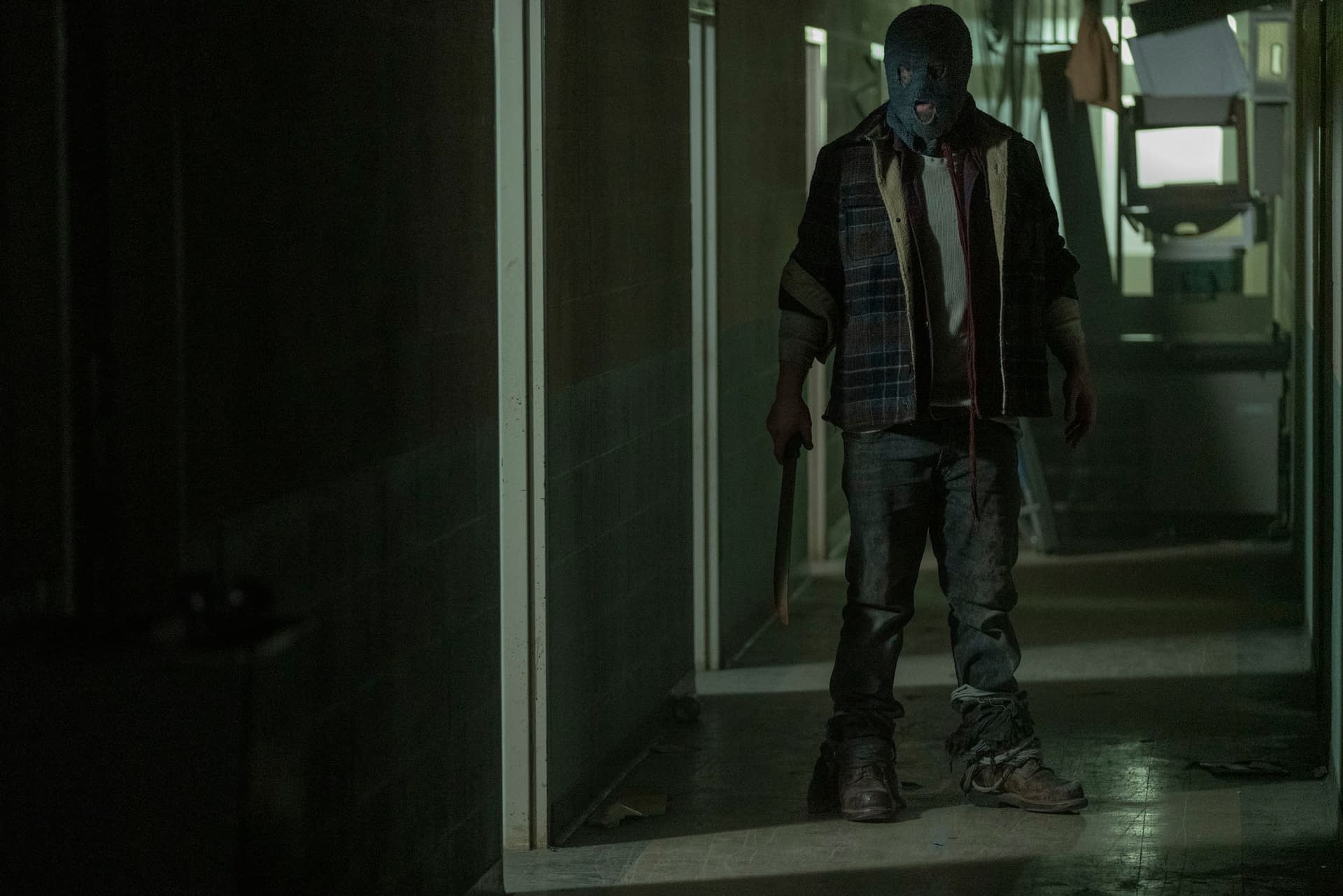 ● Beta's "pieces" of backstory make for some interesting possibilities, from how he found his way there and the matter of the picure to the person in the "smiley" shirt. One thing that caught my eye was the way he sides with Alpha, even when he doesn't agree with her decisions (like tonight) or when she confesses "weaknesses" like her inability to kill her own daughter. My theory? That bond he has with her was fortified by her response to seeing what he looks like under his mask: not only was she not afraid or horrified, she actually chuckled – but in a "no big deal" way that we're guessing is a "breath of fresh air" reaction-wise for Beta.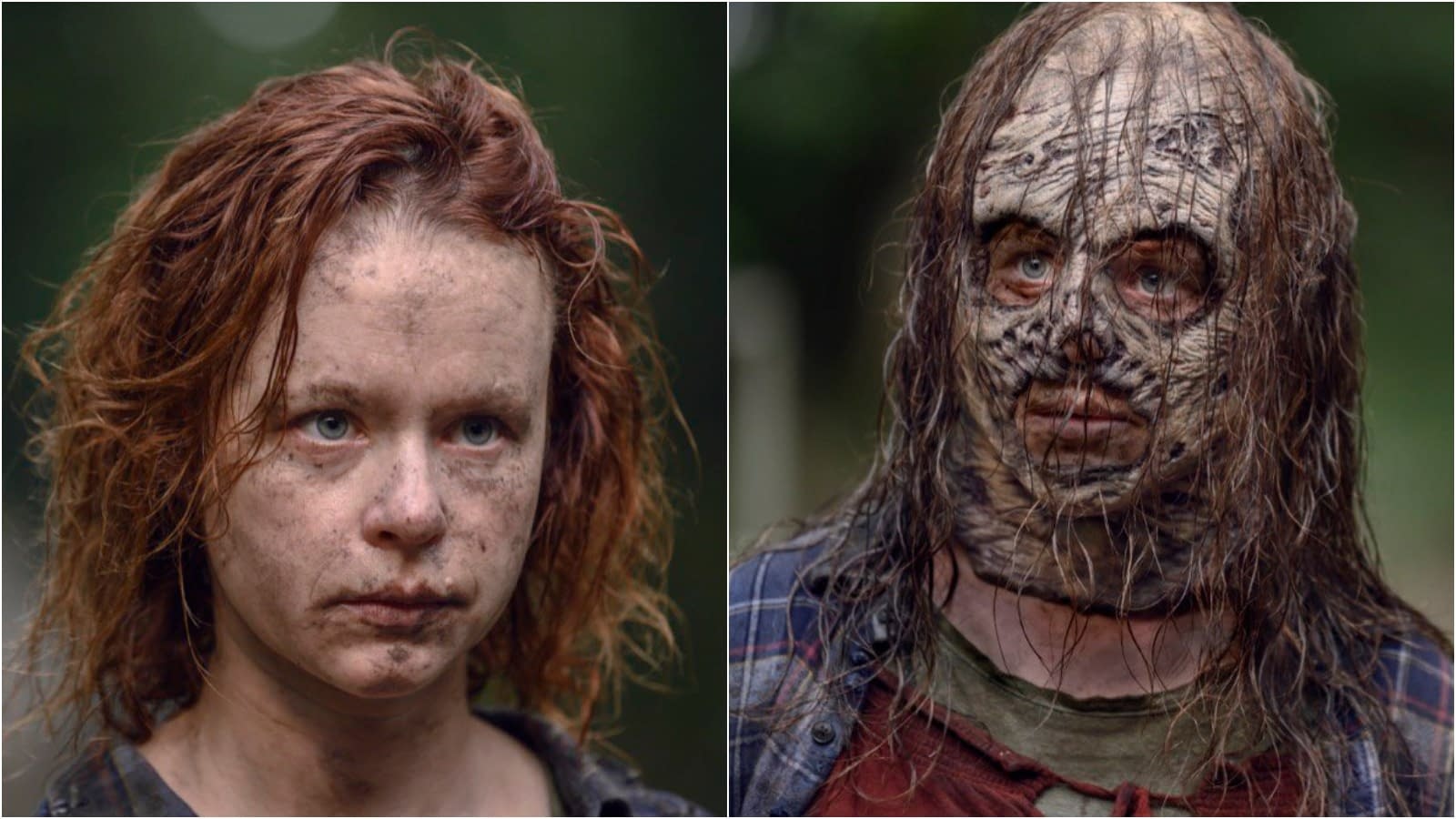 ● Gamma (Mary) is one of the biggest wild cards in all of this. On one hand, sacrificing your sister is one helluva way to prove your faith in Alpha. On the other hand, there's the constantly-evolving dynamic that's growing between herself and Beta. Does Gamma have her own agenda – and is she the one who could come between Alpha and Beta? Maybe throw a certain ex-Saviors leader into the mix…??? Asking for a friend…
● Morton continued being Morton – which means she continued to find new layers to a character who could've easily been portrayed as an over-the-top "big bad"… and Morton still would've sold it. But her acting prowess needs to be fed more than just the mundane, so she presents another aspect to Alpha we haven't really seen: the doting mother, the indecisive leader, and the insecure survivor. Yet in as much as it humanizes her, it also makes the cruelty she unleashes feel that much worse.
And yet… Morton's Alpha in this episode is still the one Carol wants (and deserves) to kill. The fact that we can still feel that way about her while also understanding and appreciating her journey speaks volumes for how well the words and acting in this episode dance along together in a perfect rhythm.
● We're not the only ones who thought pre-Alpha and pre-Beta killing walkers together for the first time had a "Bizarro world" Rick-Michonne vibe to it… right?
● CONSPIRACY THEORY SPECULATION: So I wonder if one of the three CRM "communities" referenced by Walking Dead universe head honcho Scott Gimple during NYCC 2019 is going to come into play? We know that the community in "The Walking Dead 3" (title tbd) is one of the "circle" communities – could one of the other two be coming into play soon?

The Walking Dead is a story that started 10 years ago with one man trying to find his family. That family grew and gradually communities took shape. They fought and survived, thrived and gave birth to a new generation. It is a tale of humankind and there are more stories to tell.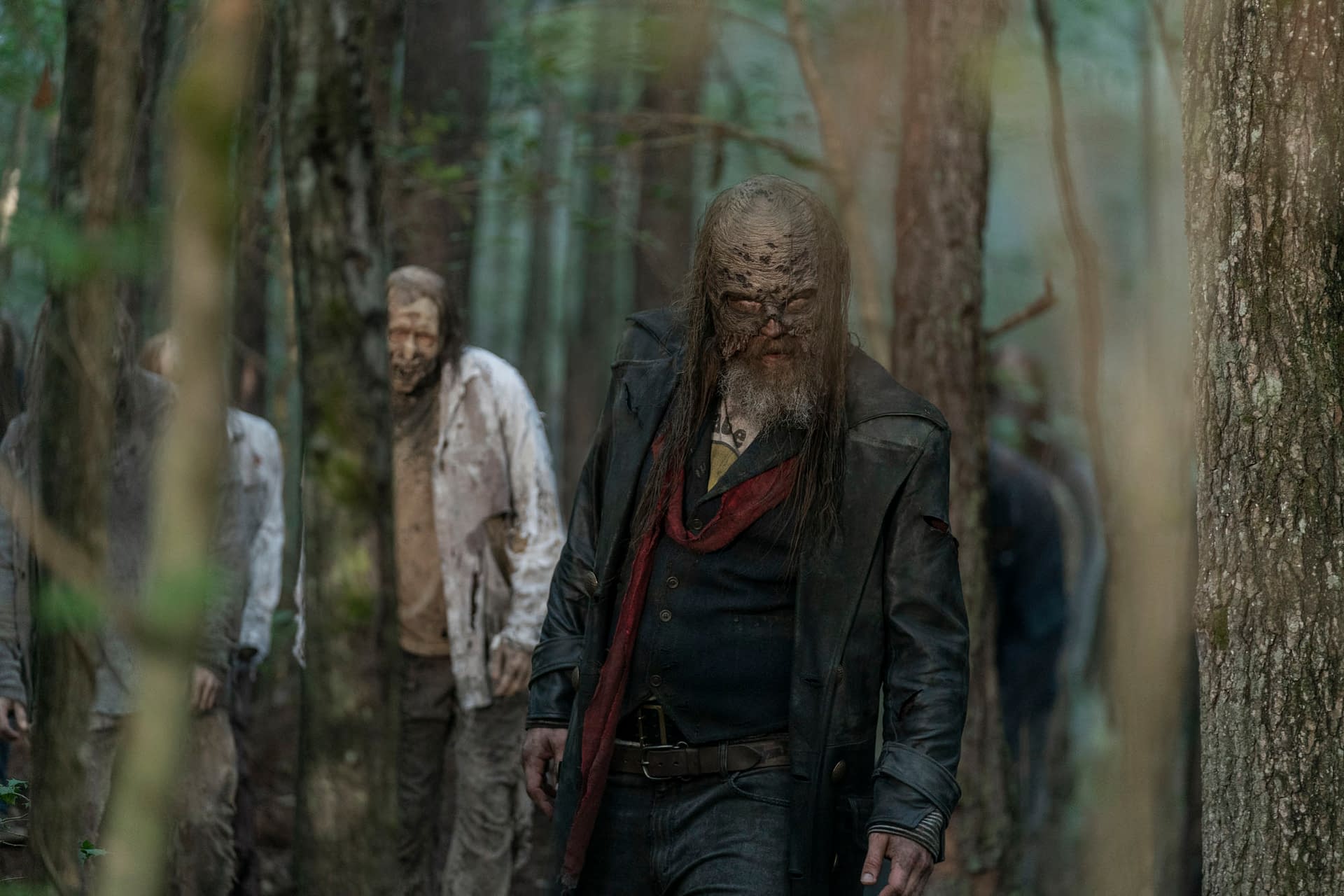 It is now Spring, a few months after the end of Season 9, when our group of survivors dared to cross into Whisperer territory during the harsh winter. The collected communities are still dealing with the after effects of Alpha's horrific display of power, reluctantly respecting the new borderlines being imposed on them, all while organizing themselves into a militia-style fighting force, preparing for a battle that may be unavoidable.
But the Whisperers are a threat unlike any they have ever faced. Backed by a massive horde of the dead it is seemingly a fight they cannot win. The question of what to do and the fear it breeds will infect the communities and give rise to paranoia, propaganda, secret agendas, and infighting that will test them as individuals and as a society. The very idea of whether civilization can survive in a world filled with the dead hangs in the balance.