Posted in: AMC, Fear The Walking Dead, Preview, Trailer, TV, Walking Dead | Tagged: aaron, Alexandria, alpha, amc, andrew lincoln, Angel Theory, beta, bleeding cool, Bounty, cable, Cailey Fleming, carol, Cassady McClincy, chokepoint, Christian Serratos, Connie, dan fogler, danai gurira, Daryl, Eleanor Matsura, Eugene, ezekiel, guardians, Hilltop, horror, jeffrey dean morgan, jesus, Josh McDermitt, Judith, Judith Grimes, kelly, Khary Payton, Lauren Ridloff, luke, Magna, Melissa McBride, michonne, midseason, Nadia Hilker, negan, norman reedus, omega, Review, Rick Grimes, robert kirkman, Rosita, Ross Marquand, ryan hurst, Samantha Morton, scars, season 9, season 9b, streaming, television, terror, the calm before, the storm, The Walking Dead, Tom Payne, tv, TWD, walkers, whisperers, Yumiko, zombies
---
"The Walking Dead" Season 10: Yup, Those Were Exclusive Pics You Posted, Melissa McBride – Thanks! [PREVIEW]
While the cast and crew of AMC's The Walking Dead enjoy the response they've been getting for the tenth season, life in the franchise's universe has become a lot like the NFL: neither have off-seasons anymore. With a strong ensemble cast (and a "Big Bad" fronted by Samantha Morton in an award-earning turn as Whisperers leader Alpha) and richly layered writing, showrunner/executive producer Angela Kang did the near-impossible: made the show feel fresh and dangerous again.
With the series set to return to AMC on Sunday, February 23, viewers have already gotten a look at what lies ahead – including Michonne's (Danai Gurira) return, a shirtless Negan (Jeffrey Dean Morgan), a Eugene (Josh McDermitt)/Rosita (Christian Serratos) kiss, and Morton's bloody Alpha (check it out here).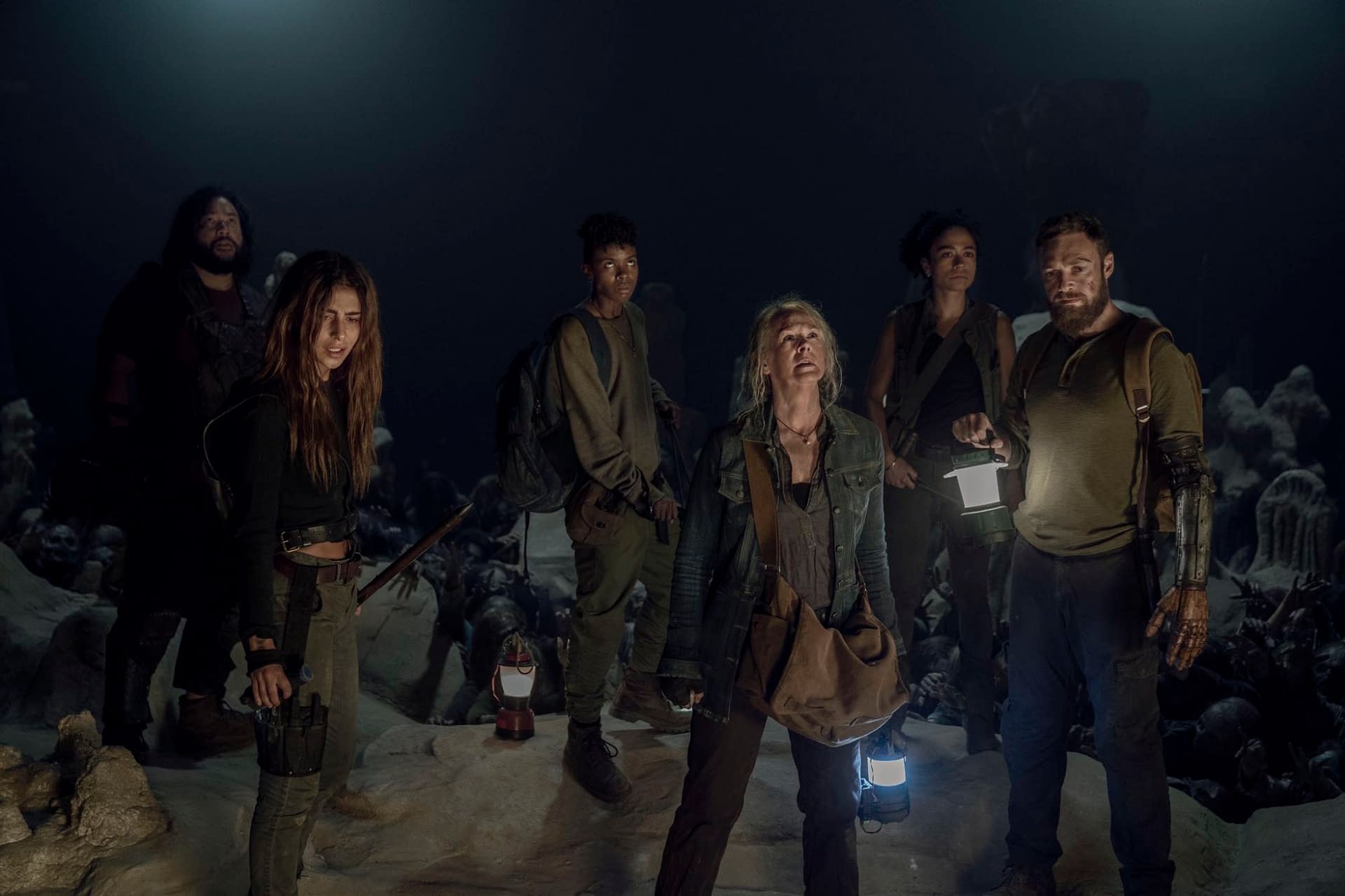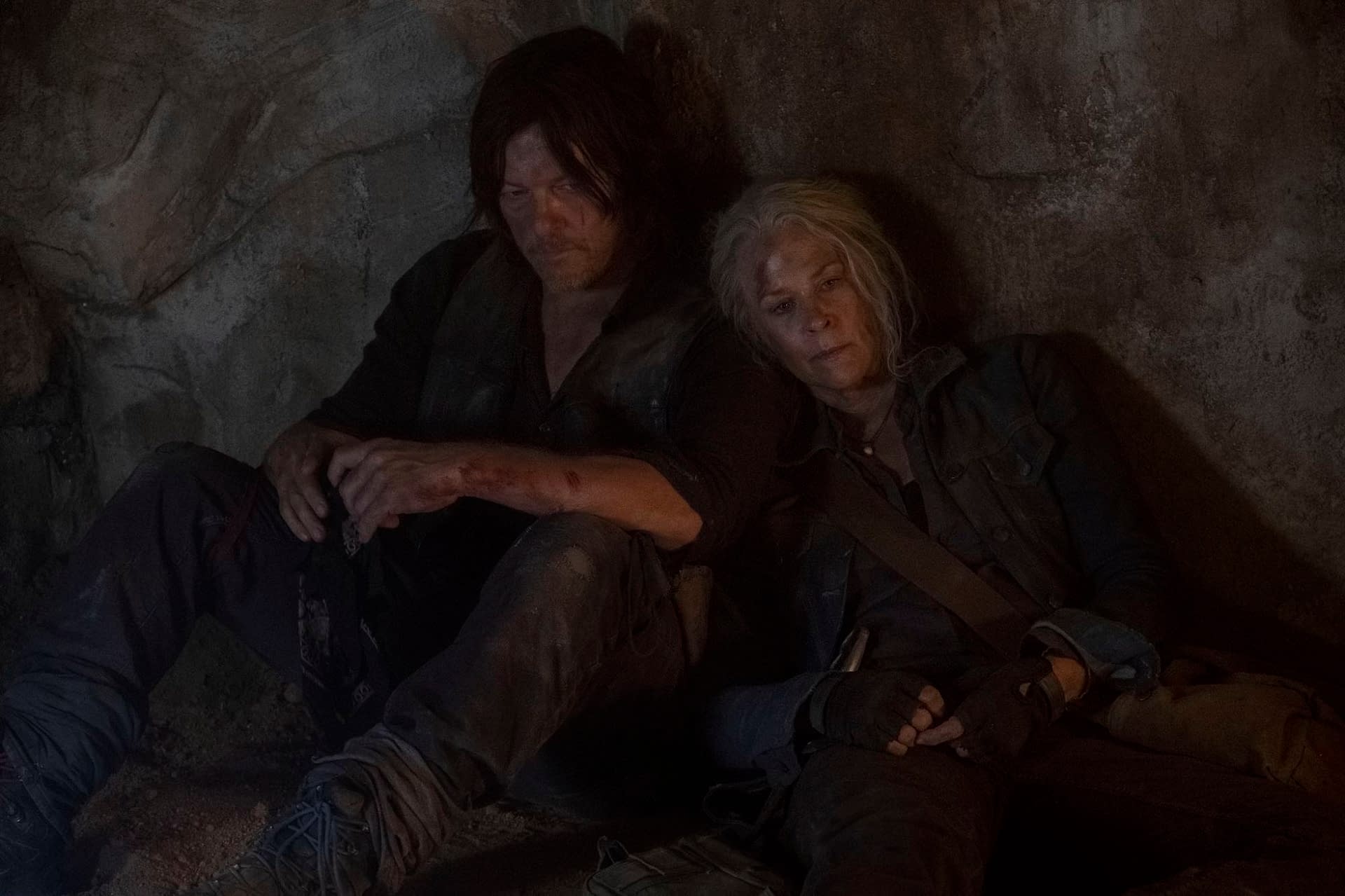 Last week saw the release of official key art – highlighting a raging Alpha (Morton), a Michonne who looks afraid/concerned mid-fight, a Daryl (Norman Reedus) who almost appears to be looking for a fight, and a Carol (Melissa McBride) looking to land a mighty "brass knuckle" blow (check that out here). Then as the drumbeats of war grow louder, a new teaser posed a very dire question: Who will rise… and who will fall?
Now with less than three weeks to go before the series' midseason return, McBride tweeted out some exclusive images (see larger versions above). The first shows Carol, Aaron (Ross Marquand), Connie (Lauren Ridloff), Kelly (Angel Theory), Magna (Nadia Hilker), and Jerry (Cooper Andrews) still looking to find their way out of Alpha's midseason-ending trap; while the second shows Carol and Daryl at a moment of rest, reflection… and remorse.
Late last year, Kang and company offered fans an updated Thanksgiving "easter egg" image to stir up speculation ahead of the show's 2020 return as well as some wrap-up thoughts on the tension and paranoia-filled first-half of the tenth season (check those out here). Following that was an on-set, in-production look back at this season's first eight episodes – including cast members Morgan and Dan Fogler, co-executive producer/writer Jim Barnes, director/TWD alum Michael Cudlitz, and more.
As we headed into the holiday season, Michonne, Rick, and Negan offered their respective advice for living a better and more rewarding walker-filled life. Then things got very serious with a first-look image from the show's return focusing on Michonne and Virgil (Kevin Carroll), as Gurira prepares to depart the series. But as we say goodbye to one beloved character, we also welcome back another with a look at Maggie's (Lauren Cohan) best moments. Walking Dead CCO Scott M. Gimple then offered up some clues as to what lies ahead for our heroes.
Then we jumped into our "Mr. Peabody Wayback Machine" with AMC to look at Daryl's "most epic saves" on the series so far, followed by some of the Walking Dead cast offering some on-set advice to the new cast members of The Walking Dead: World Beyond.
Which brought us to the new teaser that was released that cut right to the chase: war is coming.
Did you see it? If not, below's a look at the image we're talking about (which almost made us lose our minds grabbing). Now, we're going out on a pretty strong limb here and going with that being Negan in his Whisperer's walker mask. Aside from the jacket having a certain familiarity, comparing the face that we see around the eyes and mouth openings to previous images of Morgan would seem to confirm the theory.
Let us know what you think: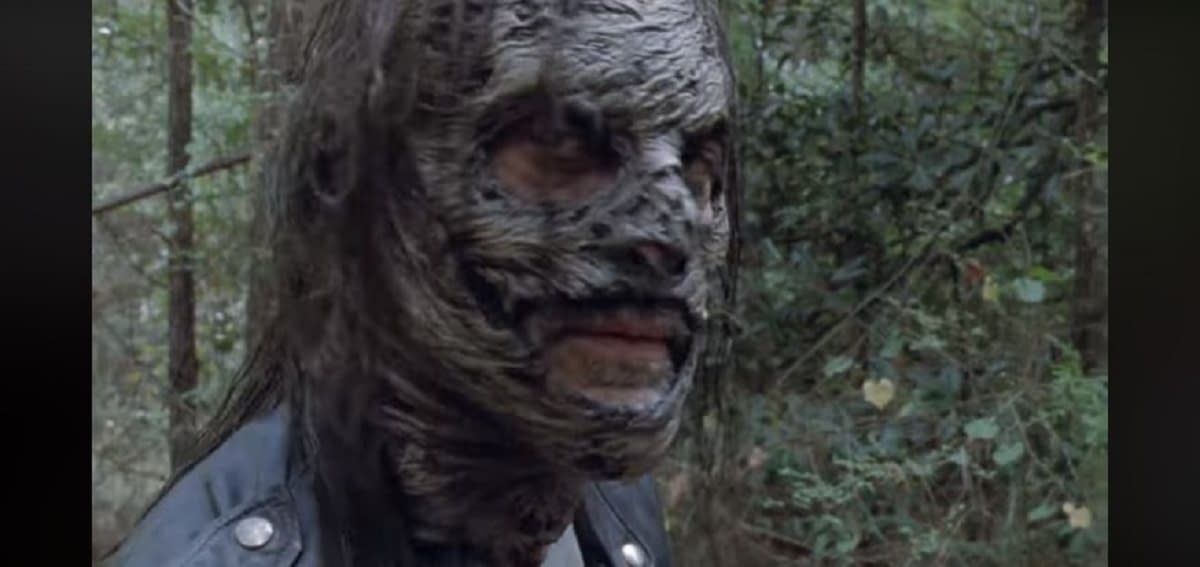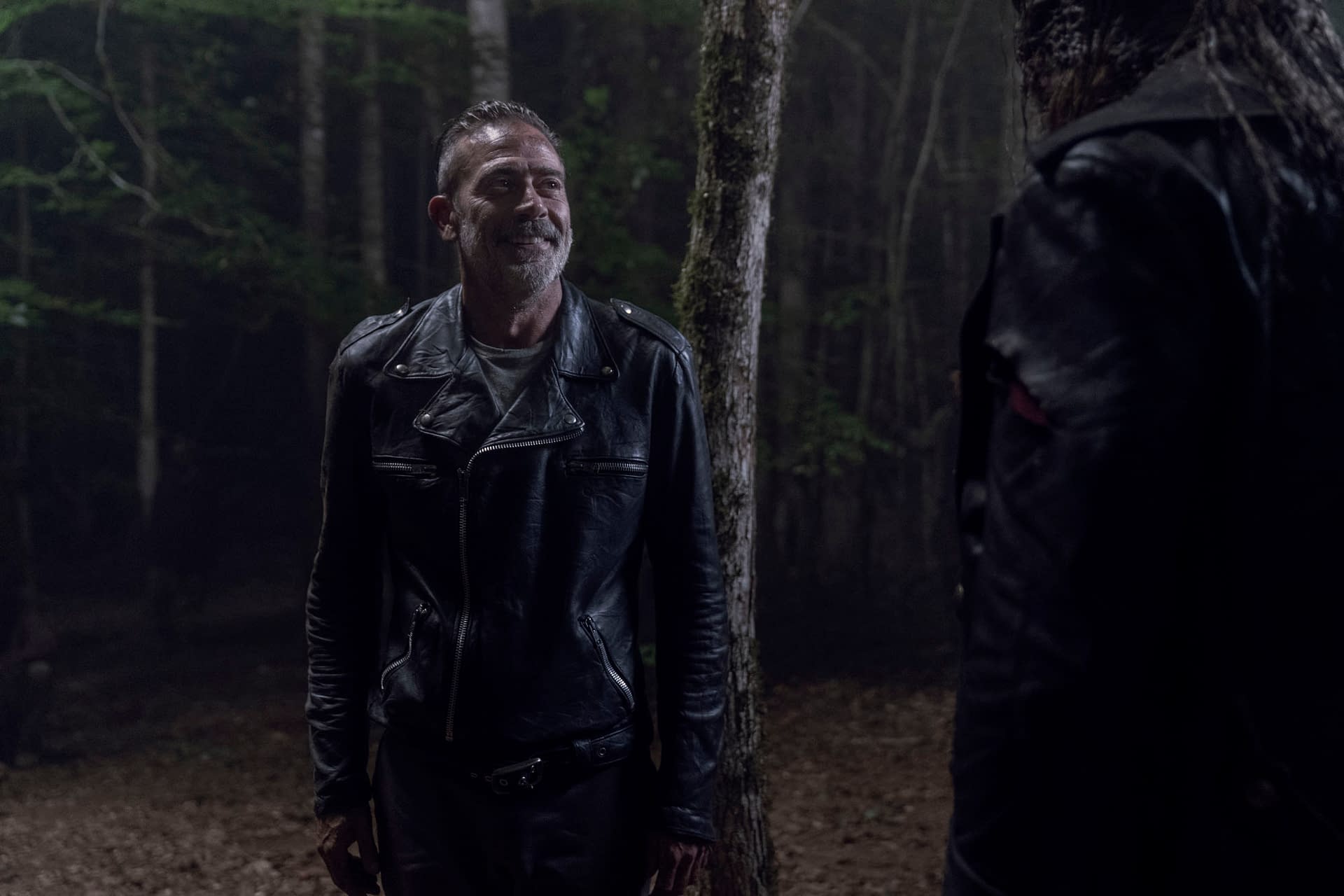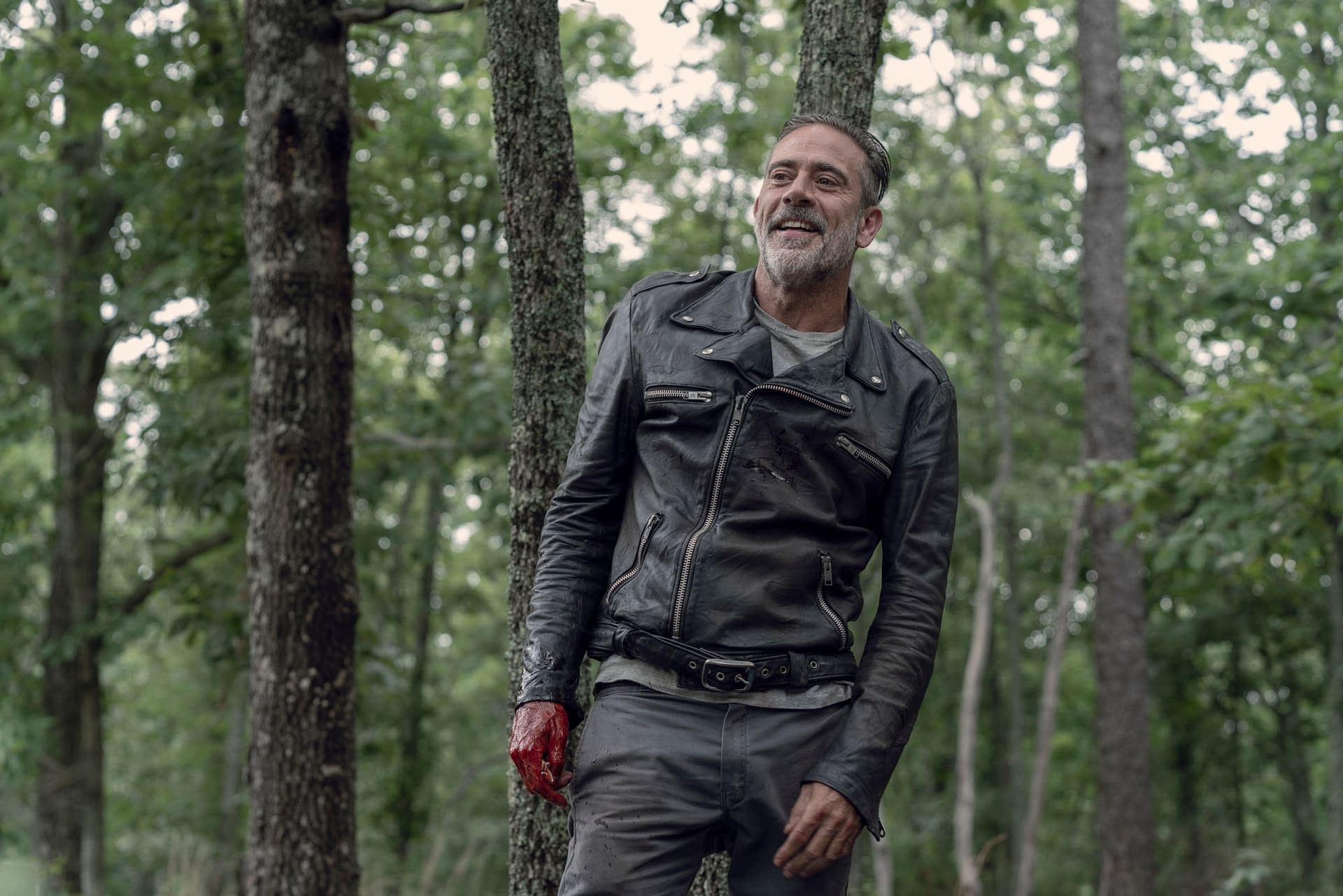 Here's a look back at another previously-released teaser for the series' mideseason return – one that finds our heroes not just fighting for revenge. More than ever, they're fighting for their futures…
When AMC's The Walking Dead returns for its second-half of season 10, our group of survivors are trapped… some in the confines of a cave filled with walkers… others, in a spiral of suspicion and grief — all orchestrated at the hand of Alpha, who continues to prove the Whisperers are always watching and one step ahead of the communities. Through this conflict and all they've lost, a few still hold onto hope, especially Eugene, who believes the mysterious voice he spoke with on the radio may lead to their world getting bigger once again.

But with the Whisperer War upon them, the collective communities must come together and possibly sacrifice all they have to find a way to silence the Whispers once and for all. Otherwise, Alpha will ensure they face a certain doom.
We didn't mince words over how impressed we were with season opener "Lines We Crossed" (check out our review here). Then we had Morton, Ryan Hurst, and Thora Birch raising the bar even higher with "We Are the End of the World" (check out our review here), – offering up some Whisperers backstory.
"Ghosts" elevated the paranoia as Melissa McBride continues delivering an award-winning performance (that review's here) – while "Silence the Whisperers" proved once again why it's "In Cudlitz, We Trust" (review here).
"What It Always Is" had a now-free Negan beginning his redemption arc (???) while Alpha raised the stakes against our survivors (review here).
"Bonds" had Negan being tested, Carol and Daryl possibly making matters worse for the community by "picking up" a Whisperer, and Eugene reaching out… and getting a response.
"Open Your Eyes" (review here) saw our theory about Siddiq (Avi Nash) completely, totally, and tragically put to rest. That brought us to midseason finale "The World Before" (reviewed here), as the drumbeats of war grew louder.
---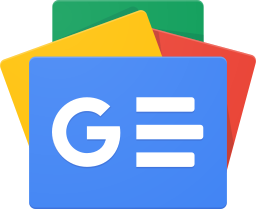 Stay up-to-date and support the site by following Bleeding Cool on Google News today!