TNT Closes Down 'The Librarians' After 4 Seasons
After a four-season run, TNT has cancelled their action/adventure series The Librarians. Series creator Dean Devlin announced the move on social media Thursday, telling his followers that he will be shopping the series elsewhere. Launching back in 2014, the series stars Rebecca Romijn, Christian Kane, Lindy Booth, and John Harlan Kim. Emmy-winner John Larroquette plays their reluctant caretaker as they search the world for mythical treasures.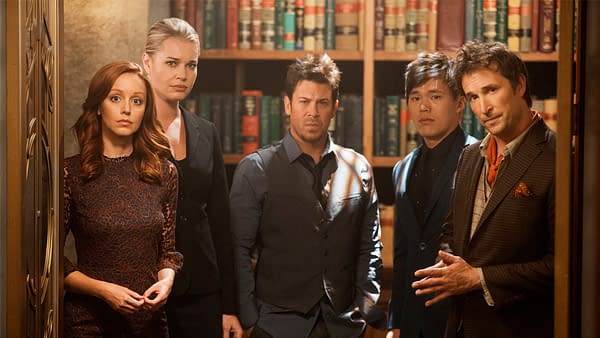 The Librarians spun out of a series of TV movies featuring Noah Wyle as the main treasure hunter and Bob Newhart as his guide. Wyle has guested on the series and executive produces. The series focuses on a team of adventurers working for a secret, ancient organization protecting the world from the magical reality hidden all around. The series wasn't a ratings bonanza, but they held steady with 1.4 million total viewers and a 0.3 rating on overnights with another 800k viewers and 0.2 rating when adding in the Live+3.
Both Wyle and Laroquette have booked new pilots/series for the fall. Wyle is the lead in the new drama series Red Line from Devlin, Ava DuVernay and Greg Berlanti while Laroquette returns to his comedic roots in Three Rivers.
Source: Variety