Tony Khan Bans Linda Hogan from All AEW Shows for Protest Tweet
In case you were wondering, AEW owner Tony Khan is not screwing around. Khan, who early on after the killing of George Floyd by police tweeted his support for the Black Lives Matter movement, responded to a tweet from Linda Hogan, reality TV star and ex-wife of Hulk Hogan, to ban her from all AEW shows. Linda Hogan tweeted the following to raise the ire of Khan: "watching the looting , it's all afro Americans, not sure how robbing and stealing set the record straight but if they want to be heard they need to be civilized." Khan responded, "You've now joined your husband in being banned from all AEW shows. Congratulations."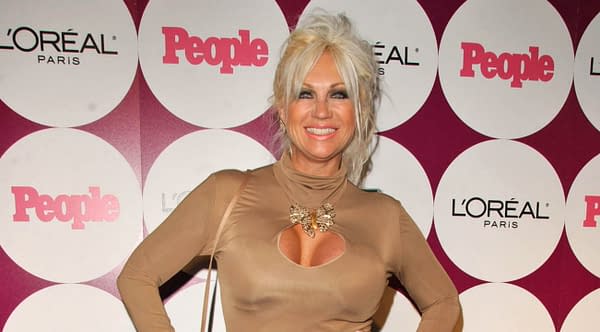 Khan recently explained when criticized for his Black Lives Matter tweet, " I believe that Black lives matter. I also believe that every person's life matters & I believe that everyone should believe that everybody's life matters, but until everybody acknowledges that Black lives matter, then we haven't acknowledged that everybody's life matters." As for Linda Hogan, a quick glance at her most recent tweets show that the one above isn't an aberration. McMahon also tweeted since the protests started, "everyone wants police to stand down , and this is what you get ?how is robbing and stealing tennis shoes a protest of george Floyd" and "honestly , mayor garrett i and gov newsome ,,, are you REALLY SURPRISED ? this is your doing . and pelosi too . @FoxNews LA is being even more destroyed . so much for your support of liberals and criminals ." She also had a suggestion for how people can make a real difference: by donating money to prevent horses from going to the glue factory. She tweeted, "if you want to do something for the good of humanity , savevthese innocent beings ! please donate , they are all pregnanate being shipped to slaughter tomorrow! any amount will help ! please go to the link !"
It's unknown why Hulk Hogan has previously been banned from attending AEW shows, but based on Khan's reaction to Linda Hogan's tweets, we can probably assume it might have something to do with the infamous racist rant that got Hogan fired from WWE in 2015. Hogan, who was fulfilling a cuckold fantasy with the wife of Florida radio hose Bubba the Love Sponge, dropped the n-word repeatedly in a rant about who was allowed to have sex with his daughter (only rich, basketball-playing n-words for the record), which seems like an odd thing to bring up when getting "into the mood," but to each their own. In the wake of the lawsuit Hogan won against the website Gawker for leaking the tape, Linda was very critical of the Hulkster's behavior.
However, Linda Hogan appears to also be very outspoken on social issues, recently complaining to Disney, "Pixar's new short film 'Out' features first gay main character … being gay is not a personality type or a characteristic ,, it's a SEXUAL preference and should be left out of children's cartoon movies until they are old enough to figure this out ." She also slammed Democratic governors for allegedly showing preferential treatment to mosques during the coronavirus pandemic. "Trump slams Dem governors for unfair treatment of churches during coronavirus
INTERESTING THO, mosques are open …." Hogan tweeted. However, Linda Hogan doesn't seem to mind the negative attention, recently saying, "I've noticed that my followings are down because they must be @realDonaldTrump haters . That's ok , I never needed your support if this is who you are ." So, Tony, she didn't want to go to an AEW show in the first place