The Walking Dead Showrunner Angela Kang Talks Judith, Negan, R.J., and The Whisperers
So let's see if we have our scorecards up-to-date: Alexandria is run by "committee"…with Michonne (Danai Gurira) having a strong say; something happened with the Hilltop; Carol (Melissa McBride) is married to Ezekiel (Khary Payton)…and still the literal and figurative firestarter she's always been; and Daryl is a loner living in the woods. Add to that a Rosita (Christian Serratos)/Eugene (Josh McDermitt)/Gabriel (Seth Gilliam) love triangle (?!?!?!?), a grown up Judith Grimes (Cailey Fleming) living up to her last name, a new group of survivors, and some talking walkers (?!?!?!?!?), and you'll quickly understand why AMC's The Walking Dead 'Who Are You Now?" feels almost like a series premiere – not an easy feat for a series that's been on the air for 8-1/2 seasons.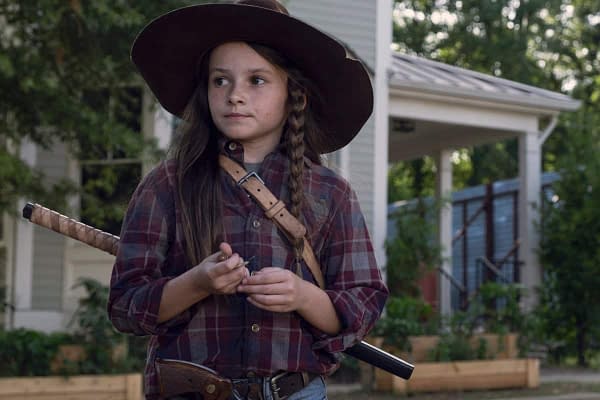 One of those who deserves huge credit for refreshing the long-running series is showrunner Angela Kang, who sat down with The Hollywood Reporter to discuss the shifting Walking Dead universe. Though the interview covered a number of topics, here are three highlights:
● On the decision for Michonne to have Rick's (Andrew Lincoln) child R.J., and why this birth is different from the time that Lori (Sarah Wayne Callies) was pregnant:
"We talked at the beginning of the season about what happens after war. One of the things you often see is baby booms. It's a sign of hopefulness. We wanted to show that Rick and Michonne were committed to each other, fully. They hadn't gotten married the way others had; there was no proposal, no ring. And yet, they're the couple who are completely committed to each other. It seemed like a sign of their commitment, and their optimism for the future. They believed they could bring a new child into this world and they could make the world better for that child.

It's very different from when Lori (Sarah Wayne Callies) was pregnant at a very different time in the apocalypse. Back then, they were worried that the baby wouldn't even survive. It made sense, because it was all so fresh and new. If their baby cries, what happens to her, or to us? Michonne and Rick lived in a very different time, and we wanted to show that. We were very excited to do our [casting] search for our sweet little R.J. I think Antony, who plays the role, is absolutely adorable. Danai loves him. It was a fun process for us, imagining what a world with more children would look like, but also the tragedy that Rick never got to meet this child they were so excited about."
● On the impotance of the Judith/Negan (Jeffrey Dean Morgan) relationship, and how it impacts the evolution of the ex-Saviors leader:
"We're really interested in telling a very different story for Negan, since we're dealing with a different kind of passage of time than we saw in the comics. We thought hard about how prison might affect this character, and the confinement that he's had, and the limited access he's had to the community and the world beyond.

It's a big part of his story, going forward: exploring Negan and where he's at in his journey in things, and the kinds of complex relationships he has with the various people in Alexandria — including this sort of secret relationship he has with Judith. We all internally [in the writers' room] love the relationship between Negan and Carl in the comic book. This gave us an opportunity to tell a very different sort of story, because Judith is a different kind of child than Carl. It's really fun to put those two together. They get to have some very interesting scenes together this season."
● On what fans can expect from the television series' approach to The Whisperers:
"This is part of the mystery of the story of the Whisperers that we're starting this season. What I'll say is there are some twists and turns to this story, but there will be some answers by the time we get to the midseason finale. It opens up a Pandora's box of other things. Hang on: it's a really cool ride.

This is one of my absolute favorite moments from the comic book. These issues were coming up while we were working on a prior season of the show. As we were reading the issue in the office, everybody was like, "Oh my god. What just happened? What is Robert Kirkman even doing here? What could possibly be next?" The answers were so satisfying and fascinating to us. I hope the audience gets to experience it the way readers experienced reading it."