WandaVision: Kathryn Hahn's "Got a Little Bit Left" to Do on Series
With Elizabeth Olsen and Paul Bettany's WandaVision still on the calendar for a December 2020 debut, viewers are looking for answers as to when production on the six-episode Marvel Studios series would resume. While the Anthony Mackie and Sebastian Stan-starring The Falcon and the Winter Soldier bears the responsibility of being the first new live-action Marvel Studios series for the streaming service, it's Olsen's Wanda Maximoff aka Scarlet Witch who will serve as a directive narrative connection to the upcoming Marvel film, Doctor Strange and the Multiverse of Madness.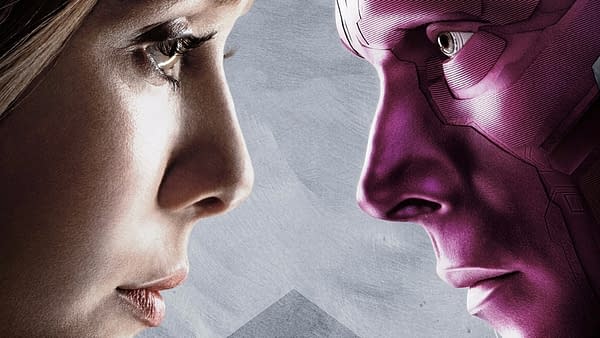 Earlier this month, we were given a clue as to when the remaining work on the series would get underway (more on that below), and while WandaVision cast member Kathryn Hahn (I Know This Much is True) can't confirm an exact return time she did reveal that reshoots still needed to happen. Appearing as a guest on The Playlist's Deep Focus podcast, Hahn revealed that she still has a little more on-camera time left: "I've got a little bit left on WandaVision, but who knows, who knows." As for being able to offer more than that, Hahn clearly understands how the spoiler game is played in our geek world: "It is another surreal, awesome swing into another genre, but it's been so fun. I wish I could tell you a thing about it but I can't or else I'd just disappear from this Zoom box. It's gonna be fabulous, I can't say anything else!".
The first sign that July would be the month appeared when the Tampa Bay Comic Convention's Facebook page posted that Bettany aka Vision would not be available for the July 10-12 convention because he was being "called back by Disney for WandaVision filming in July, in Los Angeles." With the governors of California and New York rolling out task force recommendations that could have television and film productions starting back as early as July, it would seem that the timeline for the production's return looks more than workable (barring any major upswing in COVID-19 cases)
With Black Widow screenwriter Jac Schaeffer serving as showrunner, WandaVision also stars Kat Dennings as Darcy Lewis, Teyonah Parris as adult-aged Monica Rambeau, Randall Park as Agent Jimmy Woo, and Kathryn Hahn in an unknown role. Directed by Kari Skogland, The Falcon and the Winter Soldier also stars Emily VanCamp (SHIELD agent Sharon Carter), Daniel Bruhl (Baron Zemo), Wyatt Russell (John Walker aka US Agent), Desmond Chiam (Now Apocalypse), and Miki Ishikawa (The Terror: Infamy). Noah Mills (The Enemy Within, The Brave) and Carl Lumbly (Supergirl, Alias) were recently cast in undisclosed roles.