"Watchmen" Episode 9 "See How They Fly": Do You Believe That You Can Walk on Water? [SPOILER REVIEW]
Now that HBO's wonderfully authorized pseudo-sequel to [REDACTED] and Dave Gibbons' celebrated comic book series Watchmen has been unveiled to the world – the world likes what it sees from Damon Lindelof's "remix". Even die-hard Watchmen purists appear to be slowly coming around – as they should.
Now we've reached season/series finale "See How They Fly", where the machinations of the Seventh Kavalry-Sen. Keene, Lady Trieu, "Calhattan", Adrian, Angela, and Agent Laurie come to a head – as the world of Lindelof's Watchmen comes to an end.
But does anything ever really end? MAJOR SPOILERS ahead…
"Watchmen" season 1, episode 9 "See How They Fly": Everything ends. For real this time.
Directed by Frederick E.O. Toye, and written by Nick Cuse and Lindelof (with a nod to 30 Seconds to Mars in our review title), "See How They Fly" aced our "Rules of a Season/Series Finale" with room to spare. Before we carve out some specfics from the (hopefully) season-ender, we're going to cover the criteria that earned this episode (and the series as a whole) high honors.
First thing we look for is answers – or enough answers to make the journey worthwhile. From Lady Trieu's familial-by-needle connection to Adrian and a fuller understanding of Adrian's "SAVE ME" message to the expected-but-still-very-cool reappearance by Wade aka Looking Glass (with "appropriated" Seventh Kavalry mask), we add a serious amount of blanks filled in.
Second thing we need is for there to threads for possible future storylines – whether they become a reality or not – and again, they did not disappoint. In fact, there were some very tantalizing threads that could be woven into some intriguing storylines. Obviously, Angela-as-Manhattan is at the top of the list – but that doesn't even scratch the surface.
Just because the "older leadership" of the Seventh Kavalry/Cyclops is gone doesn't mean their threat has ended. Bian is alice, in police custody with Lady Trieu's daughter/mother left to deal with having witnessed the death of her mother/daughter – and at Adrian's hand, no less. After Angela let her family into her Sister Night digs, we see the look on Topher's face when he sees her costume – and she sees it, too: a new generation of "masked justice: is born.
And does anyone really believe President Redford's going to let Agent Blake and Wade march Adrian in front of the cameras and into court?
This last thing isn't always a "constant" but something that applies to Lindelof's work. From a thematic standpoint, the entire season was Lindelof making the prosecution's case that systemic, historic racism is this nation's true "super villain" and that "appropriation" happens all around us in ways we've become blind to. With "See How They Fly", Lindelof and Cuse made a closing argument that makes the case for both a brutally honest understanding of the "now" and for cautious optimism.
It's not that "nothing ever ends" or even that "everything ends". Everything changes – yet the roots of the past can still tell tales of what's to come.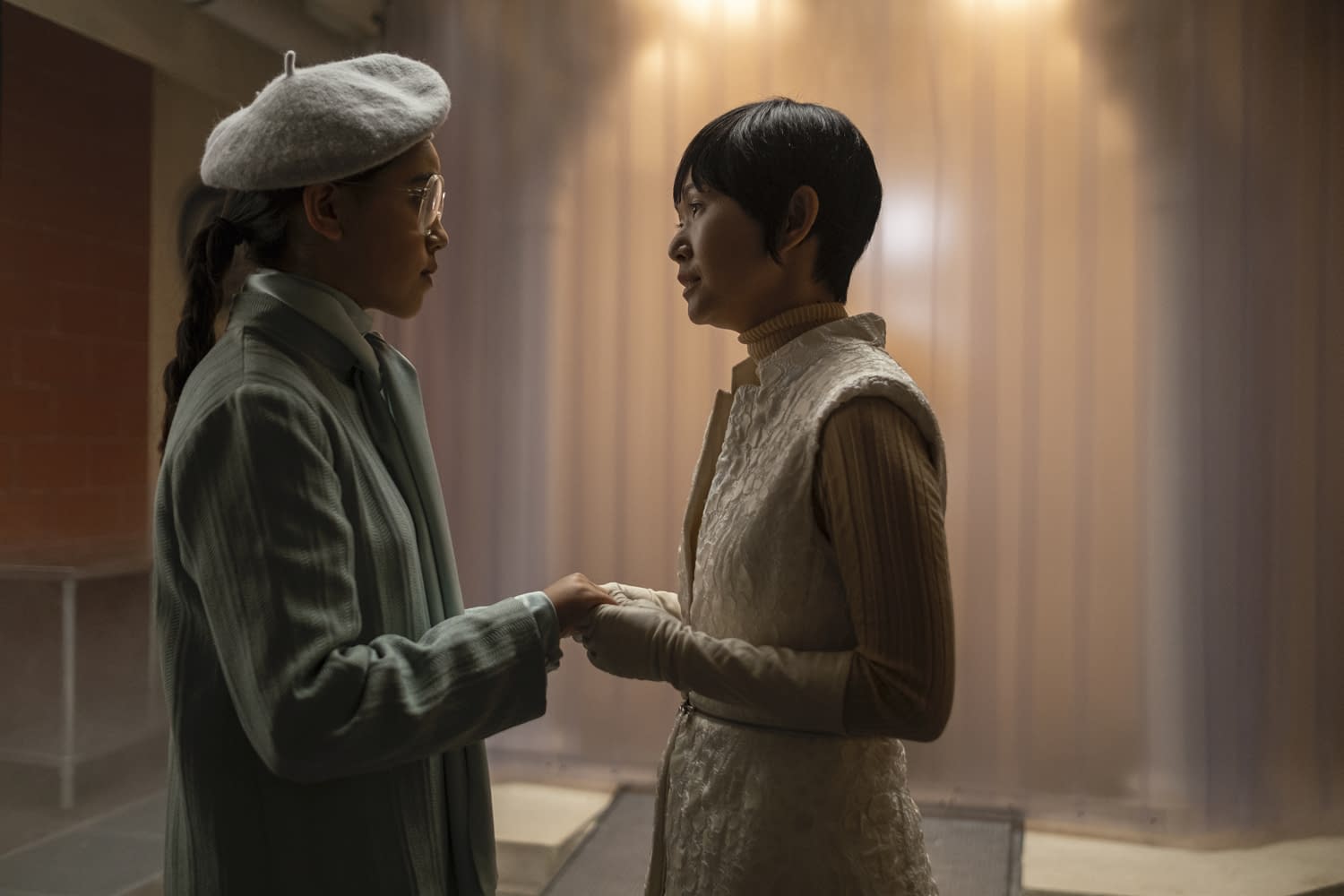 ● Didn't see Lady Trieu being Adrian's daughter – and definitely not how Bian-back-then got herself pregnant: now there's some serious appropriation. Chau and Irons' have a very passive-aggressive father/daughter dynamic – knowing full well that their hubris is too much to ever allow the other one to be victorious. Trieu was right: Adrian having to ask her for help and call her "daughter" was definitely not an indignity he suffered lightly – and though she paid for it with her life, Adrian wasn't exactly what you'd call the "victor" in their face-off.
● Trieu and Keene/Seventh Kavalry/Cyclops being two sides of the same "appropriating coin" was also any interesting duality ot have in play – and major props to Wolk for pulling off that perfect "real world super villain" speech. Though there was definitely something sweetly satisfying in an Inglorious Basterds/Django Unchained-kinda way when Trieu eradicated the Seventh Kavalry/Cyclops threat for good (for now).
Best of all, their respective storylines were given the right amount of time to brought to a level of resolution – and there's much that can be said about Adrian "saving the day" with a variation of his original "master plan".
Guess the "oldies-but-goodies" still do have their place in a modern world – a mistake Trieu paid for dearly.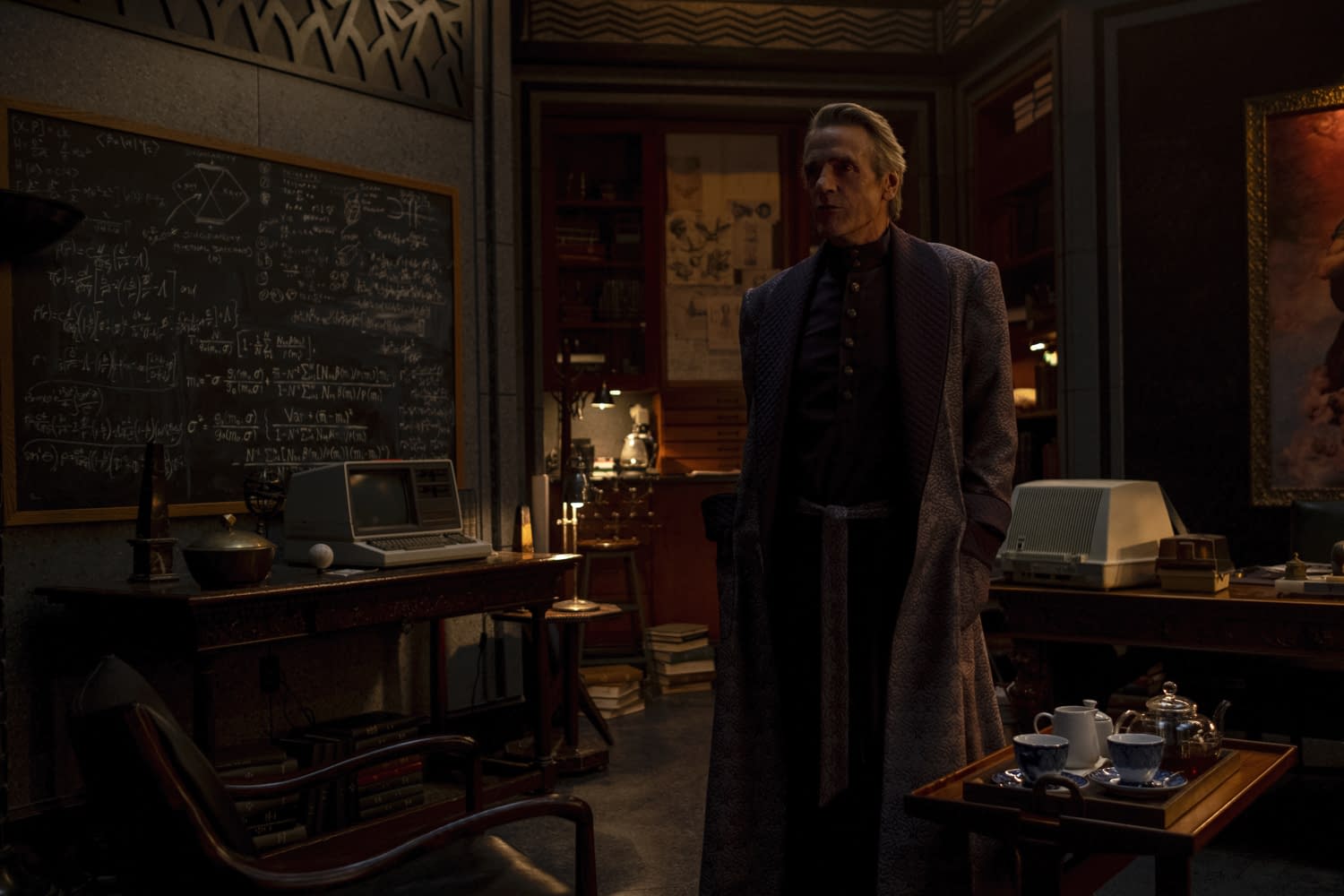 ● Really, Adrian? You couldn't have at least lied and told the Gamesmaster that he was a worthy adversary before he died? Actually, of course he couldn't: unlike Manhattan, Adrian would be an honest "god" to the beings of Europa – even as he is forsaking them.
● Looks like Adrian's game has evolved over the years: can still catch a bullet with the best of them, but isn't above a little horseshoe "prison yard" shiving.
● We're gonna keep it real: King could star in a two-minute cable access staring contest and I'd be there. Two moments from this episode that make my point, with the first being the moment she shifted her body language and and facial expression in reaction to Keene's "black bitch" comment – without ever giving up the game or taking her (mind's) eye off the bigger picture. Other moment? Easily the exchange between her and "Calhattan" as he was "dying" – being that anchor for him against all odds, demonstrating a love in its purest, unselfish form.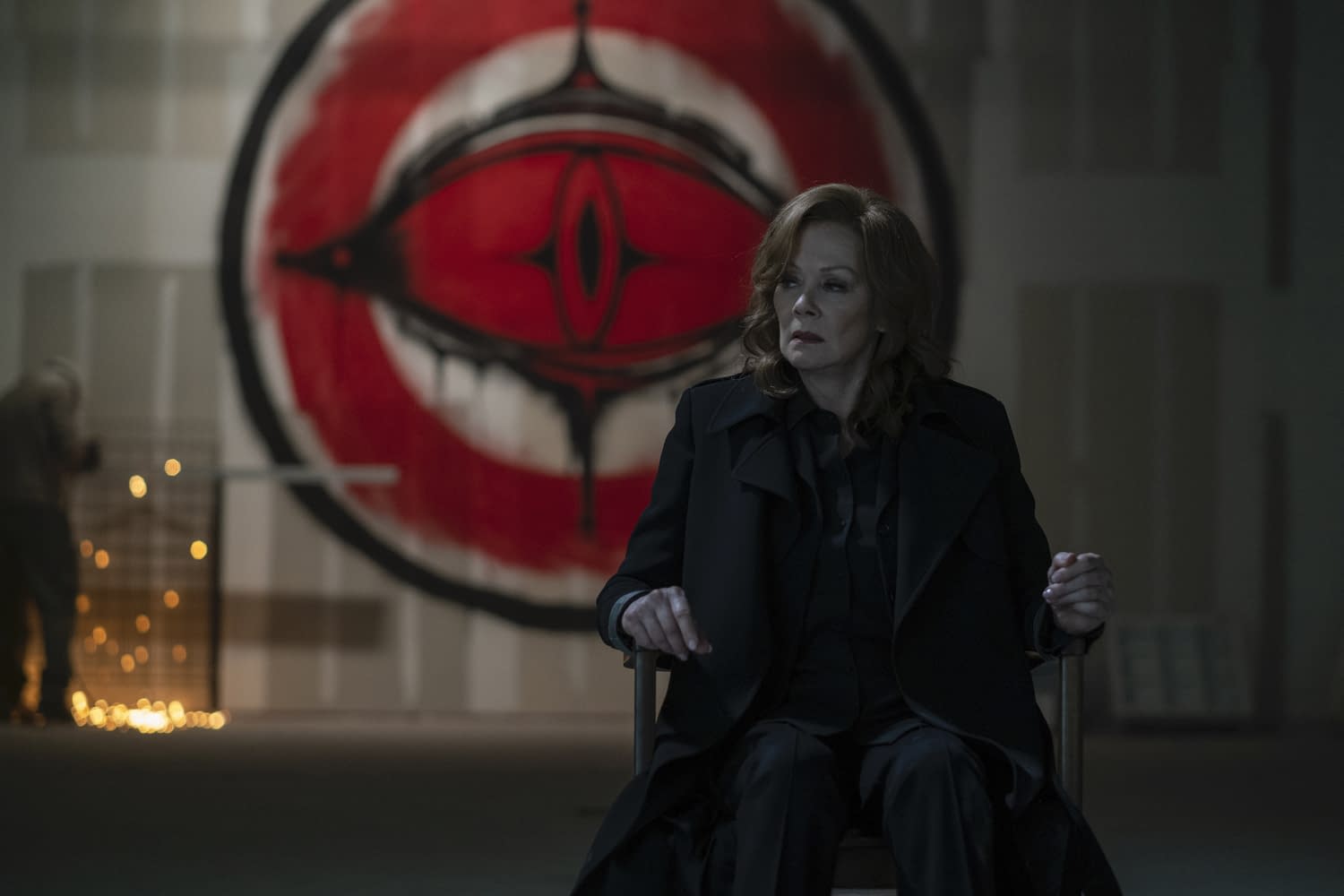 ● As for the Inception/The Sopranos "homage" at the end, we are definitely "Team Anghattan" – so much storyline potential in that scenario alone, then add the Cal aspect into the mix? Yup, prime second-season subject matter just waiting to be fleshed-out… was that subtle enough?
● While we know Wade and Agent Blake aren't going anywhere with either Adrian or that video confession, let me be the first "cheeseball" to say that I would watch a Wade/Adrian/Laurie spinoff series. Make it like an X-Files-meets-Fringe-meets Torchwood-type series… anyone rolling their eyes yet? Yeah… well… admit it…
You'd watch – just like we'd watch a second season of Watchmen under your guiding hand, Lindelof.
Tick-tock. Tick-tock.

The Road to HBO's "Watchmen"
From Damon Lindelof and set in an alternate history where masked vigilantes are treated as outlaws, this drama series embraces the nostalgia of the original groundbreaking graphic novel of the same name while attempting to break new ground of its own. The cast includes Regina King, Jeremy Irons, Don Johnson, Jean Smart, Tim Blake Nelson, Louis Gossett Jr., Yahya Abdul-Mateen II, Hong Chau, Andrew Howard, Tom Mison, Frances Fisher, Jacob Ming-Trent, Sara Vickers, Dylan Schombing, and James Wolk.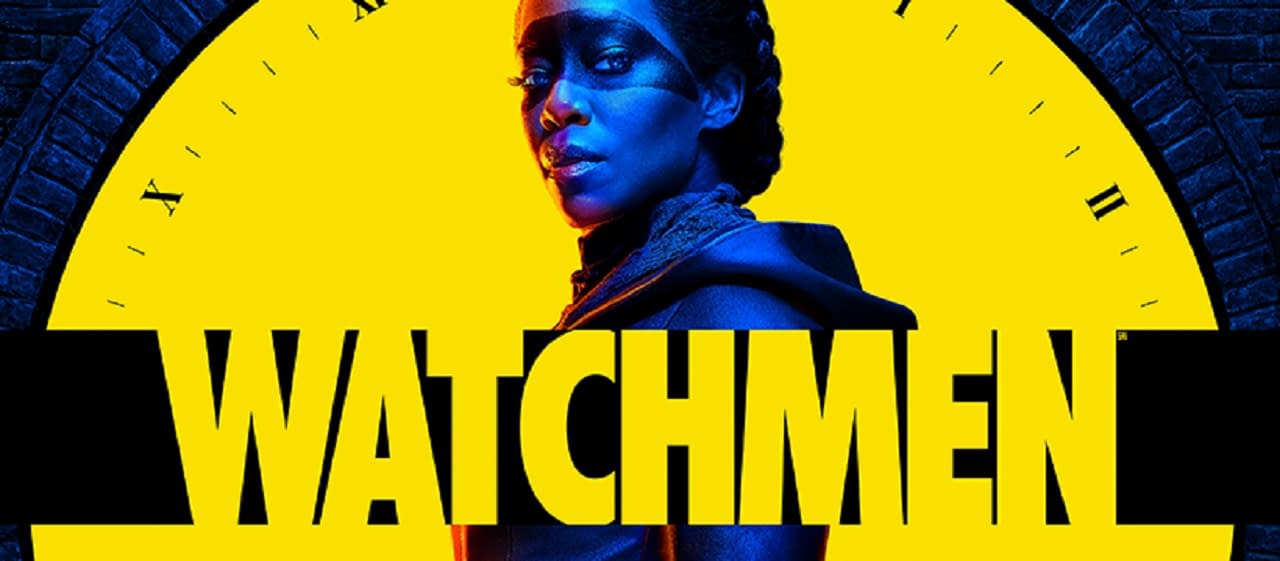 Bleeding Cool didn't exactly pull any punches when praising just how powerful the Nicole Kassell (Castle Rock)-directed series premiere "It's Summer and We're Running Out of Ice" was (check out our review here).
"Martial Feats of Comanche Horsemanship" kept the momentum going by deepening the conspiracies at play (review here).
Jean Smart's Agent Laurie Blake took center stage in "She Was Killed by Space Junk", elevating the tension while serving as "devil's advocate" (review here).
"If You Don't Like My Story, Write Your Own" (review here), introduced us to Lady Trieu (Hong Chau), saw Angela (Regina King) look to Looking Glass (Tim Blake Nelson) for help when things started hitting too close to home, and revealed how Adrian (Jeremy Irons) "trains" new servants as his escape attempts continued
We learned Wade Tillman aka Looking Glass' "origin story" – and possibly his final days – in "Little Fear of Lightning" (our review here), as Agent Blake places Angela under arrest… but not before she goes "nostalgic".
Angela comes to understand her true past and the truth about "This Extraordinary Being" Will (Louis Gossett Jr. – review here) – truth that starts with the formation of the Minutemen.
"An Almost Religious Awe" (our review here) brought with it the major reveal that Dr. Manhattan has been with us the entire time – and he's a major part of the Seventh Kavalry's plan.
With penultimate episode "A God Walks into Abar" (review here), we were offered a look back at the seeds of Angela and "Cal's" tragic (and apocalyptic) love story – the heart of our series.

In the following featurette, Lindelof explains how the original comic book series influenced him to take the core themes of the series and find a way to apply them to a modern society. King offers more details on both the terrorist group at play during the season as well as the personal conflicts that arise when one dons a mask in the name of the law:
In the following clip, King takes us behind the scenes on production with a set visit to show us anything and everything Watchmen – or at least what Lindelof will allow:
HBO's Watchmen stars: Regina King as Angela Abar, Don Johnson as Chief Judd Crawford, Tim Blake Nelson as Det. Wade Tillman aka Looking Glass, Louis Gossett Jr. as Will Reeves, Adelaide Clemens as Pirate Jenny, Andrew Howard as Red Scare, Jeremy Irons as Adrian Veidt / Ozymandias, Frances Fisher as Jane Crawford, Jacob Ming-Trent as Panda, Yahya Abdul-Mateen II as Cal Abar, Adelynn Spoon as Emma Abar, Jean Smart as Agent Laurie Blake, Tom Mison as Mr. Phillips, Sara Vickers as Ms. Crookshanks, Dylan Schombing, James Wolk as Senator Keene, Hong Chau as Lady Trieu, Dustin Ingram as Agent Dale Petey, and Lily Rose Smith.
Watchmen is produced for HBO by White Rabbit in association with Warner Bros. Television; executive producer-writer Lindelof; executive producer/director Kassell; executive producer Tom Spezialy; executive producer-director Stephen Williams; and executive producer Joseph Iberti.
Based on the iconic graphic novel co-created and illustrated by Gibbons and published by DC.
Nine Inch Nails duo Trent Reznor and Atticus Ross are on board to compose music for the series.