Wednesday: Jenna Ortega on Changing Lines, Making Show Darker & More
On the Armchair Expert, Wednesday star Jenna Ortega explains why she needed to be "almost unprofessional in a sense" to protect the character.
---
With Scream VI set to hit screens riding a wave of early strong reviews and a hosting gig with NBC's Saturday Night Live on the way this weekend (with musical guest The 1975), this isn't exactly going to be a boring week for Wednesday star Jenna Ortega. But we're taking a break from covering the first two to check in on what Ortega had to share about "The Addams Family" spinoff while checking in with Dax Shepard's Armchair Expert podcast. Our biggest takeaway? It sounds like the vast majority of the Wednesday Addams that we saw on our screens had a lot to do with Ortega making changes on the fly without consulting the writing team and holding her ground when it came to what worked best for her character. That may be one of the reasons why Ortega will begin work on the second season with a new title – executive producer. Here's a look at some key highlights from the podcast: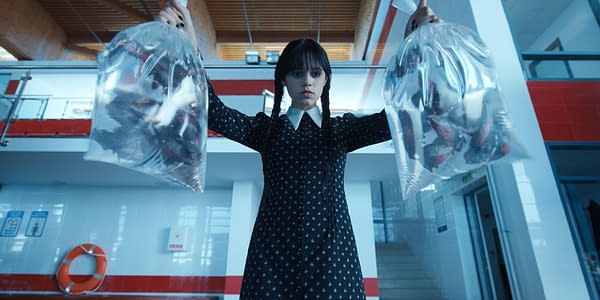 "Wednesday" Didn't Start Out Dark: "When I read the entire series, I realized, 'Oh, this is for younger audiences.' When I first signed onto the show, I didn't have all the scripts. I thought it was going to be a lot darker. It wasn't… I didn't know what the tone was or what the score would sound like."
Ortega on Why She Needed to Be "Almost Unprofessional" at Times: "I don't think I've ever had to put my foot down more on a set in a way that I had to on 'Wednesday.' Everything that Wednesday does, everything I had to play, did not make sense for her character at all. Her being in a love triangle? It made no sense. There was a line about a dress she has to wear for a school dance and she says, 'Oh my god, I love it. Ugh, I can't believe I said that. I literally hate myself.' I had to go, 'No.' There were times on that set where I even became almost unprofessional in a sense where I just started changing lines. The script supervisor thought I was going with something, and then I had to sit down with the writers, and they'd be like, 'Wait, what happened to the scene?' And I'd have to go and explain why I couldn't go do certain things.'"
Ortega Was "Protective" of Wednesday's Need for an "Emotional Arc": "I grew very, very protective of her. You can't lead a story and have no emotional arc because then it's boring, and nobody likes you. When you are little and say very morbid, offensive stuff, it's funny and endearing. But then you become a teenager, and it's nasty, and you know it. There's less of an excuse."
Jenna Ortega on Wednesday S02 Writers' Room, Grueling Filming Cycle
During a Q&A panel last month hosted by Netflix, Ortega was asked about the second season, and to no one's surprise, it was still too early to offer any details other than the writers' room is still "very fresh." As for what she would like to see, Ortega wants less of a focus on love triangles ("a weird thing to justify") and for the show to "just focus on her and her experiences." As for what it was like bringing the series to life, Ortega didn't mince words.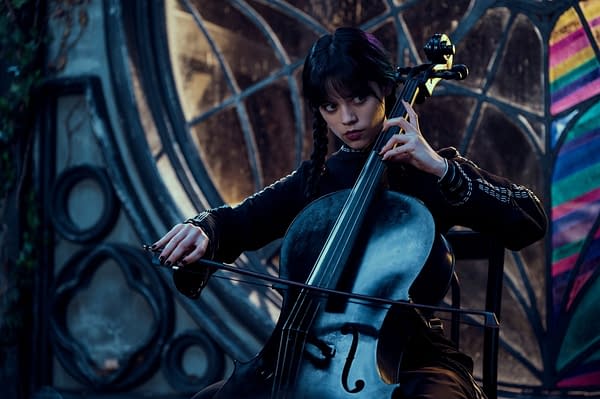 "It was show up to set two hours early, do that 12-14 hour day, then go home and then get on a Zoom and have whatever lesson that I had. Or show up to my apartment; my cello teacher was already waiting for me. It was just constantly going, and if you could on a weekend, if we weren't shooting the sixth day that week, it was 'All right, well then, we'll get your lessons in on that day,'" Ortega shared when describing how "free time" was just more time spent training for whichever skill was needed in front of the camera next. In fact, Ortega's fencing and cello lessons began several months before she flew out to Romania for the eight-month filming. "I did not get any sleep. I pulled my hair out. There's so many FaceTime calls that my dad answered of me hysterically crying," Ortega shared, citing her performance of "Paint It Black" as an example, a two-cello piece made to accommodate one that he learned even after having to change instructors with the move overseas.
"I didn't know where my hands were even supposed to go, and then I had to make two cellos come out of one cello, which was ridiculous," Ortega said, explaining that she wanted to do right by how she represented cellists. But as production rolled on and the filming schedule tightened, Ortega revealed that others had to step in to cover some scenes. "We started running out of time because Wednesday's in pretty much every scene. They had to start using stunt doubles or occasionally cello doubles if they didn't have time to get hands, but I was very adamant about being as well prepared as possible because I wanted them to be able to use myself because that's so much more believable if you could see your face," she added.