What We Do in the Shadows Season 2 Brain Scramblies Was a Superb Owl
This week's episode of FX's What We Do in the Shadows kept its momentum going with the season's third episode, "Brain Scramblies". The show managed to make me cringe in all the right ways as our favorite foursome of vampires ruins a few lives in honor of the "Superb Owl." The episode was just as funny as it was uncomfortable, and not an ounce of gore needed. The laughs flowed steadily and the episode never missed a beat, managing once again to make a 22-minute-minus-commercials episode feel like it was over in a blink of an eye.
On his end, Guillermo (Harvey Guillen) has set out to find virgins and coincidentally comes across a major threat: vampire hunters. Except that would now mean he's a threat. Uh-oh. Turns out there is a cluster of soft Buffy-wannabes who are training to hunt down vampires. However, only one has actually come across a real vampire and hint-hint, we have met her before. As much as I want to hate on them, it was actually kind of cute and since it is such a small group I wonder if they have some sort of sense the way Guillermo does that there actually is something out there. As extra as they were, they are onto something right there. And as cheesy as it sounds, they really had me laughing the entire time. Funny that even Guillermo himself knew that there is truly nothing accidental about him finding the group. His senses seem to be so much sharper than he wants to give himself credit for. When will they find out he is a descendant of Van Helsing?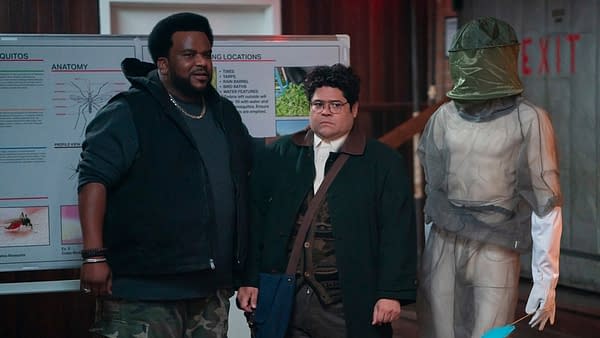 Guillermo Finding Fellow Vampire Slayers Was No Coincidence
As per our vampires, well, they decide it is time to fraternize with the neighbors for what they think is an event for a "superb owl" (Super Bowl, actually). From the opener, I was cackling like an idiot at their wonder and questioning why would humans have an event for a special owl. There is something so refreshing to me about this show and its vampires, the way they just do not seem to process their thoughts before they run their mouths had me constantly laughing; in many ways, their awkwardness reminds me of my own so their Sheldon-like responses are still awkwardly endearing no matter how inappropriate they turn out to be.
This cast dynamic in What We Do in the Shadows reminds me of a supernatural take on the gang from It's Always Sunny in Philadelphia in all the best ways possible, so I mean that as high praise. Nandor (Kayvan Novak), Nadja (Natasia Demetriou), Laszlo (Matt Berry), and Colin (Mark Proksch) just seem to ruin everyone they come across, yet seem to walk away from each disaster unscathed and still the same dysfunctional family as they started. Nadja's interaction with the "demented lady" was the best thing since sliced bread, with her blatant disregard for humanity and any sense of empathy hysterical in the way it made her sound like a petulant child. I really loved their dialogue and scenes together. Colin just bored the two poor dudes to near death and at least one pants-peeing. On the other hand, Nandor and Laszlo messed up so badly with their host's brain that they scrambled it for good in an attempt to make him forget they were vampires. Turns out dude forgot everything. Our trio looks to give him one last good night before doing "the humane thing" and tearing his head off, but they end up just keep freaking out the guy and I was tearing-up from laughter.
Once again, I really came across What We Do in the Shadows at the right time. This has jumped up to be a new favorite on my list and keeps me laughing throughout. As funny as it is, it also keeps me wondering where things are going in the bigger picture of the season since we know their actions from this and the previous season do have consequences. I am looking forward to when the vampires learn what Guillermo is truly capable of and with the introduction of new vampire slayers, our faithful familiar might just find the family he's been looking for.