"Worst Cooks in America" Episode 4 "Simple Yet Sophisticated": Can a Cooking Comp Cause PTSD? [SPOILER REVIEW]
This week's episode of Food Network's Worst Cooks in America was anything but "Simple Yet Sophisticated". The recruits "tilted the world" while attempting to make crepes – f you ever wanted to see a bunch of adults in a kitchen making bizarre full body motions, watch this episode. Hosts Anne Burrell and Alton Brown humiliated the recruits through the 'crepes of wrath' game where they all looked like cats licking their way to the bottom of a bowl.
Is $25,000 really worth such embarrassment? Obviously, it is. Brown's team – as has become the norm – lost the game challenge and yet again fueled his frustration and punishment for the remainder of the episode.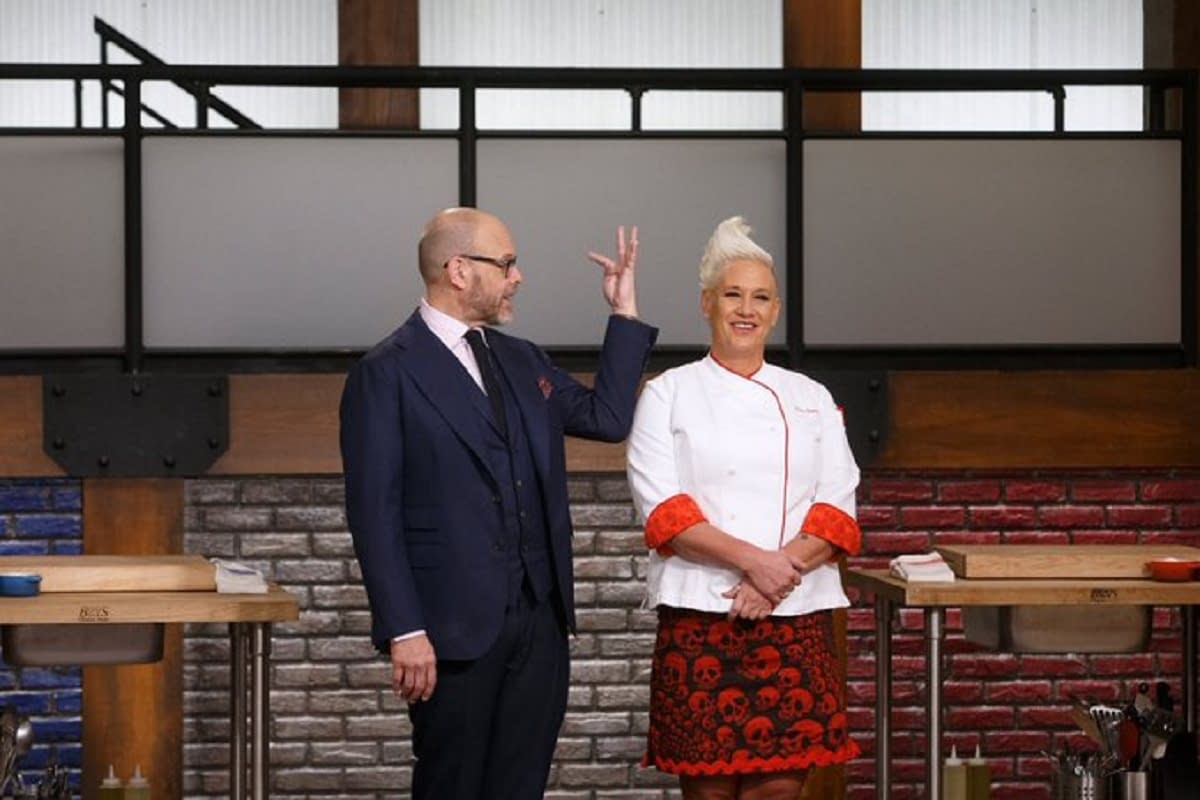 [rwp_box id="0"]
Recruits were introduced to the terrifying blender and having to multitask by using the stove AND the oven in the same challenge, this proved to be exceptionally difficult! Is the oven meant to stay open while cooking? While Burrell nurtured her team and came up with creative ways to demo both verbally and visually how to make crepes and duck, Brown, well, didn't do any of that. He huffed, and puffed, and short of blowing the house down, talked at his team, and paralyzed them with his stares of wrath.
Here are some of highlights from Worst Cooks in America Episode 4, "Simple Yet Sophisticated":
Skill Drill Challenge: 45 minutes to create a beautiful plate of crepes
Burrell demo's Ham and Brie crepe with fried egg on top – the egg really seems to be the recruits Achilles heel.
Brown sternly cooked up mushroom and provolone crepes
Both teams struggled with the blender, how to turn it on, hitting the on switch without the blender actually being in place, and not following mixing ingredient directions
Cutting onion proved to be very difficult, and there were rivers of tears.
Brown kept, yelling, and yelling, and yelling, wrong pans, poor knife skills, ovens left wide open.
In the end, there was no elegance, although the red team clearly did much better; the blue team produced abysmal plating, undercooked crepes, and failed to follow direction.
Brown does seem to be smitten with one contestant, Mike, who has a creative way to describe his food, comical and with a lot of swag.
Main Dish Challenge: Ugly ducklings attempted to transform in to beautiful swans – unsuccessfully by cooking up ducks and potatoes with a side of greens.
One contestant stole all the spinach and trash talked; while others scrambled to figure out what an asparagus is.
Multitasking was a huge issues, with one recruit turning into a hot mess forgetting absolutely everything, lucky for her Burrell was there to hand hold and guider her through process, everyone is entitled to an off day – she should just be lucky she wasn't on Brown's team.
With raw meat on cutting boards, no searing on the duck breasts, tons of puncture wound, and an overwhelming urge for Burrell to drink some wine, the recruits at least learned the art of 'blanch and shock', kind off.
The blue team overcooked their duck and potatoes, and undercooked their greens.
The red team forgot how to use salt – too much/too little; undercooked their duck, one recruit looked like he took all his frustration out on the bird – "relax Curtis"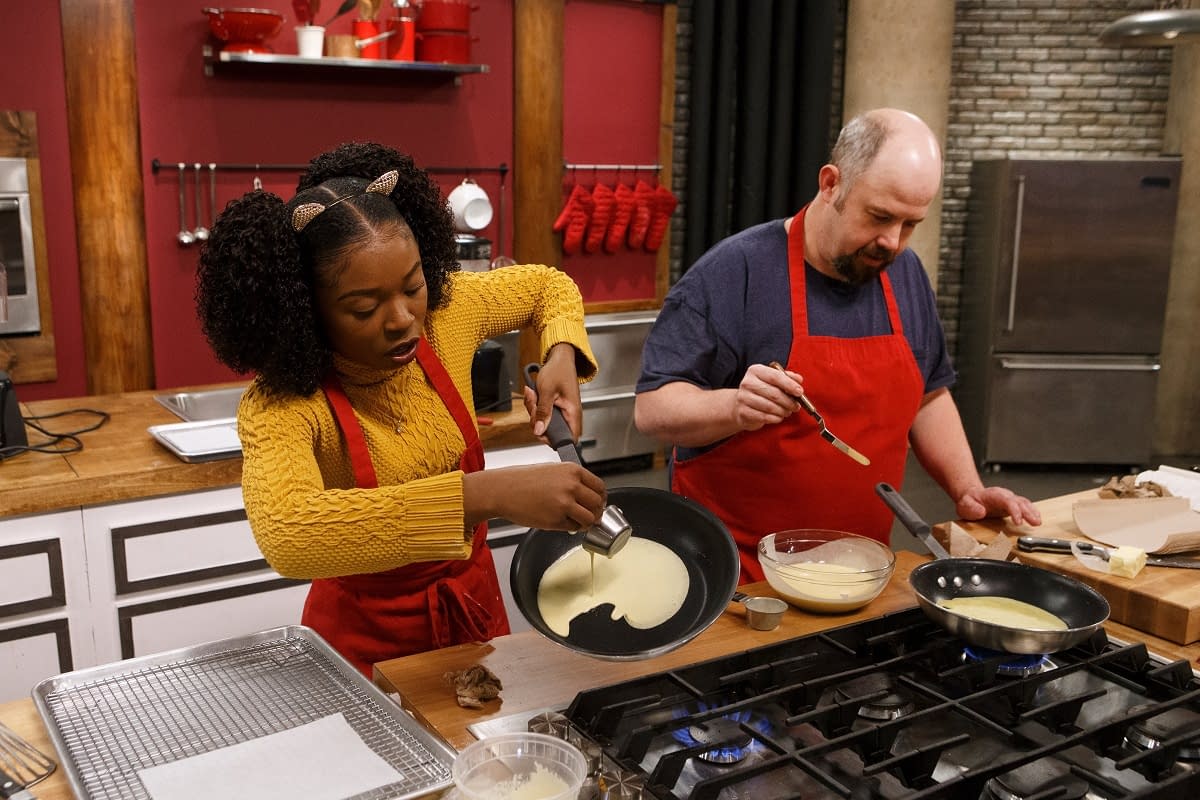 In the end…
Brown granted the win to NO ONE! – morale has to be so low on the blue team
Joelin was sent home – that will teach her to hoard all the spinach
Burrell gives the win to Lulu – once she got her head out of her notes, she actually cooked pretty well
Curtis was sent packing
A very terrifying episode of Worst Cooks in America. I'm torn between being a huge fan of Brown and his scare tactics, and yet sympathizing with the recruits. I'm not sure they knew they were signing up for such a spine-chilling competition. Next week, "Tailgating" will spiral out of control – hot sauce in the eye? With a tittle like that what will the Red vs. Blue game entail, BYOB and some toilet paper?