WWE Hall Of Famer Jerry "The King" Lawler Suffers Stroke
WWE Hall of Famer Jerry "The King" Lawler has suffered a stroke and is currently hospitalized after surgery was performed earlier today.
---
We have some serious news to share this afternoon as we learn that WWE Hall of Famer and wrestling icon Jerry "The King" Lawler has apparently suffered a stroke. The medical emergency occurred yesterday in 73-year-old Jerry Lawler's Fort Myers, Florida home, and he was rushed to the hospital where he underwent surgery. The specifics of what happened or Lawler's current condition are unknown now as the news is just trickling out.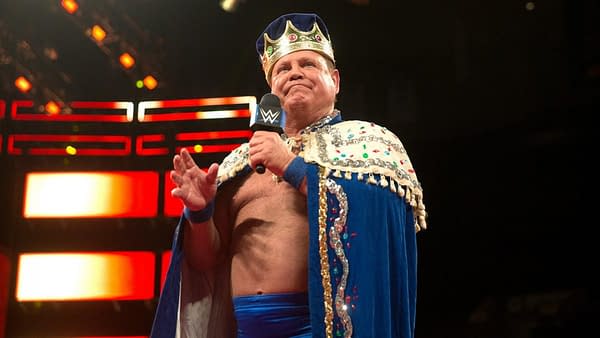 The world first learned of Jerry Lawler's health emergency earlier today when fellow WWE Hall of Famer Ricky Morton of the iconic NWA tag team The Rock n' Roll Express tweeted about the situation and was asking for prayers for his longtime friend, saying, "I hope my friend is going to okay. Love you, Jerry." He followed this up an hour later with another tweet saying, "Please direct good vibes, thoughts, & prayers to Jerry at this time. Genuinely appreciate it & hope to hear good news in the very near future."
The news of Jerry Lawler's suffering a stroke and undergoing emergency surgery was then reported by Action News 5 in Lawler's hometown of Memphis, Tennessee.
Jerry Lawler celebrated his 50th anniversary in the wrestling industry in 2020. He's had a truly legendary career, both in and out of the ring, as one of the most decorated Champions in the history of the industry and rose to worldwide fame with his infamous feud with iconic comedian Andy Kaufman in the early 1980s, which is still to this day one of the most-cited examples in wrestling history of blurring storylines and reality.
In the 1990s, Jerry Lawler transitioned to a color commentary role with the then WWF, and he found even more fame as the cackling horndog antagonist behind the commentary desk, alongside fellow commentator Jim Ross during the "Attitude Era." Lawler suffered a very public health scare in September of 2012 during a live episode of Raw, hit with a heart attack and having to be rushed to a hospital as worried fans watched in person and at home. He survived the incident and returned to his commentary duties on November 12 of that year.
We, of course, hope for a speedy recovery and good health for Jerry Lawler and will report on updates on this as they become available.