In the first hour of WWE Monday Night Raw, a contract signing went awry, R-Truth won back his 24/7 Championship, and Ric Flair continued to do his best to catch coronavirus. Read about all of that here. When we left off, Seth Rollins and Buddy Murphy were in the ring, ready to talk some trash about Rey Mysterio. It's hour two of Monday Night Raw, the hump day of Raw's three hours.
Seth Rollins is in the ring with Buddy Murphy. Austin Theory is nowhere to be found. Uh oh. Rollins calls out Rey Mysterio and Dominic Mysterio about their altercation last week. Rollins says Rey thinks his duty is to protect his family, but actually, Rey's duty is to be a sacrifice for blah blah blah. What is the point of this gimmick, exactly? Rollins says he needs to ask Rey to forgive him. He begs Rey to forgive him, not for what he's done in the past, but for what Rey is forcing him to do in the future. Rollins literally says the same shit every week. They're bound by fate. Seth is the Monday Night Messiah. Rey is meant to be a sacrifice. The Greater Good. Etc. Etc. Etc.
Rey interrupts via Titantron with Dominic. Rey wants forgiveness too, but not from Rollins. He wants Dominic to forgive him for what he's going to do to Seth. Rey is gonna do something to Seth that's as remorseless as what Seth did for him. An eye for an eye. Dominic forgives his father, but he'll never forgive Seth Rollins, and Rollins will never forget what his father does to him. Rollins tells Dominic to be careful what he wishes for. Rollins may be forced to end Dominic's career before it begins. Aleister Black and Umberto Carillo have had enough of this nonsense, as has the audience, so they head out to the ring and Raw heads to commercials.
After the break, Rollins asks Black and Carillo why they keep fighting Rey Mysterio's battles for him. He wants to know why Carillo looks up to Mysterio like a god when Mysterio is a coward. Carillo says Rollins is the coward, and Rollins is less of a man than Rey Mysterio. Black takes the mic and says he knows a thing or two about evil. He recognizes evil when he's looking at it, and there will be no forgiveness for Rollins. Rollins says Black hasn't seen nothing yet. He and Murphy climb up to the apron for an impromptu match.
Rollins and Murphy put Carillo and Black through the worst torture they can imagine… by putting them through a typically meaningless, paint-by-numbers WWE tag match. That'll teach him. Rollins gets the pin with a Stomp on Carillo. After the match, the brawl continues, and Rollins and Murphy assault Carillo with the steel stairs. After incapacitating him, Rollins puts Rey Mysterio's mask on Carillo an Rollins gives Carillo another Stomp, this time with Carillo's head on the steps. Tom Phillips calls Seth Rollins "evil incarnate," but isn't that the pot calling the kettle black from a man who forces us to sit through forty-five minutes of recaps of things we just watched every Monday night? Backstage, Drew McIntyre and Asuka are interviewed by one of WWE's few interviewers who doesn't have coronavirus… yet. Surprisingly, they're confident they will win their match tonight against Dolph Ziggler and Sasha Banks. Phillips promises us an Undertaker tribute after the commercials.
After the break, Tom Phillips pretends he believes The Undertaker is retired and plays a recap of last week's episode of Smackdown, which was a tribute to the Undertaker. When that's over, Lana approaches Ruby Riott backstage. Lana says the Iiconics were rude to insult Ruby earlier in the night. Ruby tells Lana to leave her alone, but Lana says she's here to help. Lana talks up Natalya, saying she has more wins than any other famous female Superstar. Raw heads to commercials again.
After the break, we see a recap of Asuka vs. Charlotte Flair from last week, and Tom Phillips tells us Flair is injured now. The Iiconics come out to accept a challenge from Ruby Riott from earlier. Peyton Royce will be taking on Ruby, which means there's a chance this is a pretty good match. Ruby comes out and they get started.  Payton works Ruby over submissions and technical wrestling (no, really), focusing on Ruby's arm. Ruby makes a one-armed comeback. Billie Kay distracts Ruby, leading to a roll-up and reversal sequence that ends with a spinning brainbuster by Royce on Riott for the pinfall. So far, this is the match of the night. It was short, but it had a point, and it featured a matchup we haven't seen a thousand times before.
Backstage, The Big Show is stretching ahead of his match later when Charly Caruso interviews him. Charly is starting to catch onto how predictable WWE's storylines are and wants to know if Big Show thinks his match against Andrade and Angel Garza is just a setup by Ric Flair for Randy Orton to jump him. Big Show puts over Flair and Orton, but he says Orton can step into the ring with him and find out why he's the Big Show. He says Andrade and Garza picked the wrong night to f**k with The Big Show because they're not getting the friendly happy Big Show, they're getting One Angry Giant. The Big Nasty Bastard is back, baby! It all goes down after the commercials.
After the break, god damn Tom Phillips forces us to watch a recap of the opening segment of Raw. We just saw that, Tom! Come on! The Big Show comes out for his match, as do Angel Garza and Andrade with Zelina Vega. And that wraps up hour two! Wow, that flew by, mostly because we got to fast forward through the Undertaker segment. Just one more hour to go (thank god), and you can read all about it in part three of this report soon.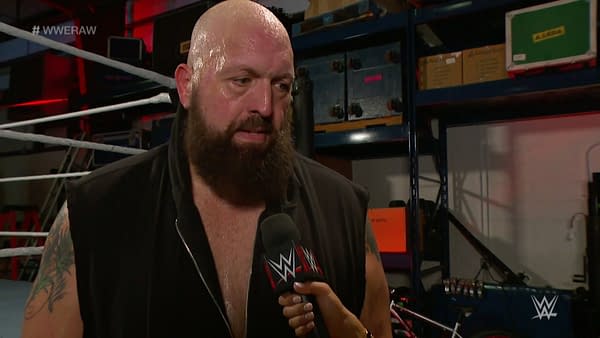 Enjoyed this article? Share it!