WWE Raw Preview: Cody Rhodes to Kick Off Royal Rumble Fallout Show
Cody Rhodes will kick off WWE Raw tonight and Rhea Ripley will choose her WrestleMania opponent. Plus: Elimination Chamber qualifiers start.
---
The first WWE Raw of WrestleMania season is on TV tonight as the fallout from the Royal Rumble sets the direction of the company heading into the biggest show of the year. Men's Royal Rumble winner Cody Rhodes walked out of the biggest Royal Rumble of all time with a ticket to the WrestleMania main event, and Cody will start off WWE Raw tonight. Another Raw star, Rhea Ripley, won the Women's Royal Ruimble and, we could learn more about her WrestleMania plans tonight. Additionally, Raw Women's Champion Bianca Belair successfully defended her title against Alexa Bliss, but Bliss's descent into fiend-fueled madness has only just begun.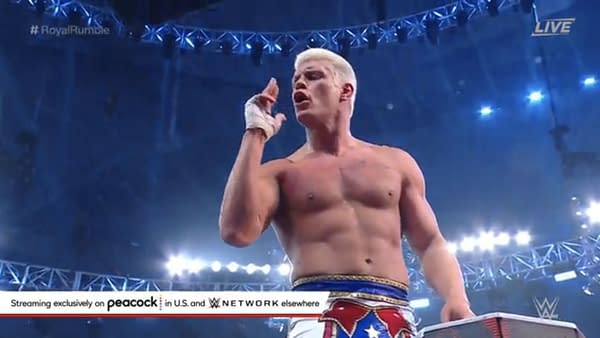 Read more of Bleeding Cool's Royal Rumble coverage:
But before WrestleMania, the Superstars of WWE Raw and Smackdown must make it through the Elimination Chamber. Tonight on WWE Raw, Johnny Gargano will face Baron Corbin in a qualifying match, while Seth Rollins takes on Chad Gable for the same honor. But it's not just for fun and games. The United States Championship will be defended in the Elimination Chamber this year, so Raw's de facto top belt is on the line, raising the stakes for these qualifiers.
Byron Saxton tells us all about it:
WWE Raw starts at 8/7C on USA Network.