Cody Rhodes and Triple H Are the Most Wholesome Thing in Wrestling
Cody Rhodes and Triple H shared a sweet and wholesome exchange at the press conference following the 2023 WWE Royal Rumble last night.
---
Last night, Cody Rhodes won the men's Royal Rumble match, putting him on course to challenge Roman Reigns at WrestleMania and potentially achieve the goal that has eluded his illustrious family: winning the WWE Championship. Discussing the win and his return to WWE in a post-Rumble media scrum, first of all, Cody offered a huge reminder of possibly the biggest asset AEW lost when he left the company he co-founded and returned to WWE: a master brand representative who can command a room full of media as naturally as he can an arena full of fans. But what stood out most were Cody's comments on WWE Chief Content Officer Triple H, who replaced Vince McMahon as head of creative between the time Rhodes had to take time off for an injury last year and his return at number thirty in the Rumble match last night.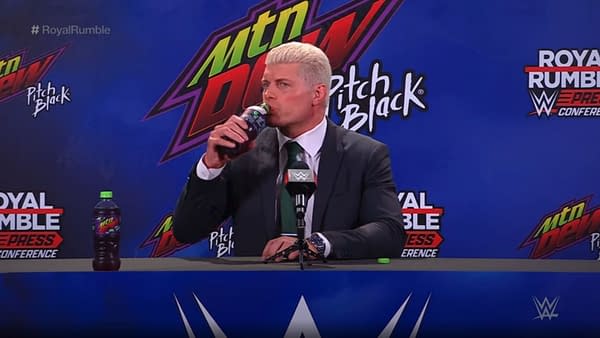 Cody's relationship with Triple H has always been a complicated one. Rhodes has hinted that Triple H is his favorite wrestler, but he famously trashed a Haitch-esque throne during one of his earliest AEW entrances, and often used the threat of a sledgehammer or a pedigree, Triple H's signature weapon and finishing move respectively, when teasing a heel turn that never materialized toward the end of his AEW run. At the same time, Triple H's relationship with Dusty Rhodes, as they worked together in the early days of NXT before the wrestling legend's death in 2015, could make Triple H and Cody Rhodes feel a bit like family themselves.
In the post-match media scrum, asked about coming back to a WWE under Triple H's leadership, The American Nightmare said of The Game: "Triple H has no reason to be a fan of mine, if you really think about it. I smashed the throne. I took a lot of shots. Always lighthearted. But I think he knew where it was coming from. I was hungry. He's the one guy, I don't think he remembers this but I'll never forget it: I remember I talked to him in Gorilla position one time while I was really frustrated doing Stardust, and I went to walk out, and he looked back at me and he said: 'hey, rattle the cages.' That could have meant a lot of things. Go talk to the writers. But he said 'rattle the cages.' I took it real literally. I went out and rattled them as much as they could. And I'm so glad that relationship gets to develop now, because clearly you guys see how much I modeled my presentation and performance. I'm clearly a massive Triple H fan."
"So I'm glad that he's the coach, and I get to play, and I want to play quarterback," Rhodes continued, starting to get a little emotional. "I owe him a lot for how he handled my dad, but I don't want him to look at me and see my dad. I want him to look at me and see me. And today, I felt like he saw me, and that's very important. My last name's done a lot of things for me, but we're at a point in my career where my first name has to do some things as well. And it's off to a great start, so let's see where we go from here."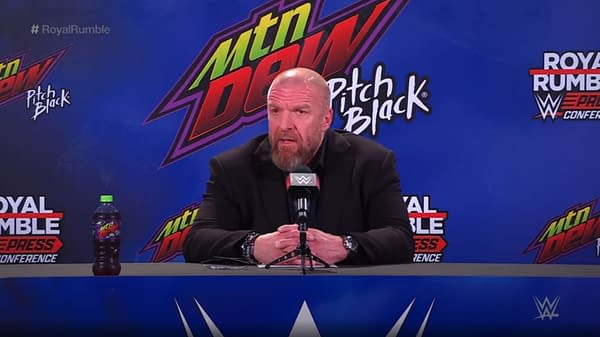 And if you aren't already all up in your feelings after that, it got even better when Triple H took the stage during the media scrum. He started right out by saying, "I will, one, congratulate Cody on going through what he did for all of us, for this industry, for himself. I know what that's like., I've been in that spot, unfortunately, a few different times, and I can admire what goes into it. And for him to turn that around and come back tonight and do what he did is amazing in and of itself. So congratulations to him, punching his ticket like he said, something that no one else in his family has been able to do, but punching his ticket to the main event at WrestleMania. Having that moment to be out there, standing in front of that incredible crowd, and do what everybody dreams of, because I believe that the people that make fun of it are the people that believe that they'll never get the chance to do it, and that is point at that sign that says you're going to WrestleMania in the main event. That's an amazing accomplishment after such an incredible setback."
"And for what Cody said here, I can't help it, but when I look at him, I do see his dad," Triple H continued. "I look in his eyes, and I see his dad's eyes. I see Dusty. But I see all the best things of Dusty, and then I see something more in Cody. So it's not about comparing him. I just see the greatness of his dad amplified in his dad's son. And that's something special. He's a special talent. A special human being. And I'm very proud of him for that."
Is someone cutting onions in here?
Read more of Bleeding Cool's Royal Rumble coverage: