In the first half of WWE SmackDown, Jeff Hardy fought The Miz as punishment for a really long Miz TV segment to open the show and Sasha Banks and Bayley took on Alexa Bliss and Nikki Cross. Read about that here. When we left off, WWE was about to replay the Braun Strowman vs. Bray Wyatt match from Money in the Bank and I was about to not watch it because I've already suffered through that once, so I took a smoke break. Now it's time to get back to the show.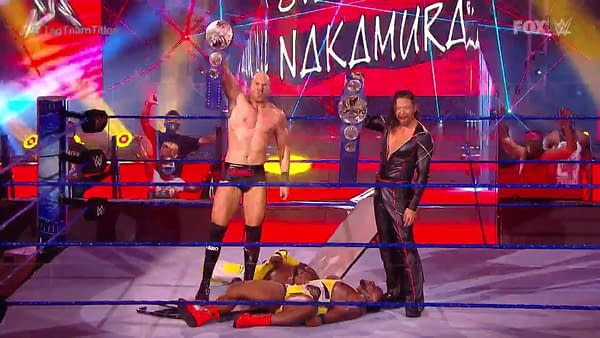 Braun Strowman is standing tall over Bray Wyatt at Money in the Bank. These two crazy kids will go at it again at Extreme Rules in a Swamp Fight, but this time Wyatt will be using his old school gimmick. Sarah Schreiber interviews Kofi Kingston and Big E. Sarah is a real shit-stirrer. She tells them about her interview earlier in the night with Cesaro and Shinsuke Nakamura and everything Cesaro said about them. Kingston mocks people who were surprised Kofi lost to Nakamura last week. He talks up Nakamura and Cesaro and says The New Day hasn't forgotten who they are. Big E says the New Day will remain WWE World Tag Team Champions tonight. Do you know why? No, seriously, do you?
Lacey Evans is fanning herself backstage and practicing her singing ahead of tonight's karaoke contest. Yes, you heard that right. SmackDown goes to commercials After the break, Lacey Evans, Naomi, Dana Brooke, and Tamina Snuka are in the ring. Jey Uso welcomes us to the first-ever "SmackDown Karaoke Showdown." He explains the rules: each contestant gets 45 seconds to sing their favorite WWE theme song, and the "audience" will vote for a winner.
Lacey Evans goes first. She sings Jeff Jarrett's hit With my Baby Tonight. She can sing on key but has poor timing. For all their billions of dollars, is WWE really unable to produce an actual karaoke version of these songs rather than having people sing over the regular versions with vocals? Dana Brooke goes next singing The Honky Tonk Man's theme song. She's as good at singing as she is in the ring. Jey interrupts her because he can't take any more. Tamina goes next. She sings Triple H's theme song. She only gets through the intro before Jey stops her for excessive headbanging. Naomi is next, singing Dusty Rhodes's theme. Naomi can also sing on key, though she lacks some confidence in her voice. She loosens up a little bit as it goes on (which it does for way longer than 45 seconds).
Now it's time for the judging. Lacey gets decent applause. Dana gets boos. Tamina gets big boos. Naomi gets massive cheers. Naomi is declared the winner. She shouts out to Dusty Rhodes as the song starts up again. Lacey attacks Naomi. They take off their shoes and earrings and start to go at it as SmackDown goes to commercials.
After the commercials, it's an impromptu match between Naomi and Lacey Evans. Evans is wrestling in a dress. They beat the crap out of each other with stiff shots. Lacey chokes Naomi with her dress. Naomi hits a roundhouse kick to the head. She kicks Lacey on the ground and Lacey rolls out of the ring. Outside, Lacey shoves Dana Brooke. Brooke gets in her face. Tamina gets in her face too and Lacey shoves her. Lacey gets back in the ring, but Dana and Tamina follow and attack Lacey. But it ends up with Tamina and Dana fighting each other as Evans escapes. So… is Evans a heel again, or what?
WWE SmackDown Continues!
Sarah Schrieber interviews AJ Styles. AJ brags about beating Drew Gulak last week. Schrieber tells him he'll be defending his Intercontinental Championship against Matt Riddle next week. AJ asks who Riddle ever beat. Sarah points out Riddle beat AJ. AJ says Riddle is gonna get beat by AJ Styles next week. The New Day head to the ring as SmackDown heads to commercials.
Now it's time for the main event. Cesaro and Shinsuke Nakamura come out. This match is for the Smackdown Tag Team Championships. Nakamura goes right after Kingston to start the match. Cesaro tags in quickly and the beatdown on Kofi is on. Cesaro tosses Kofi stomach-first onto the top turnbuckle and tags in Nakamura, who hits Kingston with a knee to the stomach. He gets a two-count.
Kofi fights back and reaches for a tag, but he's deep in the heel corner. Cesaro hits a gutwrench suplex and tries a pin. He drops an elbow and tries another. Then he tags in Nakamura, who chokes him on the ropes. Kingston fights back, but Nakamura tags Cesaro. He has plenty of time to tag Big E, but instead he just stands near them as both men charge. Nakamura gets backdropped to the floor and The New Day take over offense on Sheamus. They do the Unicorn Stomp and then Big E tosses Kingston into Cesaro feet-first. Cesaro rolls out of the ring and Big E tosses Kofi out after him, but Cesaro hits Kofi with an uppercut in mid-air and Smackdown takes its last commercial break.
Nakamura is working Kofi over with rest holds when Smackdown returns. Every WWE tag match follows the exact same formula. Kofi hits an SOS and crawls for the hot tag. Big and Cesaro are in. Big E hits some belly-to-belly suplexes. He misses the Big Splash though and Cesaro wants a tag. Big E knocks Nakamura from the apron, but Cesaro rolls him up. He hits some uppercuts and elbows on Big E in the corner. He does mounted punches in the corner, but Kofi Kingston is back on the apron. He tags in and hits a meteora on Cesaro but Nakamura breaks up the pin. He takes out Big E and beats on Kofi before the ref get s him back to his corner. Kingston rolls up Cesaro and gets a two-count. Now it's cheating heel time. Big E breaks up a pin attempt and all four men brawl, with Big E getting tossed outside again.
Kofi makes a comeback on Nakamura. Cesaro tags in and Kofi hits him. Big E comes in and they start brawling. The ref throughs out the match. Even the performance center crowd, who are paid to be here, think this is bullshit and boo the crap out of the finish. Cesaro and Nakamura beat down New Day on the outside and set up a table in the ring. They put Big E on the table. Nakamura puts Kofi Kingston up on CEsaro's shoulders on the turnbuckles and Cesaro powerbombs Kofi through Big E through the table. Well, that was an efficient use of a table. Smackdown goes off the air with Nakamura's music playing.
What I like about Smackdown: we usually get some decent-length matches. What I don't like about it: those matches are all the god damn same, other than the finishes. Sasha Banks and Bayley are the best things going in WWE without a doubt, but tonight's match against Alexa Bliss and Nikki Cross was uninspired. The Hardy vs. Miz match was as generic a WWE match as possible. Even the main event tag, which admittedly had a less common (but still bad) ending, was up until that point following the usual formula. The Karaoke Showdown, which was dumb, at least offered a break from the monotony. Smackdown seems like the show hardest-hit by the recent outbreak.
Enjoyed this article? Share it!