The first hour of WWE SmackDown unexpectedly featured two really good matches, one between Matt Riddle and the first of five jobbers assigned to face him by King Corbin, and one between Drew Gulak and AJ Styles. After that, we got a tribute to Sasha Banks and Bayley created by Sasha and Bayley. It was an uncharacteristically solid first hour of WWE television. Can they keep it up? Let's find out.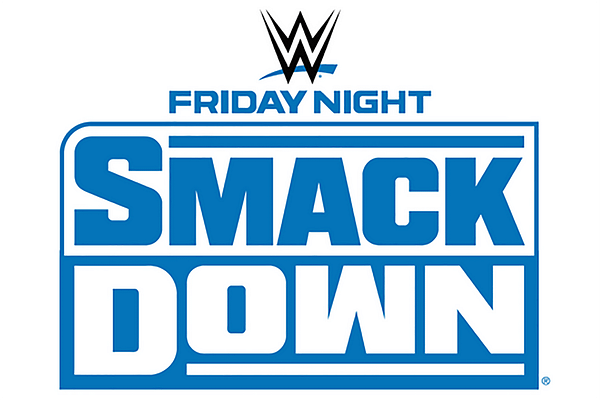 The tribute video ends with Bayley leading a booing Performance Center crowd in chants of "Thank you, Bayley" and "Thank you, Sasha." Check the first part of this report for an EXXXCLUSIVE scoop on the crowd. Alexa Bliss and Nikki Cross come to the ramp. Alexa disses the video. Alexa and Nikki have prepared a list of their own wacky accomplishments to make fun of the tribute, which they've written down on paper. Alexa says Nikki is the Queen of Scotland and 325th in line to the throne of England. Nikki says Alexa is the epitome of a champion and also was the first woman to drive across Antarctica in a go-cart. They mock Sasha and Bayley and climb into the ring. Alexa says Sasha and Bayley sound ridiculous. Sasha says no one has beat Bayley for the past year and Nikki Cross won't be the one to do it. Nikki knows if she puts her heart into it she can beat Bayley at Extreme Rules. Bayley laughs at her. Alexa punches Bayley. Sasha says Bayley will give Alexa a preview of what's gonna happen at Extreme Rules. SmackDown goes to commercials.
Back from break, Alexa is whooping Bayley's ass. She hits her flippy knee-drop/moonsault thing for a two-count. She charges Bayley in the corner and gets dropped into the turnbuckle. Now Bayley takes control. She works on Alexa's elbow. Bayley stops to mock Nikki Cross for cheering on her partner, but Alexa rolls her up for two. Bayley hits a clothesline and gets two of her own with a lazy cover. Bayley hits a running elbow in the corner, then goes back to working the arm. Alexa fights back, but Bayley rolls out of the wring and slams Alexa's arm on the apron. Bayley tries a pin and gets two.
Bayley hits a clothesline in the corner into a bulldog. Bayley entices Nikki to come up to the apron, which distracts the ref, allowing Sasha to get involved. Nikki takes out Sasha. Bayley taunts Nikki, so Nikki hits her, getting Alexa disqualified. Nikki attacks the champ. Sasha pulls Bayley out of the ring before Nikki can do any more damage.
Corey Graves promotes Sheamus's piss-drinking ceremony for later tonight. Michael Cole says a look back at the relationship between Bray Wyatt and Braun Strowman is next, after some commercials. Sounds like a good time for a bathroom break.
WWE SmackDown: Shinsuke Nakamura vs. Kofi Kingston; Sheamus/Jeff Hardy
I'm back. The New Day comes out. Big E rolls all the way down the ramp to the ring. Kofi Kingston will be competing in a singles match, after some commercials.
Cesaro heads out with Shinsuke Nakamura. Nakamura is Kingston's opponent. Kingston goes right after Nakamura to start the match, stomping him in the corner. Nakamura fires back with some knees but Kingston hits a springboard dropkick, then another dropkick sends Nakamura to the floor. Kingston goes for a dive but stops himself when Nakamura moves out of the way. Kingston heads outside and they brawl in the ringside area. Kingston tosses Nakamura into the barricade as Big E laughs at him. Back in the ring, Kingston goes to the top rope but Cesaro distracts him, letting Nakamura take control of the match. With the ref paying attention to Nakamura, Cesaro hits Kingston. Big E gives chase, and the ref tosses both Big E and Cesaro from ringside. SmackDown goes to commercials again.
Nakamura is still in control after the break. He hits a snapmare and knee drop for a two-count. Nakamura throws Kingston into the corner and clotheslines him. He hangs Kingston on the ropes and dropkicks him through the ropes. Nakamura goes for a pin but his feet are under the ropes. They trade punches and kicks. Nakamura takes Kingston down with an elbow. Nakamura drags Kingston to the apron and hits a running knee to the head from the outside and pins him, getting a two-count.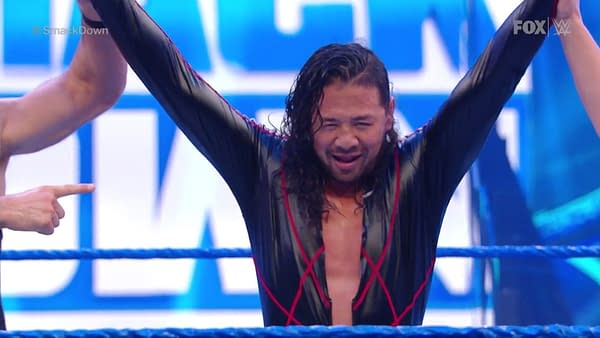 Kingston makes a comeback with a flying forearm. He hits a few clotheslines and dropkicks, then goes to the top and jumps right into a knee from Nakamura. Nakamura gets two. Kingston reverses it and gets two. Kofi misses Trouble in Paradise. Nakamura hits a spin kick and gets a two-count. He goes for a knee to the face, but Kingston dodges. Kingston hits the SOS but Nakamura kicks out. They run the ropes and Kingston hits a double stomp to the chest for two. Kingston wants Trouble in Paradise now, but Nakamura catches him a sleeper, rakes his eyes, and hits the running knee. Nakamura gets the pinfall. That was an expectedly decisive victory for Nakamura and a pretty good match.
Cesaro heads out to celebrate and grabs a table from ringside. Big E runs out to make the save. He chases Cesaro and Nakamura from the ring. Corey Graves says they'll play Strowman vs. Wyatt from Money in the bank on SmackDown next week so WWE talent only have to be exposed to coronavirus for half the time at the next tapings. Cole says Alexa Bliss and Nikki Cross will take on Sasha Banks and Bayley in a non-title match next week. Graves says The New Day will defend their belts against Cesaro and Nakamura. Now it's time for the main event. The moment everyone has been waiting for. The piss-drinking ceremony. There's a bartender in the ring with a minibar. Piss will be swilled tonight! After commercials, of course.
Jeff Hardy comes to the ring for SmackDown's main event. He calls Sheamus out to the ring. Sheamus appears via Zoom chat from home. Sheamus can't be too close to Hardy ever since the piss-drinking incident. Sheamus got a little bit of Hardy's piss in his mouth when Hardy threw the urine sample at him, and the substance was so addictive from years of Hardy's habits that he became instantly addicted. If Sheamus were there in person, he would probably beat up Hardy and try to drink his piss right there.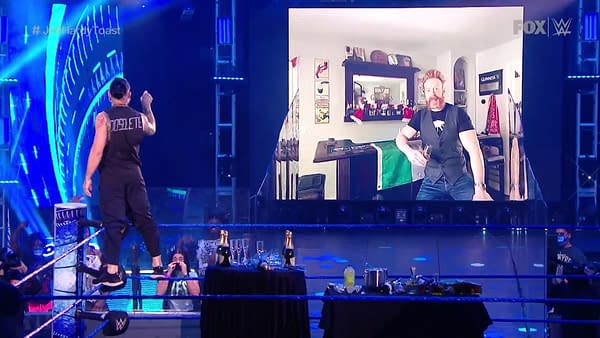 But Sheamus wants to make sure he gets the good piss. He needs Hardy to relapse so that the piss will be of primo quality the next time he drinks it. Sheamus compliments Jeff on defending The Undertaker's honor last week. But the adrenaline rush Hardy had must be causing him to slip back into his old ways. He says Hardy has a problem, one in addition to his drug and alcohol problem that's ruined his life. His problem is with facing reality. Since Sheamus beat Hardy at Backlash, Hardy has been feeling sorry for himself. He's chasing victories in the ring for the rush. Sheamus thinks it's sad and pathetic. Jeff will be a disappointment and blow it like he always does, so why bother trying. Sheamus tells Hardy the answer to his problems is in one of the bottles of alcohol in the ring. He recites a poem about Hardy being a junkie.
Hardy says Sheamus is the sickest person Hardy has ever met. Not only does he swill piss on a daily basis, but he's also mocking real people's problems. Making fun of addiction isn't cool. He wants to know if Sheamus thinks that's funny. Sheamus is getting irritated. He wants Hardy to get drunk and piss in a jar right now so it can be Fed-Exed to Sheamus. He has his bartender offer Hardy a glass of champagne. Hardy says Sheamus is right. What's the worst that can happen? Hardy sniffs the drink and puts it up to his mouth. Then he pours it on the bartender's head. Then he breaks the glass over his head. Then he hits a Swanton bomb. Hardy poses to close out the show as an irate Sheamus searches the dark web for a good piss connection.
This episode of SmackDown had it all. Good matches. The best wrestlers working today, Sasha and Bayley, doing their thing. And one man's descent into the depraved depths of a piss addict, trying to drag others down with him. That's the kind of thrilling drama and action I can get on board with. Hopefully, WWE doesn't shut down because of coronavirus and we can see where this compelling storyline goes.
Enjoyed this article? Share it!