WWE's Jeff Hardy Arrested, Booked for Public Intoxication and Impairment; Released on Bond
Jeff Hardy's life took an unfortunate turn on Saturday, when the WWE wrestler was arrested and booked in Myrtle Beach, South Carolina on allegations of public intoxication and impairment. Hardy (aka "Brother Nero" and one half of popular WWE tag-team The Hardy Boyz, with brother Matt Hardy) was processed and posed for the mugshot below before being released the same day on a less-than-$200 bond.
There is still no official word on what led to Hardy's arrest, and reporting was initially exclusive to TMZ.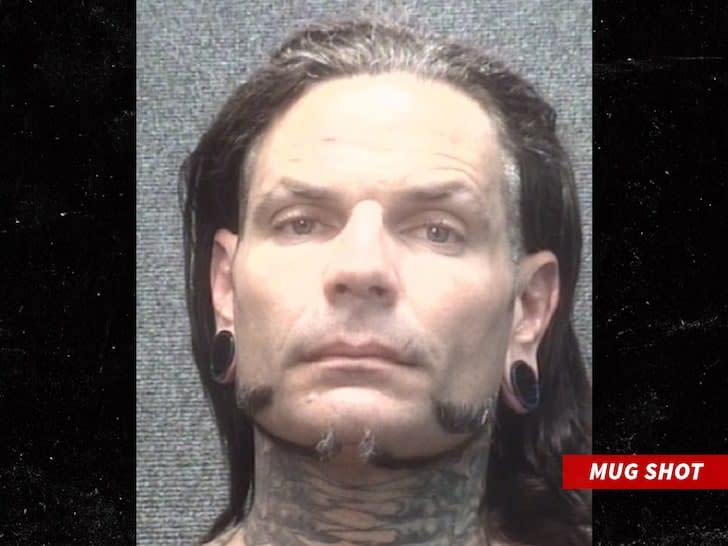 Hardy has been battling with personal demons for some time now, and was arrested for a DWI in North Carolina in March 2018 after his reported involvement in a car crash – with the professional wrestler alleged to have registered a 0.25 BAC. Hardy has been off WWE screens and out of action since May 2019, recoving from a knee injury and subsequent surgery.
In an August 2018 interview with The Kingston Whig Standard, Hardy opened up about his life after wrestling – one that involves him stepping away from the squared circle for good…
"That's more something that Matt would most likely do. I think I'm really trying to focus on my music career, and try to sing as much as I can, so hopefully when I'm done and can't wrestle as much as I do now, I'll be able to make somewhat of a living off of my original music. That's another dream of mine. I don't think I've got what it takes to really be a trainer or a coach."
Of course, there was one situation that would convice Hardy to come back – as a trainer:
"My seven-year-old Ruby, I think more than ever she's starting to love wrestling and I'm all for it. I mean if she wants to do it, I think her and my younger daughter, my two-year-old, Nera Quinn, I would train them. They're probably the only two people on Earth I'd be willing to coach or train. If they want to do it, I'll totally support them. I'm behind them all the way."