X-Files Season 11 Premiere- How COULD You, Chris Carter?
Just when I thought I couldn't be more angry and upset as an X-Files fan after season 10, we get tonight's season 11 premiere. Chris Carter, the series creator who both wrote and directed tonight's episode has always said he's the worst at dealing with his own series' mythos, and it REALLY showed.
Obviously, I'll be talking about the episode, so if you haven't seen it and don't want spoilers, find something else to read.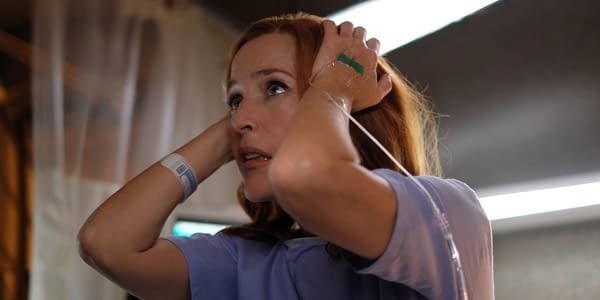 "My Struggle III" was not good as an episode of tv. As an episode of X-Files? Even worse. Undoing every bit of character development built over so many episodes and YEARS with dialog and motivations that would NEVER CROSS THESE CHARACTER'S MINDS. It's like everyone working on this revisit, this revival season, have no idea what their source material is. X-Files was never THIS melodramatic; minus one or two scenes over a vast list of strong episodic material.
Do you guys remember how there was that big stink about there being NO WOMEN in the X-Files season 11 writer's room? Remember how even Gillian Anderson (who plays Agent Scully) commented on how disappointed she was by this? Anderson wrote and directed an episode of the series in its 7th season, it's one of my personal favorites, so it stands to reason she understands what the landscape would be in the writer's room for the show. It was only AFTER the public outcry that FOX admitted that "oh yeah, we've got two women directing this season", but still no writers. I'm not saying women NEED to be included because they're women, but you're telling me there weren't at least one or two highly qualified female writers who know the mythos inside and out?
If tonight's episode is ANY indication of what's in store for season 11….I'm not sure I'll be able to continue. I'm all for shaking things up, for coming at a 'remake' with your own vision and not doing exactly what came before….but not like this.
With so much rich history to pull from, if you REALLY want to rewrite these major plot points, maybe NOT go to CSM raping Scully to impregnate her as a plot device?
No, really. To quote a previous X-Files episode, "THIS CANNOT BE HAPPENING."
Admittedly, CSM is not meant to be liked. He's done some truly horrible things to the people in his life (like Cassandra) and to the human race at large (depending on when in the series mythos you're looking), but to now say he's a rapist? Are you KIDDING? And even worse than that…you've put that deplorable act with Scully as the recipient?
CSM is NOT that guy. He's just not, and I cannot in good faith believe you've got the best reasoning for this, Carter. We KNOW how that episode went on the lake, you even called back to it with the flashbacks in tonight's episode. She was undressed. She woke up in a bed, not in the clothes she fell asleep in. To do this to that character, after everything else she went through during the series and movies, it's unforgivable.
My only hope at this point is that CSM is lying. We know he's lied before and often and well. To do away with that beautiful story of Scully coming to Mulder to ask his help in getting pregnant way back when, to say "that isn't the case", just….heartbreaking.
Carter has taken some leaps (of course, it's the frakking X-Files, it's not meant to follow convention) in the series history, but he has NEVER been so disingenuous with his characters.
The only positive thing I can say about tonight's shit show of an episode is that I would totally watch a young CSM spinoff series.
The X-Files airs on FOX on Wednesday nights.