Young Justice: Outsiders Gets Official Synopsis and New Art
While four of the original series slated for the DC Universe streaming service are brand new, the fifth is the highly anticipated return of a fan-favorite animated series, Young Justice. The original series ran from November 2010 to March of 2013 and was originally developed by Brandon Vietti and Greg Weisman for Cartoon Network. The series' cancellation has been speculated to have been caused by lack of toy sales.
The second season of the series was called Young Justice: Invasion, and keeping with that idea, the third season is being called Young Justice: Outsiders. The series is set to return/debut on the new streaming service in 2019.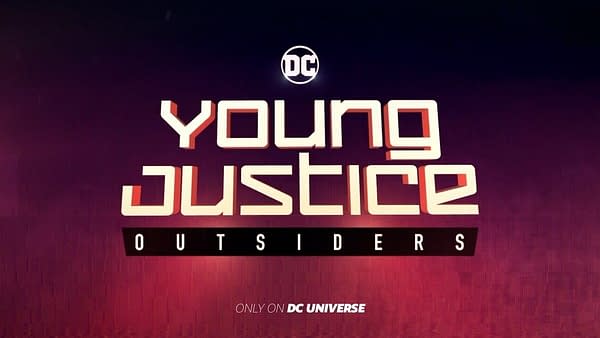 Young Justice: Outsiders features the return of the fan favorite animated series with a huge cast of DC's most iconic young superheroes – plus brand-new characters, many of whom are just discovering their unique meta-powers and special abilities. Set against the backdrop of a rich, deep world that touches all corners of the DC Universe, the season focuses on meta–trafficking, and an intergalactic arms race for control of these super–powered youths.
Young Justice: Outsiders has returning cast members Khary Payton as Aqualad, Danica McKellar as Miss Martian, Nolan North as Superboy/Superman, and Alyson Stoner as Batgirl. Vietti and Weisman will be returning as showrunners. The team is believed to be made up of Wonder Girl, Robin (Tim Drake), Blue Beetle, Impulse, Beast Boy, Arsenal, Static, and new characters Spoiler, Arrowette, and Thirteen.
Here is a new image of the team so far along with another promotional shot the released previously.