Before Christmas, Bleeding Cool mentioned the settlement between San Diego Comic-Con and Utah's Mormon Church organisation Utah Media Group, previously knows as the Newspaper Agency Company, that owns Deseret News and was a partner in the production of the Salt Lake Comic Con – the body that recently lost its trademark case with San Diego Comic Con.
As part of the settlement, it stated that
Newspaper Agency shall be permitted to engage in its business services for third parties, including but not limited to, ticketing, advertising, facility logistics, website design and management, sourcing, budget and human resources, and information systems, for any third-party person or entity regardless of the marks used by such person or entity, including but not limited to the COMIC-CON Marks. For example and without limitation, Newspaper Agency may advertise the products and services of third parties by publishing third-party advertisements that include the COMIC-CON Marks.
Which is handy because the Utah Media Group own Growtix, specialising in selling tickets for comic book conventions, and a judgement against them could have affected all manner of their business.
Now, Growtix currently sells tickets for Comicpalooza, Phoenix Comic Con, Florida Supercon, Denver Comic Con, Planet Comicon, Calgary Expo, Pop Con Indie, East Coast Comic Con, The Great Philadelphia Comic Con, Hartford Comic Con and, of course, the Salt Lake Comic Convention.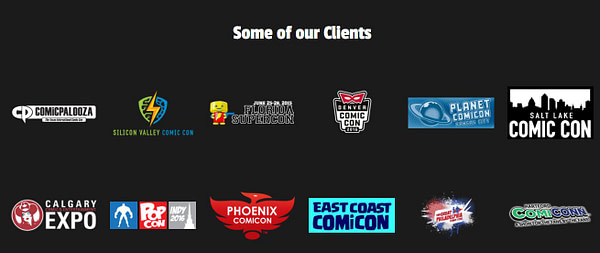 Now, while I am sure there are confidentiality clauses involved, is there worthwhile knowledge about comic cons and comic con attendees that Growtix might acquire that could be shared with their parent company and then shared with Salt Lake Comic Convention? It does give them a prominent position in the marketplace. No wonder that, while Dan Farr continued the legal fight, the Utah Media Group settled with San Diego Comic Con at the first available opportunity.
Are the other shows aware that their ticket seller is also for all intents and purposes a rival comic convention organiser? And that they are aware of how various celebrities perform at various shows, get all their contact details and are aware how much each guest is paid as well? Might optimise the performance of any rival show with that kind of widespread information…