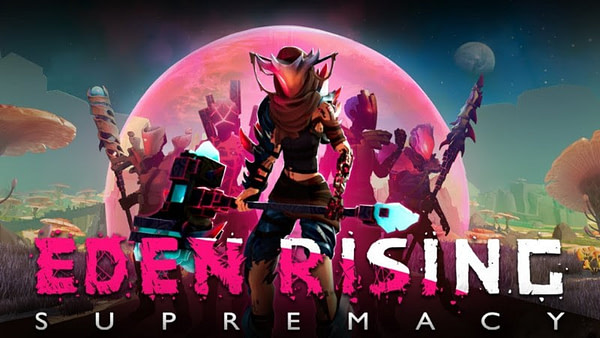 Canadian developers Nvizzio Creations and Meridian 4 have announced that their new game, Eden Rising: Supremacy will launch on Steam in early access on May 17th, 2018. This multiplayer open world-tower defense hybrid delivers a unique co-op experience with a refreshing blend of exploration, crafting, action, combat and tower defense.
Players will be able to get their hands on Eden Rising: Supremacy for an introductory price of US$14.99 on Steam. "Eden Rising is the perfect co-op game for friends and online communities. You and your friends will explore an incredibly beautiful alien world, craft dozens of items and triumph over tough tower defense challenges," said Nvizzio's Lead Designer, Brent Ellison. "At the start of early access, up to 8 players will be able to share their own persistent version of Eden and we can't wait to hear their stories.We have an extremely ambitious roadmap for Eden Rising and strongly believe that game development should be a collaborative process alongside the players. We are truly looking forward to engaging with the community to make Eden Rising the best and most creative game it can be."
The game will launch with a slew of features already available including a 4 square mile world with four distinct biomes to explore. Those biomes will increase in size and scope during early access development. The early access version will have over 30 hours of gameplay including some end game content which will let players to team up and test themselves.
Nvizzio has also launched a video series, The Ascendants' Vault, which takes an in-depth look at Eden Rising's world and core features. So if you're looking for more information on the game, thats a good place to start.
Eden Rising: Supremacy will be hitting Steam Early Access on May 17th, 2018. As of today, players can wishlist the game now on Steam and head over to the official site for more information.
You can watch the latest gameplay trailer below.