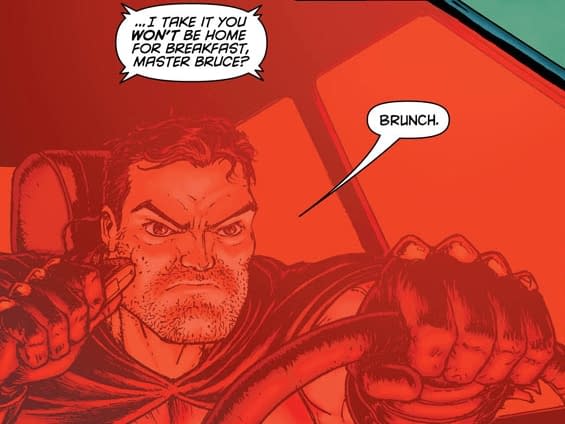 That was the year that was. Ended, as it began, steeped in controversy. Then I was being accused by DC Publicity of being a pirate, now the criticism comes from a different area…
Still, onwards and upwards! We'll run a rundown of the year's most popular stories at midnight London, 7pm New York, 4pm Los Angeles. Till then, what have you been reading on Bleeding Cool this week?
Top Twenty Traffic Of The Week
1. Rape, Redemption And The Amazing Spider-Man
2. New Arrested Development Set For May 4th
3. Is That An All New Look For The Beast?
4. Dan Slott Breaks The Internet In Half. Literally
5. First Look At Live Action Hong Kong Phooey And Marvin The Martian
6. Jim Lee's WildCATS To Follow Man Of Steel
7. Found Again – The Long Lost Film That Played Before The Empire Strikes Back
8. Peter David Suffers A Stroke On Holiday
9. Best Camera Test Ever – But Canon Didn't Think It Was Funny
10. Talking With Steve Wacker About… You Know What
11. The Man Who Stole Spider-Man #700. And The Man Who Stopped Him
12. The Top Ten Most Pirated TV Shows Of 2012
13. The Top Ten Most Pirated Movies Of 2012
14. Matt Smith's Face Appears In Doctor Who Titles
15. Is Atlantis Meant To Be Israel?
16. Why Next Week's Issue 15s From DC Are Not Late
17. The Covers To Invincible #100
18. The Rob Liefeld/Duane Swierczynski Deadpool/X-Force Comic That Never Was
19. Jamie McKelvie's Hulkling And Wiccan Young Avengers Kiss
20. J J Abrams Has Officially Turned Down Star Wars Episode Seven
And Ten You May Prefer
1. Marvel Grabs Marco Rudy For Spider-Man Mini Series?
2. Swipe File: First Poster For After Earth And First Poster For Oblivion
3. Josh Hoopes From Scamming Comics To Scamming Games
4. Danny Boyle's Trance – First Images With James McAvoy, Rosario Dawson, Vincent Cassel – UPDATED With More
5. Jim Starlin And Walter Simonson Show Off Their Helmets
6. How To Make A Monster Movie. Okay, Not Any Monster Movie But Grabbers – One Of The Best In Aaaaaaages
7. Jonathan Ross And Tommy Lee Edwards Part Ways On The Golden Age
8. And You Thought It Was Hard To Avoid Movie Spoilers These Days… In 1982 It Was Nuts
9. Jonathan Ross And Ian Churchill To Create New Series, The Revenger – A Tragedy
10. Teaser Trailer For BBC America's Clone Drama, Orphan Black
Enjoyed this article? Share it!