BC Mag #4: Gorillas And Super Villains: Simon Spurrier And Mike Carey Talk Their New Boom! Series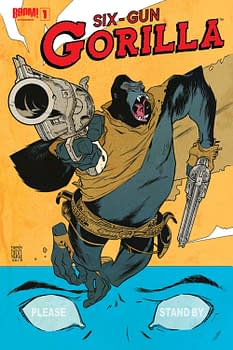 Bleeding Cool Magazine article by Simon Spurrier & Mike Carey
Most people would be interested to hear what Mike Carey and Simon Spurrier, two fantastic talents in the comics field, have to say about their new projects in general. But when you find out that the books in particular are about a gun totin' gorilla and a world of super-powered criminals, you simply can't ask for anything more. Bleeding Cool Magazine caught up with the creators and found out a little more about Six-Gun Gorilla, Suicide Risk, and which BOOM! artists "give good gorilla."

MC Tell me a little about the book you're doing for BOOM. Is it a new departure for you?

SS This is going to be a slightly curious experience, I think. You have the dubious pleasure of being my first ever interviewee, but I wasn't even quick enough to get in the first question. Not a great start, Si, not a great start. Okay… the story's called Six-Gun Gorilla. And yeah, it's a pretty enormous departure.
The way I've taken to describing it (which doesn't do it justice – you know how it is with these daft little summary things) is that it's mostly a Western, partly a sci-fi, but not a sci-fi Western. Which is basically even more confusing than if I hadn't opened my mouth at all.
You can find the full article in Bleeding Cool Magazine #4 at a comics retailer near you. Here is the Bleeding Cool Directory of retailers who have shown special support to the magazine and this website. Are you a retailer who would like to be included? Contact us.