Legends of Tomorrow Season 3, Episode 14 Recap: Amazing Grace
This article contains spoilers for DC's Legends of Tomorrow season 3 episode 'Amazing Grace'.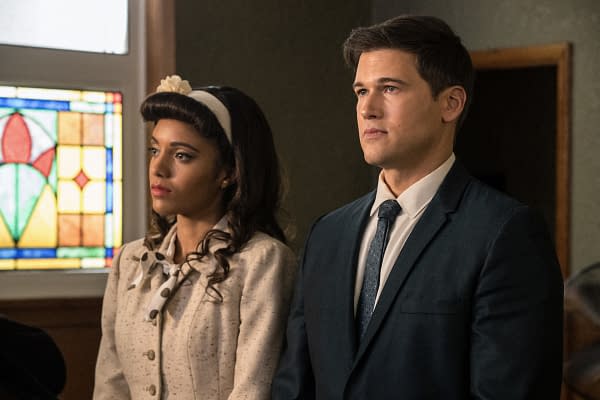 This episode kicks off with Wally (Keiynan Lonsdale) and Zari (Tala Ashe) trying to find common ground when she notices that her Guitar Hero game is now Trombone Hero. Then Mick (Dominic Purcell) and Ray (Brandon Routh) are in the kitchen when Mick notices his rat, Axel, now has the name 'Josh Groban' on his food dish. And on the bridge, while trying to find the next anachronism to go after, Sara (Caity Lotz) and Amaya (Maisie Richardson-Sellers) notice Nate (Nick Zano) no longer has a pompadour. Gideon discovers an incident in 1954 Memphis, Tennessee involving Elvis Presley (Luke Bilyk), and the team is off on a rock 'n' roll-themed mission. It seems Elvis went to a pawn shop and bought his first guitar — one rumored to be that of Robert Johnson, who was believed to have sold his soul to the devil. But reality was that the Death Totem was attached to the neck of the guitar and it could raise the dead, like Elvis's twin brother Jesse.
The team goes to the church of Elvis's uncle Lucious (Geoffrey Blake), who preaches against rock 'n' roll and has Elvis play a gospel song. Zari's totem reacts to this, making people think she is possessed by the devil. The team gets out of there with Mick swiping one of Elvis's toasted peanut butter and banana sandwiches. They figure they need the guitar, so Wally swipes it at super-speed. But just by taking it, they don't fix time. So they replicate another and give it to Elvis, but he can't perform because Jesse doesn't appear when he plays. On the ship, Sara and Ray examine the totem and it activates, bringing Jesse up. He tries to get off the Waverider, smacking people around and setting Axel free from his cage. Nate convinces the team that they need to let Elvis use his guitar at the recording studio the next day, and Mick finds that Axel has died and is broken up in his own way.
Elvis records the song and it's good, but his uncle comes in, takes the record, and has Elvis, Nate, and Amaya arrested. Wally and Zari go to talk to the uncle and Wally convinces him, through talking about his own father, that he's just scared of losing Elvis and that he should be proud of him. The reverend agrees and gives them the record. He is then excited to hear his nephew on the radio — until the song starts raising all the dead in the cemetery. Also, Ray puts together a funeral service for Axel, which actually goes well with Mick and Sara… until Axel's ghost arises and starts running through the ship.
Nate, Amaya, and Elvis get out of prison. They go to the church where Elvis plays 'Amazing Grace', and all the ghosts disappear, including Jesse. Mick has his goodbye moment with Axel. The team gets the Death Totem and locks it into a box — and Nate gets his hair volume back.
Other than a few funny moments, this was the weakest episode of the season. They put things into the story and never did anything with them, like Zari's totem reacting — if everyone thought she was a demon, they forgot about it a minute later. And how quickly his uncle just turned over the record was ridiculous. The whole episode felt like someone just really wanted to do an Elvis-themed story. They didn't even pay off the idea that Robert Johnson owned the guitar before Elvis. And there was zero racial tension in 1954 Memphis… seriously? They've had some really great episodes this season, this was not one of them.
Next week we get to see what happens when the Death Totem chooses Sara as its new master… or vice versa. This episode, 'Necromancing the Stone', also features the return of Matt Ryan as John Constantine and is said to have another member of the team trying to use one of the totems.
https://youtu.be/bdysIbdvJK0