The 6th and final season of FX's Cold War era spy drama series The Americans continues with episode 4.
Elizabeth Jennings (Keri Russell) continues to train her daughter Paige (Holly Taylor) in the ways of her parents, while also running dangerous solo ops. Philip Jennings (Matthew Rhys) lost his personal battle to stay out of the lifestyle, and Stan Beeman (Noah Emmerich) continues to get to the bottom of the Russian spies' plans.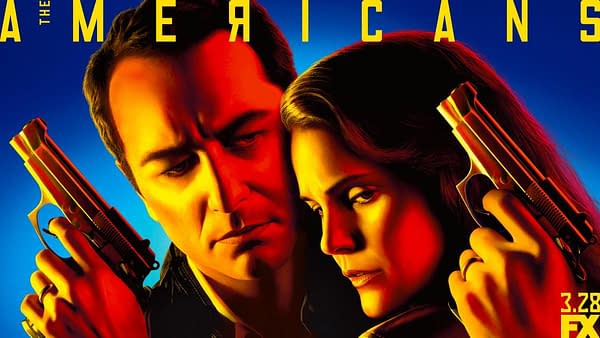 If you missed what happened last week, you can catch up here.
S6e4 is titled "Mr. And Mrs. Teacup", and the synopsis reads:
"After picking up a distressing piece of intelligence, Elizabeth takes extreme measures to get close to a Soviet negotiator. Philip shares some stunning news with Henry."
Things that happened in The Americans s6e4:
This episode picks right back up with Philip meeting with Oleg in the park
They're talking about back home, about possibly making peace now with the Americans
Oleg tells Philip there is something rotten about Gorbachev, that they need to know what Elizabeth is doing
Philip tells Oleg that Elizabeth is working on the summit and trying to get possession of one of the new radiation sensors
Back at home, the Jennings seem on totally opposite sides from each other now, asking how the others day was
Later that night, Elizabeth breaks into the warehouse with the information she got from the security guard last episode
It's probably the darkest (lighting wise) scene the show's had in a long time
Paige is on site too, keeping a lookout while Elizabeth tries to get ahold of a senor
she shoots a guard, but manages to get out before the local cops show up
Philip assumes him Jim Baxter character again, visiting young blonde Patty
Elizabeth and Paige are talking about the General mission, and Philip is unhappy
The tension is high
It's hard to see these two characters at odds, it's been Philip and Elizabeth together since the beginning
Oleg calls his dad back home in Moscow to check in on his family, and to report his meetings with Philip
Elizabeth is given a new side mission by Claudia, to find the married couple that Stan gave asylum to, and deal with them
Philip has to tell Henry that the money to continue his private schooling isn't happening, and that he'd have to leave the school
Stan and Philip are back to being pals, out having a drink at the bar
Such a well played relationship with these two, so similar in their personal views and their professional goals, but opposite sides of the wall.
A little pillow talk with the Jennings, but underneath the unsurety of the motives. She rolls away from him as he reaches out to her, something he doesn't do easily, and she again tells him 'she's tired'
Erika's art lessons for Elizabeth continues, and the idea to take Erika out for a day with her husband to watch the World Series at an FBI officer's house with a Russian is hatched
Philip goes out line dancing again, and still not a single indication it's anything other than him embracing his Americanness for fun.
"Driving My Life Away" by Eddie Rabbit plays, with a montage of Paige on a date, and a coat being created for Erika's husband to wear at game for gathering intel
Paige sleeps with her young intern friend, even though her mom cautioned her not to
The game is between Minneapolis and St Louis, making this roughly 1987
Erika begins vomiting, and Elizabeth misses her chance to make contact with the Russian operative also at the party
The episode ends with Philip having memory of being a young boy in Russia, scrapping leftover pots and pans in the hopes of having enough to eat.
Enjoyed this article? Share it!