Ralph Breaks the Internet: Disney Princesses as the Avengers, and it Rocks [Review]
Ralph Breaks the Internet is delightful, charming, has more heart than Ready Player One, and a better internal logic than Tron: Legacy. In short, it's a blast of a ride and well worth your own ride to the theater. Be warned-there'll likely be a large number of kids in the audience, so depending on your tolerance for being full of them fully dosed with tryptophan, keep that in mind when picking which showtime to hit.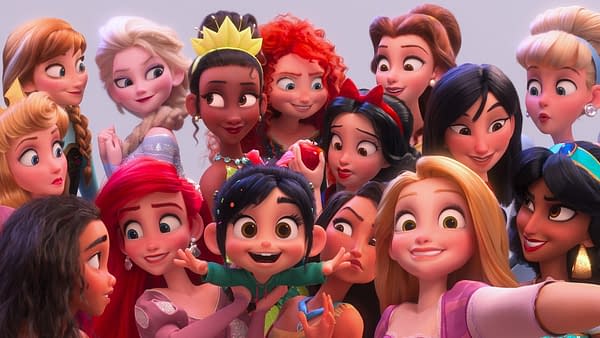 It's been six years since the events from the first film (the same time as it's been since it hit theaters), and Ralph (played by John C. Reilly) and Vanellope (played by Sarah Silverman) have been doing their day in and out routines all this time. Vanellope has become a bit bored stuck running the same three racetracks after all this time and she longs to find a new track to race on. When a user player (sorry Tron fans) accidentally breaks Vanellope's Sugar Rush machine, the hunt is on for a replacement steering wheel. The arcade installs a new wireless router, and so the pair set out on a quest to find something called eBay to acquire a replacement wheel.
The world they jump into in Ralph Breaks The Internet is filled with all the permutations of the sites we know of (Google, Amazon, eBay, Snapchat, Pinterest, and dozens more), and while they find out soon enough how to win an auction, then they discover they'll need to come up with the money to pay for their winnings.
Along the way they meet up with Shank (played by Gal Gadot) who inhabits a Grand Theft Auto-style game, Slaughter Race. Discovering the charm of an open-world sandbox game, Vanellope finds a new level of racing. There's a side stop into a Disney Studios website/virtual world stop where we get to hang out with all of the princesses, including the one from that other studio. I never really know how much we needed an Avengers-style team up between the princesses to fight a big bad until I saw one on the big screen.
The gags are fun, the story is engaging, with the main confusion being how the partnership between Ralph and Vanellope is presented as highly one-directional rather than a mutual partnership. It works well enough as it is, but could have been stronger with a better balance than they take it here.
There is one mid-credits scene and an end-credits scene, so be sure to stick around to the bitter end.
Wreck It Ralph 2: Ralph Breaks The Internet is currently in theaters now.