I've mentioned before that I am hooked on audio books. I can't find the time to sit down and read for any length of time, but I can listen to a book while driving or working and that has allowed me to go through a ton of things I've wanted to read over the last couple of years. And I think I talked about it enough that now Audible.com sends me a book now and again to review before it's released… that happened again recently with a new book that comes out today: The Singularity Trap by Dennis E. Taylor, narrated by Ray Porter.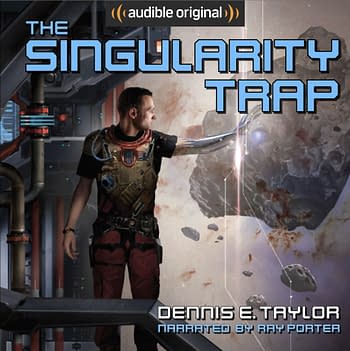 Now before I get into my review, here is the synopsis for the book.
The number one best-selling author of the Bobiverse trilogy returns with a space thriller that poses a provocative question: Does our true destiny lie in ourselves – or in the stars?

If it were up to one man and one man alone to protect the entire human race – would you want it to be a down-on-his luck asteroid miner?

When Ivan Pritchard signs on as a newbie aboard the Mad Astra, it's his final, desperate stab at giving his wife and children the life they deserve. He can survive the hazing of his crewmates, and how many times, really, can near-zero g make you vomit? But there's another challenge looming out there, in the farthest reaches of human exploration, that will test every man, woman and AI on the ship – and will force Ivan to confront the very essence of what makes him human.
I hadn't read any of Taylor's previous novels, so I was going in not knowing what to expect. What I got was a well-crafted world of Earth's future that focused on how man has adapted to some of it's own failings. We follow Ivan Pritchard, who sings on to a mining ship in a boom or bust attempt to become rich and provide for his family. The ship, the Mad Astra, hasn't had any luck of late and is like on it's last mission with that particular captain and crew. Ivan is razzed as the newbie and while the tension is high, the crew bonds. While on the mission they discover an artifact that changes everything. Taylor uses this scenario in the same way as some of the best science fiction, to shine a spotlight on humanities problems and how what we are ignoring now will become a problem in the future. He doesn't preach on ways to fix things, but focuses more on the ramifications that will have to be dealt with.
The book is not without some issues. There is a long period of time where the tension is bring ratcheted up that something horrible is going to happen, almost making it feel like a horror story, yet there isn't a payoff equal to that tension. There is also a point near the end of the book where we meet a brand new family and deal with something bad happening to them, but it was so late in the book that it was hard to feel for these new characters. And at times it feels like the story may be stretched out a little more than it needed to be.
Porter's narration was fantastic. He is excellent at voices to the point you forget that it's one person reading the book. The diversity of tone, inflection, accents and even gender that he is able to portray is very well done and you know each character as soon as they speak. His work comes across as a performance rather than a reading.
The Singularity Trap is classic science fiction with a modern sensibility. This is the type of story that could easily be turned into a big budget film.
You can check out the book here on Audible.com.
Enjoyed this article? Share it!