The Hot Toys Cosbaby line just keeps expanding their Batman figures. This time it looks like we are going retro as 1966 has arrived. These adorable figures features the iconic characters that Adam West and Burt Ward brought to life all those years ago. Both figures are posed in a running position as if they are ready for action. You have had a Batman story without a villain and it looks like Joker is here once again. This, of course, is the Batman 1966 Joker and shows off his brightly colored hair and suit. These Cosbaby figures are giving a lot of collectibles to fans and while they do seem childish they are packed with animated features and would be a great addition to any batcave.
Each 1966 Cosbaby figure is priced at $25 each. There is s special 4 pack that features villains like Catwoman and Riddler but are even smaller than Batman and Robin. Pre-orders are already live and you can find them located here.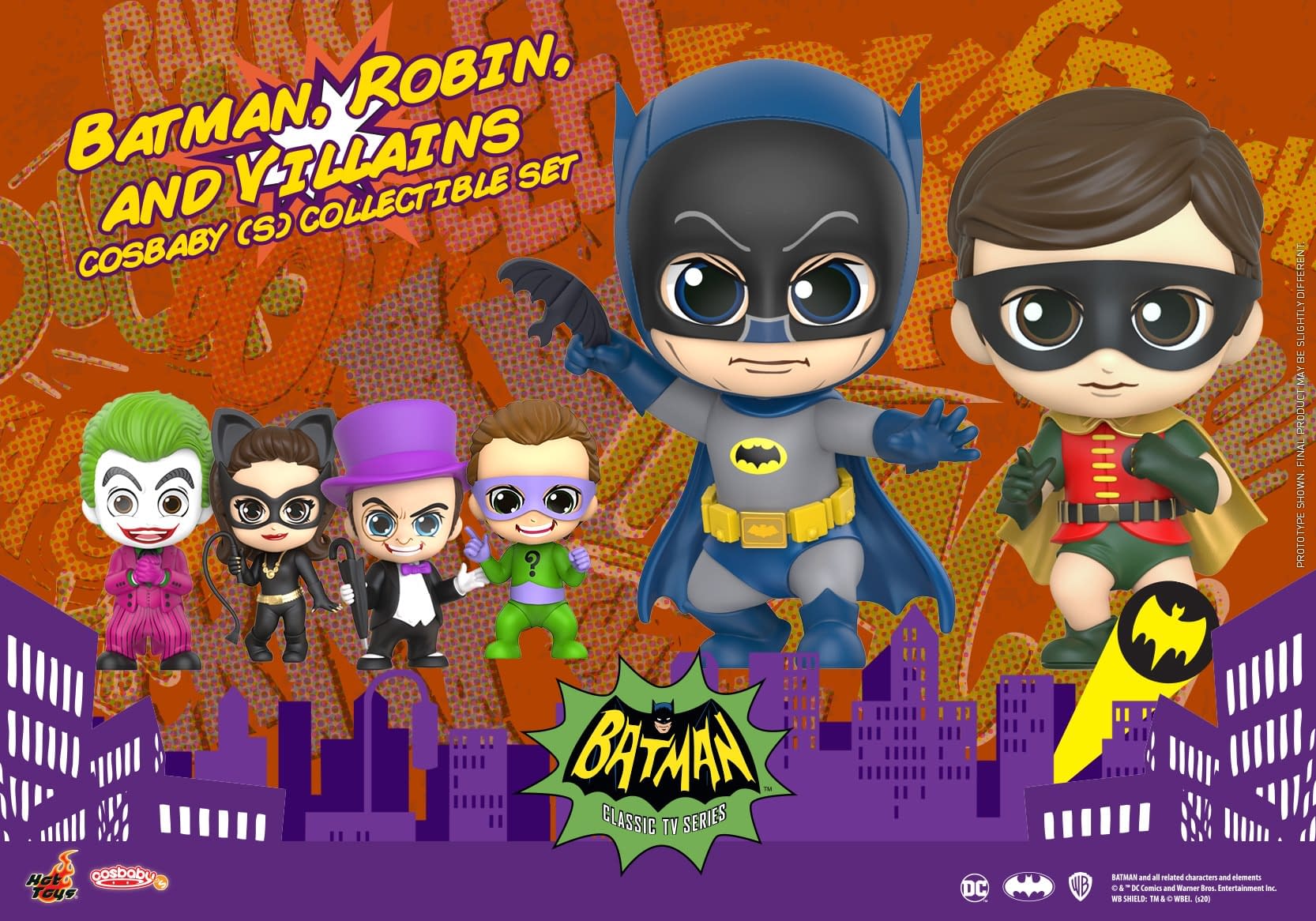 1966 Classic TV Series – Cosbaby
"Don't interrupt! I'm trying to fathom the sub-conscience of a deadly criminal!"
The Batman live action series inspired by the DC comic book character of the same title, has delighted audiences and for several generations. Based on the 1960's era Batman Classic TV Series, Hot Toys is very excited to introduce fans with our latest Cosbaby capturing the early appearances of the crime fighting heroes and a variety of arch villains, features Batman, Robin, and Villains Cosbaby (S) Collectible Set; Batman, Robin, and Joker Cosbaby (S). Each Cosbaby stands approximately 10.5 – 11 cm tall includes a themed figure base.
Batman, Robin, and Villains Collectible Set brings fans the beloved heroes and their most memorable foes from Gotham in this special all-in-one package. Includes Batman, Robin, Catwoman, The Riddler, The Penguin and The Joker. Each miniature villain Cosbaby stands approximately 4 – 4.5 cm tall.
Taken inspiration from the opening scene, where Batman and Robin are running at the camera, the newly debuted Cosbaby presents Batman in his iconic grey jumpsuit with navy Batcape, yellow utility belt and Batman logo; while Robin the boy wonder wears his red and green retro outfit with yellow cape attached and Robin logo on chest; and The Joker in his signature purple suit bringing these classic moments off the screen and into your display.
Square off the famous Batman and Robin against their most memorable foes!
Enjoyed this article? Share it!