Batman: The Animated Series is a pop-culture classic cartoon. It opens up the world for DC Animation and honestly, it's one of the strangest things from the outside of the comics. Marvel hasn't ever seemed to capture the essence that DC does with their animated films or shows. It's time to relive that classic animated Batman with the new Batman: The Animated Series (Black Suit Version) Batman. The figure stands 12 inches tall and has four separate interchangeable head portraits. This Mondo exclusive even gives you an unmasked head giving you a look at the animated Bruce Wayne. Batman is a 1/6 scale figure and has over 30 points of articulation which Is perfect a figure this size. He does come with a wide variety of accessories from batarangs, grappling hooks and even some little ones like a VHS tape and more. One of my favorite parts about this figure is the fact that Mondo was able to really capture the essence of the cartoon and solidified it as a 3-D figure. Mondo really put in a lot of effort in this from the articulation, to the detail and with all the accessories that come with it. This Batman: The Animated Series figure is perfect for any fans of the series or just fans of the Bat in general. Be on the lookout for this figure making the list in one of our upcoming holiday DC superhero guides.
The Batman: The Animated Series 1/6th Scale Batman (Black Variant) Figure from Mondo is priced at $150. The Dark Knight is set to reign down on Gotham in January of 2020. Pre-orders for this figure that are already live and you can find them here. Don't forget to check out all the other exclusive at Mondo figures such as the recently announced Scareglow figure from Masters of the Universe.
"I am the night, I am Batman!"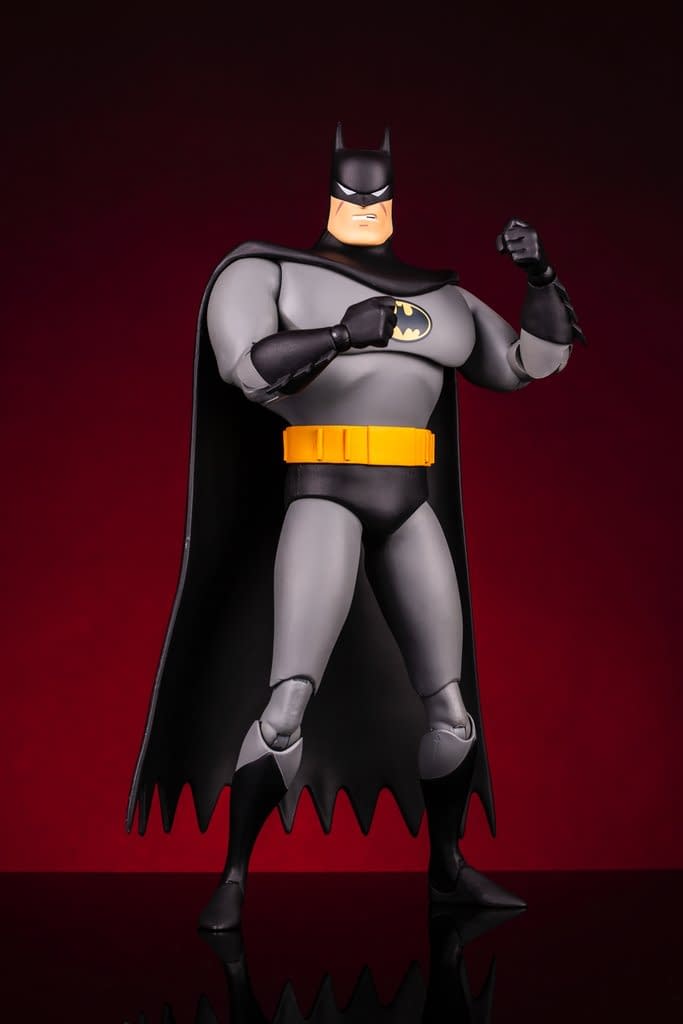 Batman: The Animated Series 1/6 Scale Batman (Black Variant) Figure
Based on the seminal BATMAN: THE ANIMATED SERIES, the Batman 1/6 Scale Figure stays true to the television classic – sculpted to match the iconic style of the show.
Featuring approximately 30 points of articulation: multiple switch-out hands, heads, accessories, and a Bat Symbol figure stand.
MONDO EXCLUSIVE: This version of Batman, only available from Mondo, features an alternate black costume deco, as well as an unmasked Bruce Wayne head, and black folded cowl. In addition to this, it also features a blue folded cowl, for use on the original Batman 1/6 Figure (sold separately), so you have the option to display the unmasked head on either version of the figure!
Enjoyed this article? Share it!