The Summer Exclusives from Beast Kingdom as we get another Marvel Egg Attack Action figure. We are traveling back to Avengers: Infinity War with this one as Tony Stark is back and ready for action. This Nano Suit Version is from the beginning scenes of Infinity War and will feature both tech suit and sportswear Tony. There will be three interchangeable head sculpts with a grinning, smirked, and angry expression faces. Tony Stark will have 4 interchangeable hands and one of them will be part of his Iron Man suit. As for accessories, there are only two included with his iconic Friday glasses and the chest piece for his Nano Suit. This Nano suit attachment will be able to be placed over his fabric tailored tracksuit and it defiantly brings the character to life. Dedicated Iron Man fans will want to add this Egg Attack Action figure yo their collection.
The more head sculpted Egg Attack Action figures from Beast Kingdom are very interesting. They have their own style and design and I know it is not for everyone. However, they are giving Marvel fans and collectors a side of Iron Man we rarely get collectibles of, Tony Stark. The glasses and chest pieces are nice and bring the collectible full circle. This is a great Summer Exclusive for Beast Kingdom and will be easy must have for some fans. Pre-orders for the Avengers: Infinity War Tony Stark Nano-Suit Egg Attack Action figure from Beast Kingdom will be going live today and should be priced at $80. He is expected to be released between July and August 2020 and you can find pre-orders here.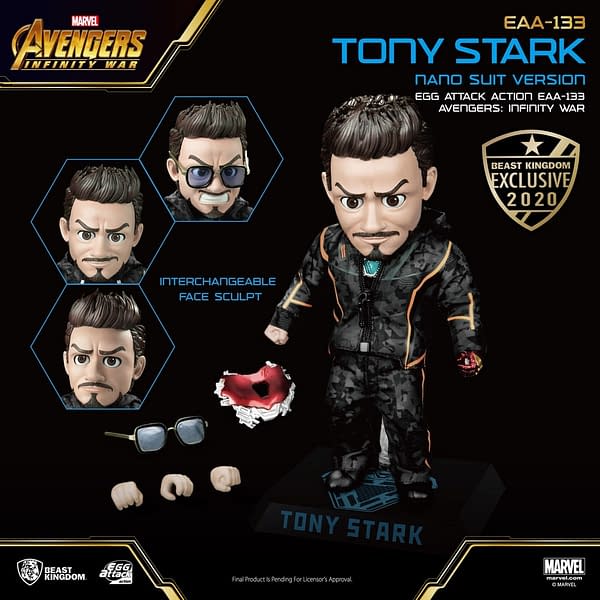 "Do you remember in "Infinity War" when Tony and Pepper are dressed in sportswear strolling through the park and discussing future plans? Just when things get heated, Dr. Strange and Bruce Banner appear to inform Tony that there is a crisis that requires his attention. After that, there is the first encounter with the two men sent by Thanos. Then it becomes apparent that Tony wears sportswear under his nano armor. Differing from the previous figures in nano armor, this Tony Stark action figure is one that all collectors are eager to obtain."
Enjoyed this article? Share it!