Bumblebee Is Ready for Action in the New XM Studios Statue
Bumblebee is almost as iconic as the Autobots a leader Optimus Prime. Hell, the character got his own full-length live-action feature film before Optimus Prime did. This Iconic yellow transformer has been the left by fans since his appearance in the 80s. XM Studios Premium Collectibles is showing their love with a beautifully crafted G1 inspired Bumblebee statue. The statue showcases Bumblebee and fellow Autobots companion Spike Witwicky as they are ready for battle against the Decepticons. One of the coolest features is that Bumblebee does light up and he has a secondary swappable headpiece. XM Studios spared no expense to give you the most detailed and beautifully crafted bumblebee statue out there. He will even come with a secondary mode with his iconic yellow Volkswagen vehicle as a thrown-in bonus piece. This is the statue I think a lot of Transformers fans can fall in love with and will be high up on their Christmas lists this year.
The G1 Inspired Bumblebee 1/10 Scale Statue from XM Studios Premium Collectibles will be priced at roughly $1174. This price is based on international price conversion. Don't forget that if you're a member of XM Studios you can get a discount. Pre-orders for this statue are already live and located here. Pre-orders are open from now until January 6, 2020, so make sure you lock yours down before it's too late The statues are made to order so you know what you will be getting excellent quality. Don't forget to check out all the other amazing and highly detailed statues that are already available from XM Studios.
Bumblebee reporting for duty!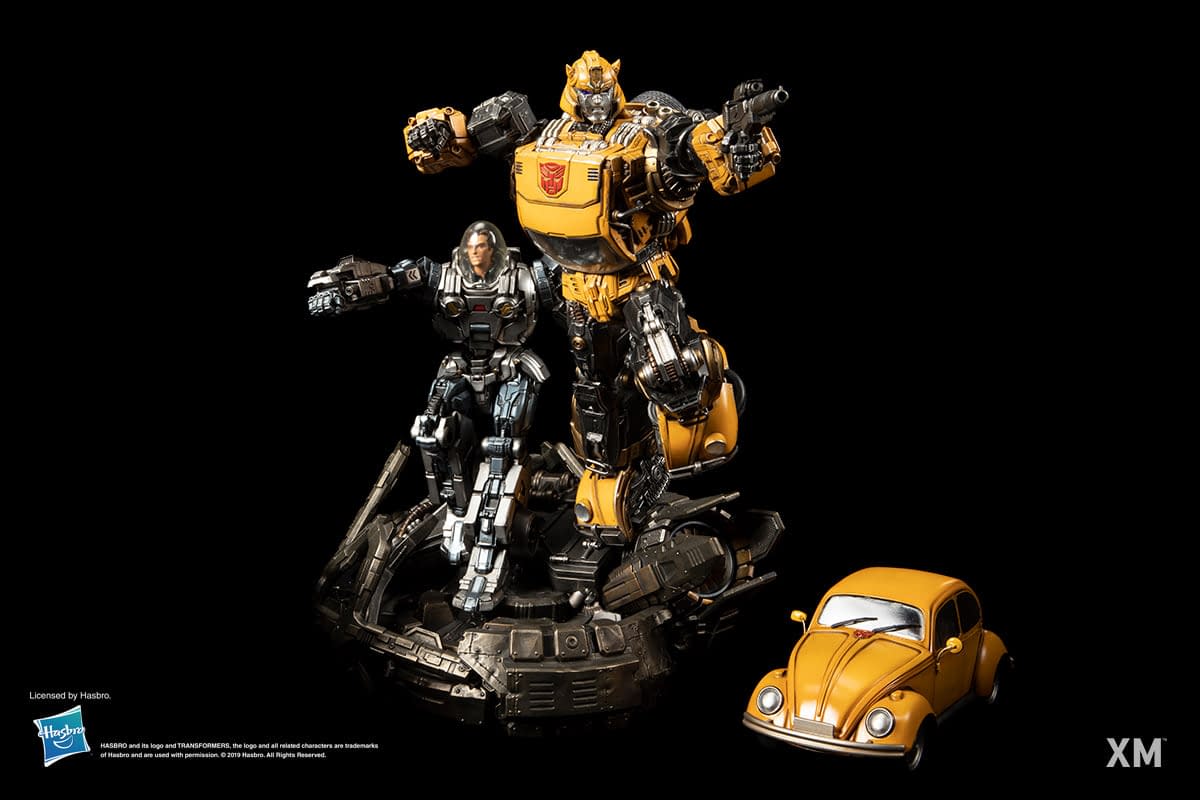 XM Studios is excited to present our next Transformers Premium Collectibles series statue, Bumblebee! Immortalized in amazingly detailed 1:10 scale cold-cast porcelain, each painstakingly handcrafted statue is individually hand-painted with the famous XM quality finish. Crafted from scratch, every nut, bolt and wire is lovingly designed and sculpted ground up by a team in mad love with the Transformers G1 era of cartoons. Inspired by one of our childhood favorite 80s cartoons, we took the G1's iconic form design and XMized them with modern details, to better fit in today's expectations of sophisticated robotry designs.
We have spared no effort and designing these original pieces took our core team almost 2 years, resulting in an amazing balance of retro beauty with sleek modern details. What's a transformer without it's alternate mode? Yes, this statue comes with a companion statue, the vehicle mode so collectors can enjoy the beauty of both bot and alternate mode at the same time!
Description:
Part of the Autobot army on Cybertron and Earth, Bumblebee is one of the smallest Autobots. Brave and friendly, he befriends humans easily. One such human is Spike Witwicky, his best friend and one of autobots human allies.
The Bumblebee Premium Collectibles statue features:
Bumblebee with Spike in exo suit, fighting side by side!
Two (2) headsculpt for Bumblebee – 1 with battle mask and 1 without
One (1) Bumblebee vehicle mode
Light up eyes for Bumblebee
Cybertron theme inspired base
Crafted from cold-cast porcelain
Limited edition : MTO
Artists:
Kingston Chan, Studio HIVE
Christophe Lacaux, Suheryanto Hatmaja (Sculpt)
XM Studios Design and Development Team