Cyclops, the leader of the X-Men has finally arrived. With his return to Marvel Comics since his death, It's nice to see more Cyclops collectibles back in the picture. The newest one is from Sideshow Collectibles as they release a new marvel comics Cyclops premium format statue. The statue is based on the iconic 1990's era X-Men style. This iconic yellow and blue costume really shines in this statue too. The statue stands 17 inches tall and includes two separate head swaps, one being a close mouth and the other one being open. Interesting enough there is are three different Cyclops visor pieces, that can be switched out, one is normal, the second shows the red steam, and the other one is full action. The base shows snow split by lava and is quite detailed, Slim himself is quite remarkable to from the colors to the facial features is definitely a statue he would want to own. This Cyclops statue is perfect for any fan of the X-Men as well as any fan the leader of the X-Men.
The Marvel Comics Cyclops Premier Format Statue is priced at $580. It looks like he will be released between July 20 20 and September 2020. Payment plans are always available with Sideshow Collectibles, and you can pre-order yours today located here. Don't forget to check out the other X-Men statues from Sideshow Collectibles to pair perfectly with Cyclops.
"Listen to me… You can't kill an idea. It always comes back. Resurrected. Or reborn… into a different form."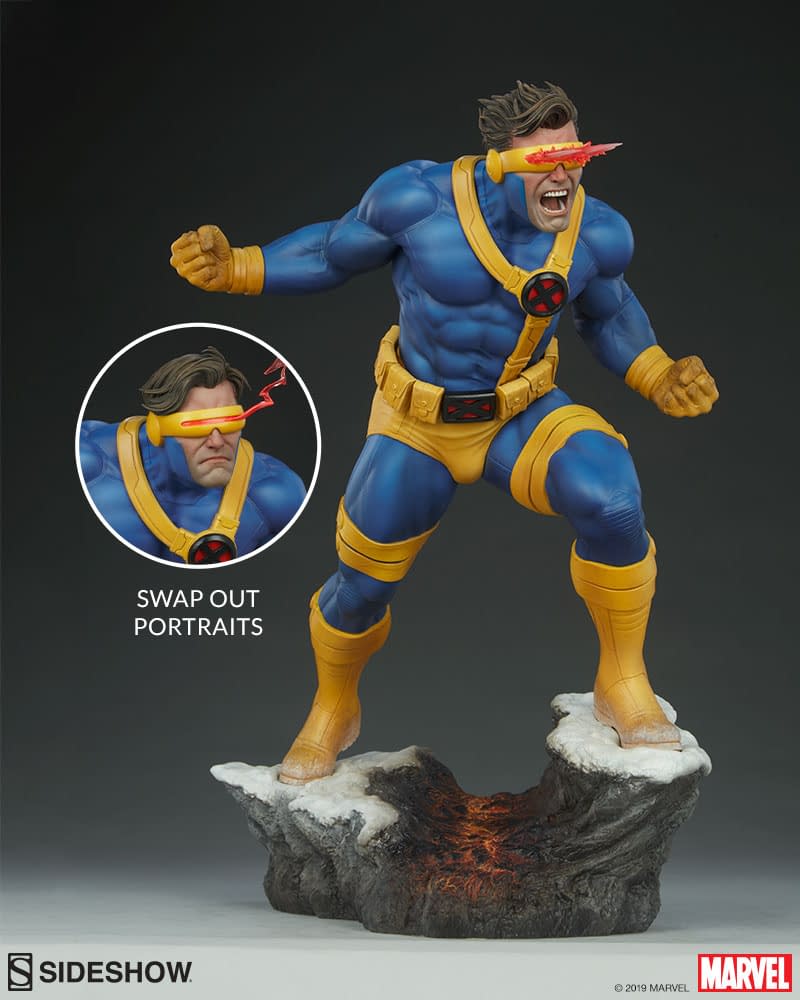 Marvel Comics – Cyclops Premium Format Figure
Sideshow presents the Cyclops Premium Format™ Figure, ready to lead your X-Men Collection.
The Cyclops Premium Format™ Figure measures 17" tall, standing atop an icy tundra base that has been seared down the center by a powerful attack. Snow covers Scott Summers' boots as charred rock crackles beneath him in the heat of battle.
The polyresin Cyclops Premium Format™ Figure features a fully sculpted costume inspired by his 90s era X-Men Blue team uniform. Scott has a sculpted blue bodysuit with yellow gloves, boots, trunks, and a utility and shoulder belt featuring red "X" belt buckles. The uniform is detailed with varied textures and musculature, giving this founding member of the X-Men a battle-ready look and physique.
Cyclops also features two portraits and three unique visor configurations, giving you multiple presentation options for this mighty Marvel mutant. Choose between his focused and enraged expressions and then decide which version of his red-lens visor you want to display- the standard visor, his optic blast visor, or the post-blast sizzle effect visor.
Pair the Cyclops Premium Format™ Figure with other members of the X-Men Collection, including his long-time love Jean Grey and the villainous Sabretooth to complete the snowy battle scene or assemble a team for Scott Summers to lead.
Keep your eyes on the prize and bring home the Cyclops Premium Format™ Figure for your universe of Marvel collectibles today!