Draco Malfoy Makes Slytherin Proud with Good Smile Company 
Harry Potter had his time to shine, it is now Draco Malfoy's turn! Good Smile Company has been giving us a nice set of Harry Potter figures last year and it looks like their wizarding world continues. This time it is house Slytherin in charge as Draco Malfoy gets his Nendoroid figure appearance. This figure would be perfect for any collection and he is packed with accessories. Draco will come with three interchangeable faces, one is standard, the second is aggressive, and the act is a sinister grin. He will also come with his wand, Monster Book of Monsters, his broom, and a special set of display attachment so he can ride to broom too. This figure would make any Slytherin fan proud and it is a must for any collection.
The Nendoroid Draco Malfoy figure is priced at roughly $37 and is set to release June 2020. Pre-orders are already live and you can find him located here. Don't forget to check out the other Harry Potter collectibles also available from Good Smile Company and their other Nendoroid figures coming out soon.
"You see, I, unlike you, have been made a prefect, which means that I, unlike you, have the power to hand out punishments."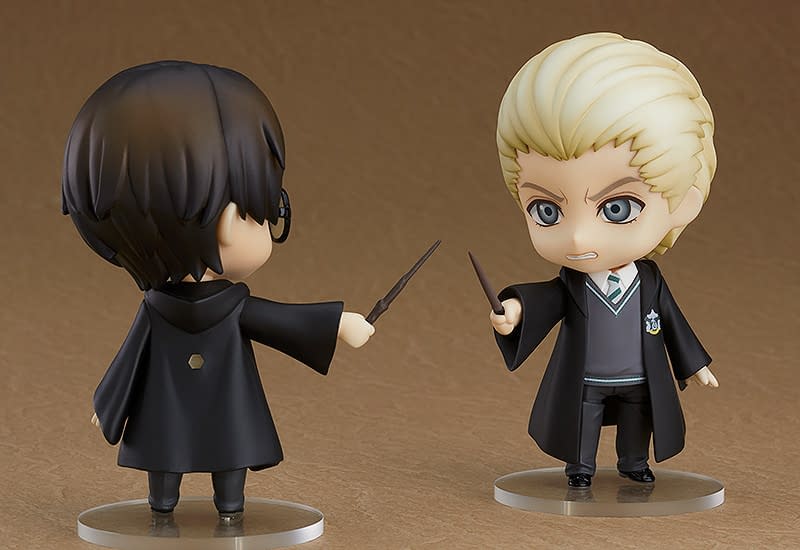 Nendoroid Draco Malfoy
"And I'm Malfoy. Draco Malfoy."
From the internationally popular "Harry Potter" film series comes a Nendoroid of the Slytherin student Draco Malfoy! He comes with three face plates including a standard expression, a serious expression for when reciting spells and a contemptuous expression.
He comes with several optional parts including his wand, a copy of the Monster Book of Monsters, a broom, special parts to display him riding his broom and interchangeable hair parts that allow you to recreate Draco at an older age! Be sure to add him to your collection, along with the other Nendoroids in the "Harry Potter" series!