Gambit Enters the Danger Room with New Sideshow Collectible Statue 
Gambit is a wild card in the X-Men landscape. He shows up when he needs to or when it benefits him. He always steals the show too. I don't think we will see him on the big screen anytime soon either. But until that day come we get this statue! Sideshow Collectible is throwing some cards with this one, we get Gambit that comes with two different versions. This 21" night statue showcases Gambit throwing his kinetically charged cards. He also seems to be in the Danger Room and he has his iconic staff in hand. The exclusive Sideshow version includes an extra head that has his hair down and grinning with a toothpick it. Very smooth ladies man Gambit style head right there. It does state that it is limited edition but no numbers have been released. So Gambit fans claim yours today! To me my X-Men!
Gambit Marquette is priced at $685 and the Sideshow Exclusive with the extra head is priced at $700 and located here. Payment options always available at Sideshow so use them if need be. These statues are a collectors dream!
Check out the cajun it in action below: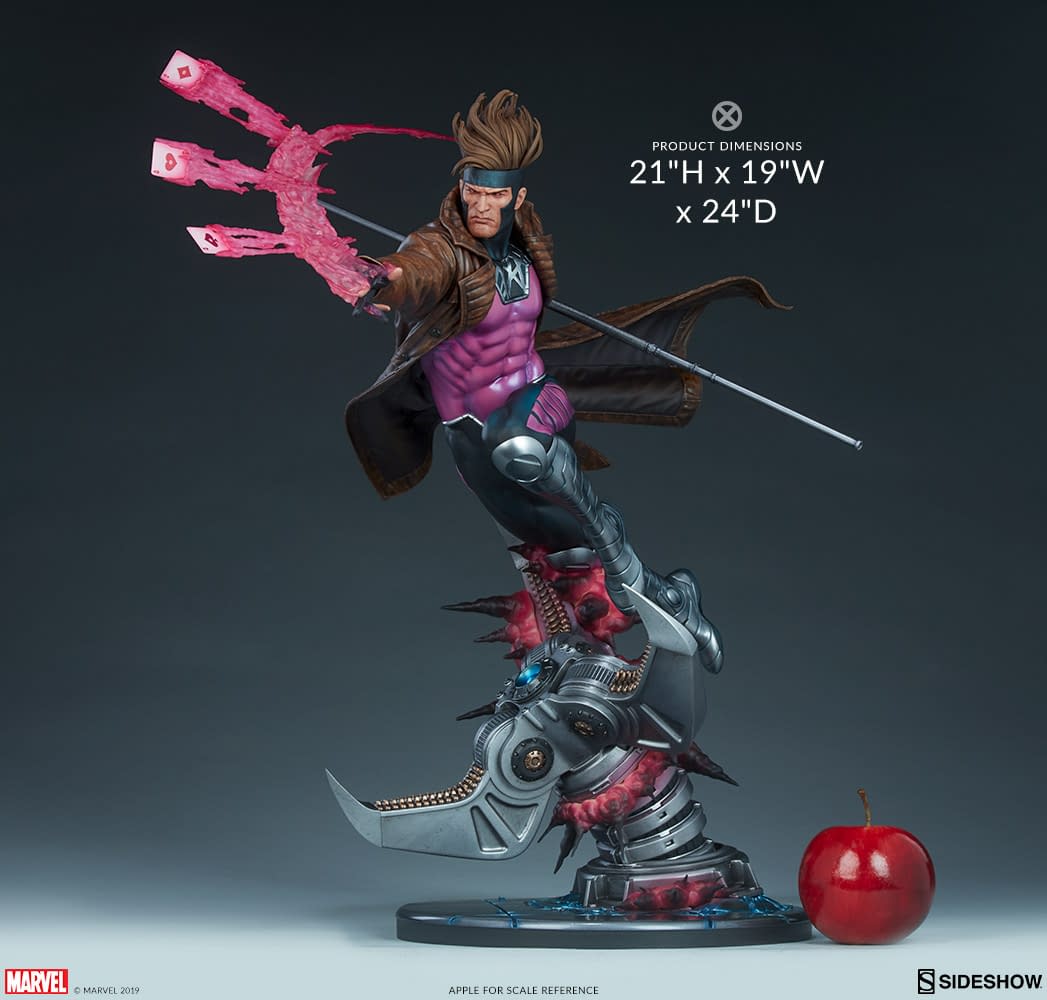 Marvel Comics – Gambit Maquette
"Playin' for keeps is still playin', mon ami. So, take a card- any card!"
Sideshow presents the Gambit Maquette, stealing his way into the X-Men Collection.
The Gambit Maquette measures 21" tall as the ragin' Cajun charges into battle over a giant mechanical claw emerging from the Danger Room base. Purple bursts of kinetic energy explode out of the weapon as Remy LeBeau leaps to the aid of his fellow X-Men, clutching his bo staff and flinging several charged-up playing cards into the fray.
The polyresin Gambit Maquette features a fully-sculpted costume, including a purple and black bodysuit, armored silver boots, and silver accents that all highlight his muscular physique. The legendary thief also wears a highly-detailed and dynamically sculpted trench coat designed to mimic the appearance of actual fabric as he jumps effortlessly into the fight. Gambit's open-cowled portrait features sculpted flowing hair, stubble detailing on his chin, and even his signature black and red eyes, bringing Le Diable Blanc to life.
Pair the Gambit Maquette with other mutants in the X-Men collection, including the other figures in the Danger Room fight like Colossus and the Juggernaut- and of course, his chere Rogue. Don't miss your chance to unite these fan-favorite heroes in your universe of Marvel collectibles.
The Exclusive Edition of the Gambit Maquette includes an alternate smirking portrait with a toothpick in his mouth. Switch up the swamp rat's attitude with this additional display option.
Charge up your Marvel collection, mon ami, and bring home the scene-stealin' Gambit Maquette today!