Spider-Man Swings On In with New Deluxe Nendoroid Figure 
Betrayed by the one man he use to call friend, Spider-Man must take matters into his own hands. Good Smile Company is giving us another look at Spider-Man: Far from Home with their latest Nendoroid. This figure features Spidey in his new black and red design and comes with a nice set of optional items. Besides his cellphone, interchangeable hands, and an evil robot, Peter all come with a mini Mysterio. This mini Mysterio comes with a special base on his own to recreate that amazing water scene from the film. The design and cute little details of this figure are great and perfect for any Spider-Man fans web.
The Good Smile Company Far From Home Nendoroid Spider-Man will be priced at roughly $66. He is set to swing on in June 2020 and pre-orders are live and located here.
What would Tony do?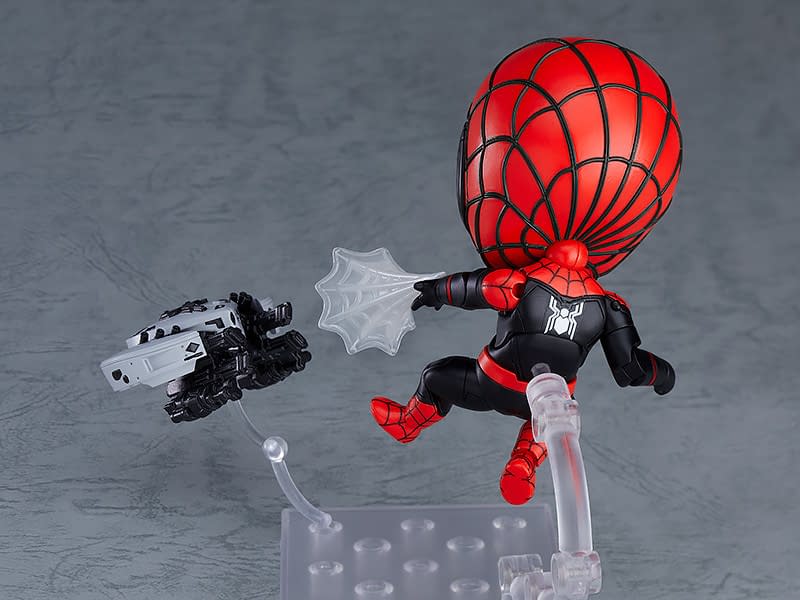 Nendoroid Spider-Man: Far From Home Ver. DX
Spider-Man in his red and black costume is now a DX Nendoroid!
From "Spider-Man: Far From Home" comes a DX Nendoroid of Spider-Man! The Nendoroid features full articulation, and his distinctive red and black costume from the movie has been recreated in stunning detail, right down to the white symbol on his back.
Recreate scenes of him swinging through the city checking his smartphone using the various included optional parts, including new spider web parts different from others in the Spider-Man Nendoroid series. Additionally, a head part and smiling face plate to display him with his mask off are also included.
The DX version also comes with a miniature figure of Mysterio, a miniature figure of the Water Elemental and a stand base modeled after the townscape from the film. Each part can be displayed on the base in different spots to create a customized display. One of the drones Spider-Man fights in the final scene of the film is also included.
Enjoy recreating intense battle scenes and using all of the included parts to switch up your display time and time again. Be sure to add him to your collection!