Iron Man and Captain America Get Minico Statues with Iron Studios
The Endgame is upon us and Iron Man and Captain America have to finally put their differences aside to stop Thanos. Iron Studios has announced two more Avengers: Endgame Minico statue that is ripe for your collection. Both characters are shown in their Endgame outfits and are nicely sculpted and detailed for the Minico line. Captain America is first up who is sporting his newly acquired weapon, Mjolnir. Cap is placed on a rubble style base and is shown with some aggression on his face sculpt. The Minico line is a unique line and I could see the disinterest in them but the big headed stylings are not a new concept and Funko has proved it has worked. Iron Man is next up and he is sporting his newest armor set and ready for action. His armor is nicely sculpted and the levitating touch for his base is a nice and simple touch. These statues are unique pieces that any fan could add to their collection and would look nice in front of any retrospective comic.
Both Iron Man and Captain America Minico Statues from Iron Studios are priced at $34.99. Pre-orders are already up and you can find Cap here and Iron Man here. Don't forget to check out the recently announced Thanos and Thor Minico statues also to help expand your Endgame collection.
Whatever it takes.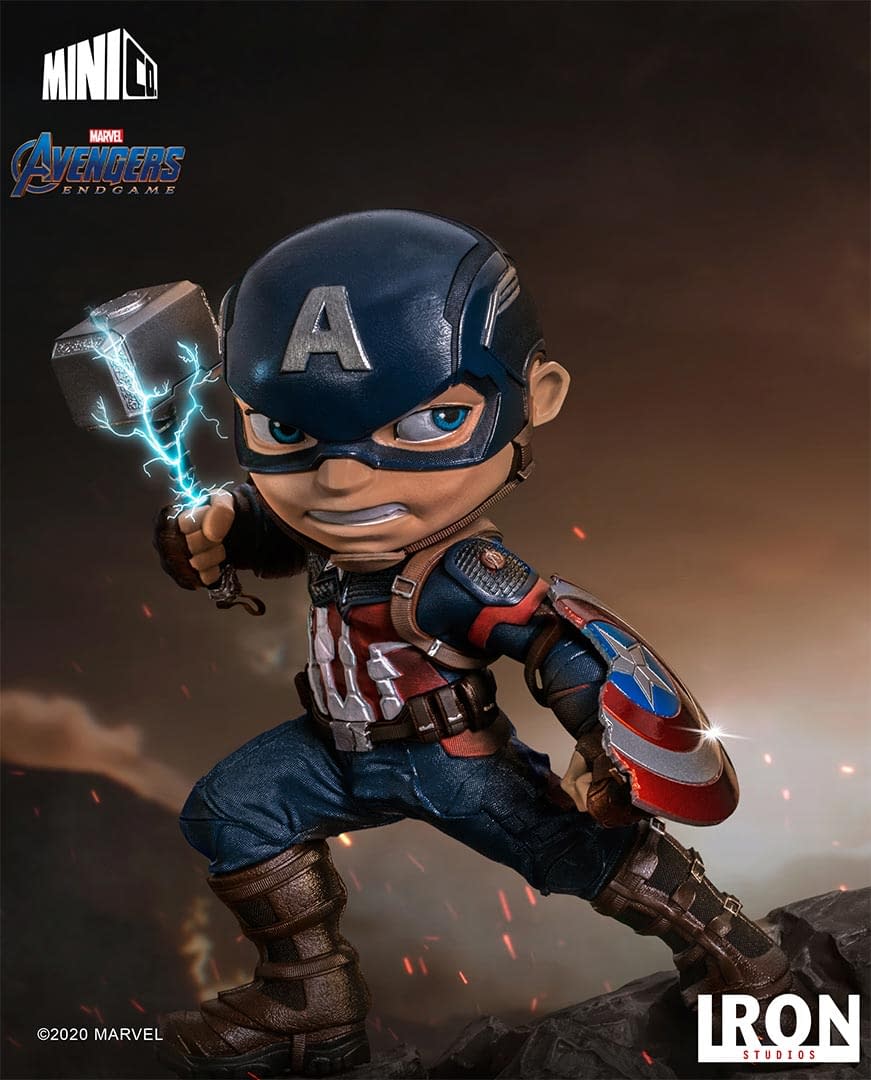 Captain America – Avengers: Endgame – Minico
DESCRIPTION
License: Avengers: Endgame
Scale: Minico Figures
Features:
– Creation: Iron Studios
– Made in plastic (PVC)
– Hand painted
– Includes base display
Product dimensions: 5.9 in (H) x 5.5 in (W) x 3.9 in (L)
Product Weight: 0.4 lbs
Released US: Third quarter of 2020
*This item will be shipped from our warehouse in Los Angeles – California
Iron Man – Avengers: Endgame – Minico
DESCRIPTION
License: Avengers: Endgame
Scale: Minico Figures
Features:
– Creation: Iron Studios
– Made in plastic (PVC)
– Hand painted
– Includes base display
Product dimensions: 7.8 in (H) x 7 in (W) x 7.4 in (L)
Product Weight: 0.4 lbs
Released US: Third quarter of 2020
*This item will be shipped from our warehouse in Los Angeles – California