Iron Man Hall of Armor Gets a Second Series from Hot Toys
Iron Man has created so many suits over the years and it is almost hard to keep track of them all. Well, thanks to Hot Toys we can remember them as they have announced a second series to the Iron Man Hall of Armor collectible. This time we get to see the suits from Iron Man 3 it does look like this is a set of six compared to the usual seven, but it seems that the Neon Tech War Machine can join the team and he can be found here. I do wish he was included that way collectors don't have to go out of their way to finish the set. This is a great collectible for any fans of the Iron Avenger and is a great way to display his legacy. The suits are only 5 inches tall but each box lights up and the suits are packed with detail. I can't wait to see the third series already to build up our own house party protocol.
The Iron Man Hall of Armor Series 2 Set from Hot Toys does not have a price just yet but should be no more than $200 since series one sells at $235 and that is for seven. Pre-orders are not live yet but when they are you will find them here.
Tony Stark: "Uh… say, Jarvis? Is it that time?"
Jarvis: "The House Party Protocol, sir?"
Tony Stark: "Correct."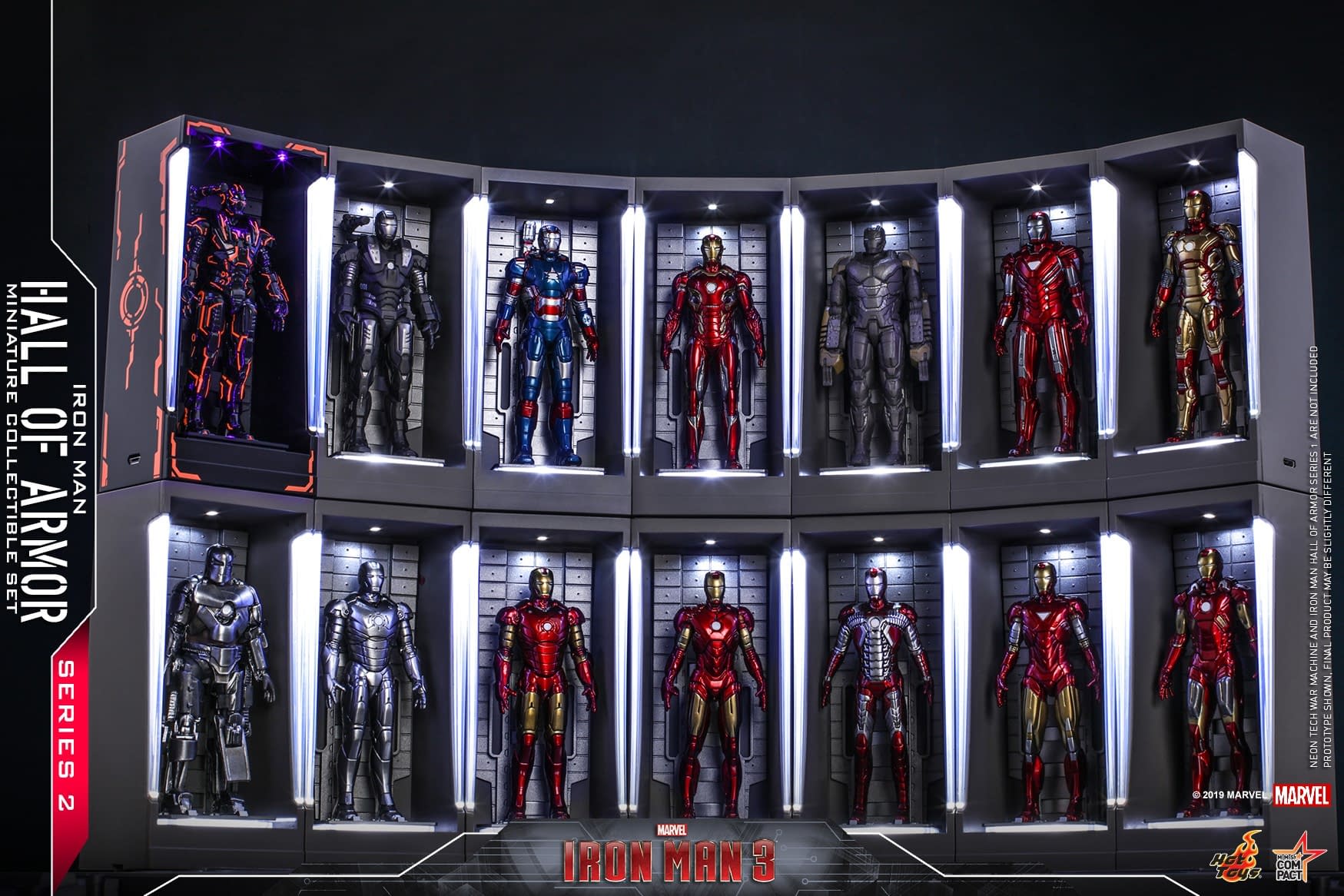 Iron Man Hall of Armor Miniature Collectible (Series 2)
In response to the increasing number of high-tech armors, Tony Stark has specially built a ground breaking secret base with compartments in his mansion for suit storage. Based on the classic movie scenes from Iron Man 3, Hot Toys is very excited today to introduce a new wave of Iron Man Hall of Armor Miniature Collectible features Iron Man Mark XLV, Iron Man Mark XLII, Silver Centurion, Striker, Iron Patriot, and War Machine with Hall of Armor Miniature Collectible!
The skillfully crafted LED light up Iron Man Hall of Armor Miniature Collectibles can be combined and rearranged in different ways for endless display possibilities. Each Hall of Armor collectible measures approximately 12cm tall, whereas the miniature figure is approximately 8.5cm tall. Collectibles are available individually.
What's more, the Iron Man Hall of Armor Miniature Collectible Set available only in selected markets exclusively includes the loyal mechanical assistant a Dum-E robotic arm as diorama accessory to enhance the entire setting.
Join Tony Stark in his workshop with the extraordinary armors display now!