Chronicle Collectibles Announces Jurassic Park Kickstarter Campaign
Chronicle Collectibles has announced that they will be heading to Kickstarter for a future campaign. We have seen McFarlane Toys do something similar with their remastered Spawn figure and it was a huge success. This campaign will be dedicated to its own line of Jurassic Park and Jurassic World 1/12 Scale Figures. Some prototypes were shown at New York Toy Fair, so we are excited to see what the Chronicle Collectibles will have to offer with this Kickstarter campaign. These 1/12 figures are expected to be as close to their on-screen appearances. No date has been announced for when the campaign will launch but you can join the newsletter for immediate updates. Also, stay tuned here at Bleeding Cool for updates as well. Check out the Q&A the Chronicle Collectibles did share below: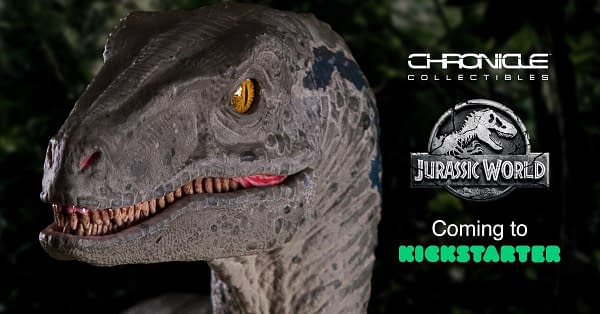 "Hold on to your butts! Jurassic World 1:12 articulated figures coming to Kickstarter! A licensed exploration of scaled, articulated dinosaurs and characters from the Jurassic World Franchise. Subscribe to be the first to know when we launch our Jurassic World 1:12 articulated figures Kickstarter campaign!"
Why are these figures going to Kickstarter?
"We're trying something new! Chronicle Collectibles owes our existence to our community of fans and collectors. We haven't needed to crowdfund a collectible statue, prop replica, or figure before. However, we have big plans for our 1:12 TrueScale line of Jurassic World franchise figures and want to be sure everyone hears about them. So, we're headed to Kickstarter soon!"
When will the Kickstarter begin?
"As of now, we don't have a set date, as we are waiting on asset approvals and final prototypes. However, we are hoping to launch this campaign, which is 65 million years in the making, during this summer blockbuster season!"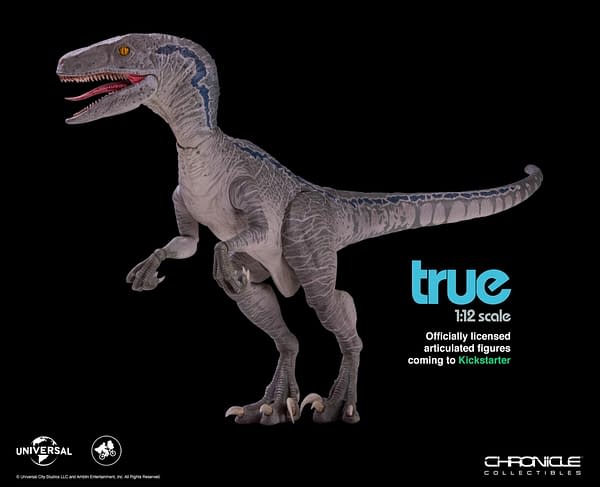 What scale and size are these figures?
"These figures are 1:12 scale. Our TrueScale Blue Velociraptor stands approximately 6 inches tall and is approximately 12 inches long."
What are TrueScale figures?
"TrueScale figures are designed to be to as close to their on-screen counterpart in height and proportions as we can make them. Meaning these collectibles are true to the character. Collectors can rest assured that when Dr. Alan Grant is displayed next to Dr. Ian Malcom that our favorite chaotician will indeed be taller."
That sounds cool, but what if I want to buy something right now?
"We have good news for Jurassic Park and pop culture fans! Chronicle Collectibles has a wide variety of offerings that are available right now on our web store. Take a look to see what is in stock for purchase, or jump in on a pre-order for one of our limited edition collectibles."
---
---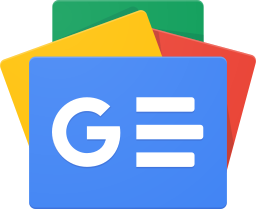 Stay up-to-date and support the site by following Bleeding Cool on Google News today!