"Kingdom Hearts" Figures Get a Re-Release from Good Smile Company 
While Kingdom Hearts fan awaits the upcoming DLC for the third entry they are getting restless. Good Smile Company is helping us in our withdrawn by re-releasing both Sora and Riku Nendoroid figures! Both figures are adorable and filled with the perfect amount of detail and accessories. Sora comes with two different key blades, one being the Kingdom Key and the other Pumpkinhead from Halloween Town. On top of that Sora comes with a Paopu fruit, key blade effects, and a display stand to hover him in the air. Riku of the other hand comes with three weapons, one is his iconic Souleater blade, the Oblivion keyblade, and a wooden sword. He will actually come with two wooden swords tat you can equip with Sora for a nice Destiny Islands reunion scene. These figures are perfect figure filled with the heart than are great collectibles for any Kingdom Hearts fans.
The re-released figure is currently live already and is set to come out again in July 2020. The Sora Nendoroid is priced at roughly $42 and can be found located here. The Riku Nendoroid is also priced at $42 and can be found here. Don't forget to check outage other amazing Nendoroid figures also available and coming soon from Good Smile Company.
Kingdom Hearts give me strength!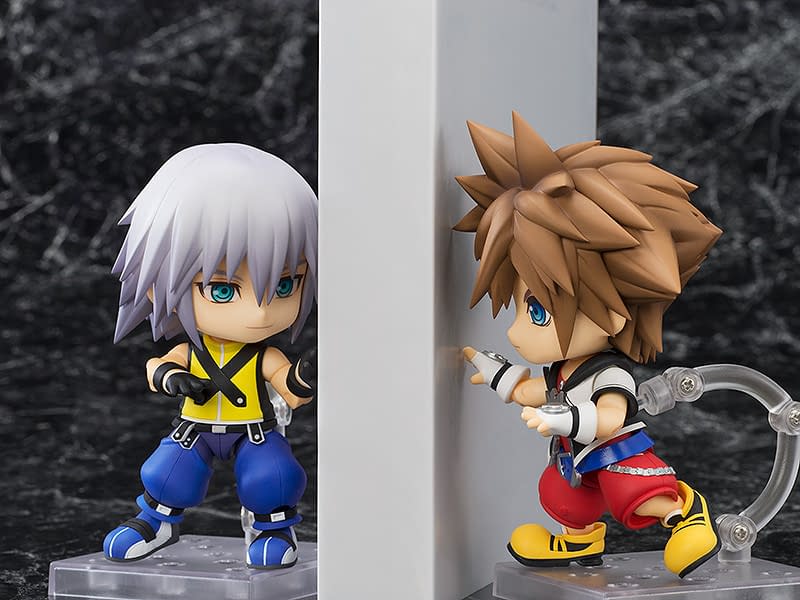 Nendoroid Sora
"My friends. They are my power!"
From "Kingdom Hearts" comes a rerelease of Nendoroid Sora! The Nendoroid is based on Sora's classic appearance from the original game and has been carefully tuned to capture the unique character design the series is known for in adorable Nendoroid size! He comes with three face plates including a confident expression, a playful smile as well as a sleeping expression. The Nendoroid is fully articulated and comes with two different keyblade parts allowing you to easily display him in the action-packed battle scenes that the game is known for!
The finer details of Sora's iconic outfit have been preserved as carefully as possible, and his hair has been painted with great care to create a figure that fans will be proud to own in their collection! Effect parts to display him floating in the air while performing the unlocking scene from the game are also included. He also comes with a Paopu Fruit part to hold! Be sure to add the Keyblade user to your collection!!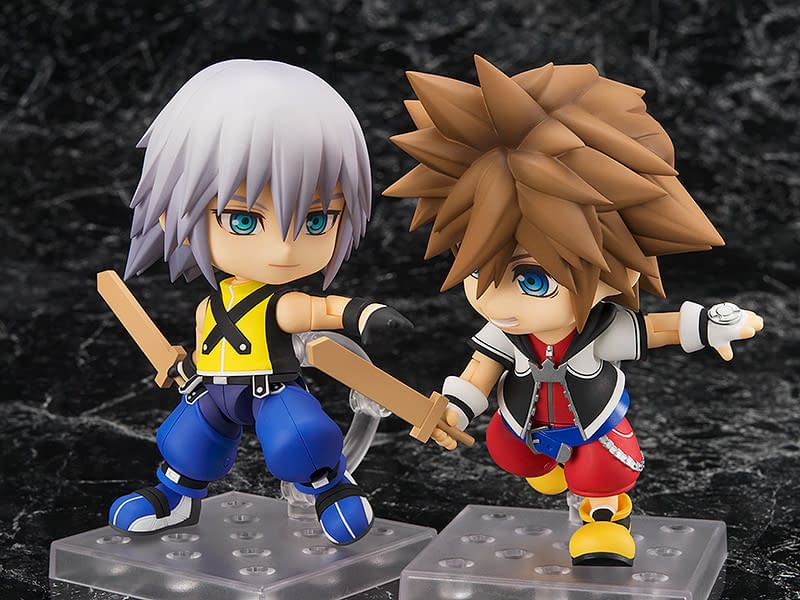 Nendoroid Riku
"Take care of her."
From "Kingdom Hearts" comes a Nendoroid of Riku! Unlike Sora, Riku's somewhat mature aura gives off a calm and composed impression, even in his Nendoroid form! He comes with two face plates, a cool expression and a smiling expression, so you can display your favorite one!
Two different Keyblades, "Soul Eater" and "Oblivion" are included, and he also comes with two wooden sword parts that you can use with him and Nendoroid Sora (sold separately) to recreate the scene from the game's tutorial! The Nendoroid is also fully articulated, allowing you to pose him exactly to your liking.
In addition, you can use both Nendoroids to recreate the final scene of the game, when they close the Door to Darkness, by using a door in your own home! Be sure to add him to your collection!