Loki has made quite an impact in the mighty Marvel Cinematic Universe. He is the reason that some of our favorite heroes ended up joining forces in the first place. His character has grown over the years and Loki's demise in Infinity War was quite shocking. Avengers: Endgame changed that history though as our heroes seemingly changed the past and let Loki escape with the Tesseract. We have no idea how this impacted the future of his character but we might once his new Disney+ show finally releases. Tamashii Nations can not wait till that day happens as they have announced a new S.H. Figuarts Loki MCU figure. This figure is based on his appearance during the first Avengers film in 2014. He features very similar likenesses to the actor Tom Hiddleston which I would not have it any other way. The figure features fabrics components like his cape and seemingly his lower body. He will come with a nice set of accessories to like two separate Scepters, tesseract, and his iconic horned helmet. On top of those, fans and collectors will be able to lock up this price with a secondary head sculpt and handcuffs.
This figure is nicely sculpted and features a high amount of detail. The likeness of Loki to his actor counterpart is very well done and when it comes to Marvel Cinematic Universe figures that's what fans want. The cloth elements and also a nice addition to those figures look and brings a new realistic vibe to the figure. This S.H. Figuarts figure is set as a Premium Bandai Web Exclusive in Japan and details for the US release date are not live. That won't stop collectors though and pre-orders are set to go live April 24th and he will be priced at roughly $81 and will be here. Take the villain and mischief to new levels with this figure and bring some sass to your collection.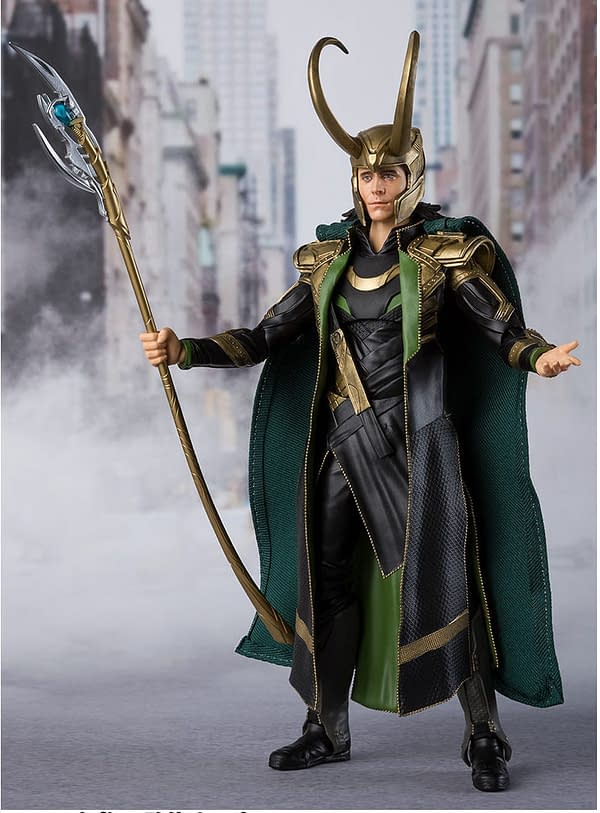 Enjoyed this article? Share it!