McDonalds is Bring Back Some Classic Retro Toys Today!
McDonald's is giving us an amazing throwback! Throughout our years as kids, I am sure most of us have had a Happy Meal in the past. To celebrate the 40 years of McDonald's they are bringing back some classic retro happy meal toys. These toys and will only be available from November 7 to November 11 so you better act fast if you want to get the one you want. Unlike most Happy Meal toys of these are all hidden in mystery bags. I did not know this when I went to go lock down a couple of these classics but I did find out that they are numbered on the bag. There is a wider variety of classics coming back like the Furby, Beanie Babies, Power Rangers, and handy-dandy McNugget pals. There is really no bad Happy Meal toy in this lineup as they are all fan favorites that will easily let you relive your childhood. Some honorable mentions are the hamburger Changeable's, a light-up Tamagotchi and some McDonald's mascots like the Hamburglar and Grimace.
These Retro McDonald's Happy Meal Toys will only be available from November 7 to the 11th of 2019, so act now to get what you want. You can straight up by a toy at any participating restaurant for only $1.50 which isn't a bad deal to relive your childhood. I lucked out and I was able to get a Red Power Ranger, a McNugget Pal, the backpack Tamagotchi clip and the Hamburglar. Not a bad find for only six dollars for all four! Who do you want? Who are you get?
I'm lovin' it!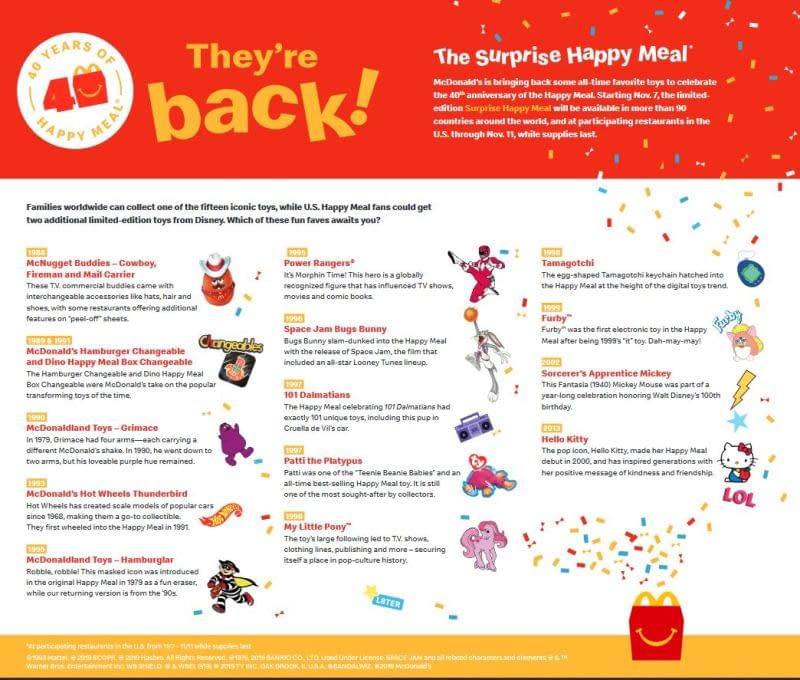 Between Nov. 7-11 (while supplies last) the following toys will be in McDonald's Happy Meals:
Cowboy McNugget (McDonald's): 1988
Fireman McNugget (McDonald's): 1988
Mail Carrier McNugget (McDonald's): 1988
Hamburger Changeable (McDonald's): 1989
Grimace (McDonald's): 1990
Dino Happy Meal Box Changeable (McDonald's): 1991
McDonald's Hot Wheels Thunderbird (Mattel): 1993
Hamburglar (McDonald's): 1995
Power Rangers (Hasbro): 1995
Space Jam Bugs Bunny (Warner Bros.): 1996
Patti the Platypus (Ty Beanie Baby): 1997
101 Dalmatians – U.S. Exclusive (Disney): 1997
Tamagotchi (Bandai): 1998
My Little Pony (Hasbro): 1998
Furby (Hasbro): 1999
Sorcerer's Apprentice Mickey – U.S. Exclusive (Disney): 2002
Hello Kitty (Sanrio): 2013