Mortal Kombat Gets SDCC 2020 Exclusives With Storm Collectibles
Storm Collectibles has unveiled its San Diego Comic Con 2020 contestants. Coming to of their Mortal Combat figure line, Scorpion and Raiden are here to win. Scorpion will feature a new body and some upgraded joints for better and superior articulation than previously. This fan favorite Mortal Kombat character is packed with detail and a wide variety of accessories. Scorpion will get his iconic chain, masked and skull head sculpts. He will get three amazing flame effects to really have him bring the heat to the competition.
Raiden on the other hand will simply be getting a Mortal Kombat Player 2 outfit change. This Red Raiden figure is still packed with detail and all the accessories from the previous release. Mortal Kombat fans will be treated with 6 pairs of hands, 3 head sculpts, lightning effects, and his unique fatality. These are both figures fans will not want to miss and Storm Collectibles captures these iconic Mortal Kombat characters perfectly. Prices are not known just yet but they will join the Bluefin SDCC 2020 Event between July 22nd and the 26th. You can find more about the event here and prepare to score these great SDCC 2020 exclusives.
"First up is Scorpion! This figure features an entirely new body with enhanced joints and articulation in addition to a wide array of exciting accessories! "Get Over Here!" Scorpion Hanzo Hasashi was once a member of the Japanese Shirai Ryu ninja Clan. Given the name Scorpion for his deadly fighting skills, his life was blessed with glorious kombat in the name of his Grand Master. His signature move is his spear and hellfire. When his mask is removed, his head is a (flaming) skull. Scorpion is a fan favorite, appearing regularly since Mortal Kombat Klassic."
Product Features:
Newly developed body with new joints,
Interchanging Mask Head / Skull Head
4 x interchanging hands
1 x Chain
3 x Flame Effects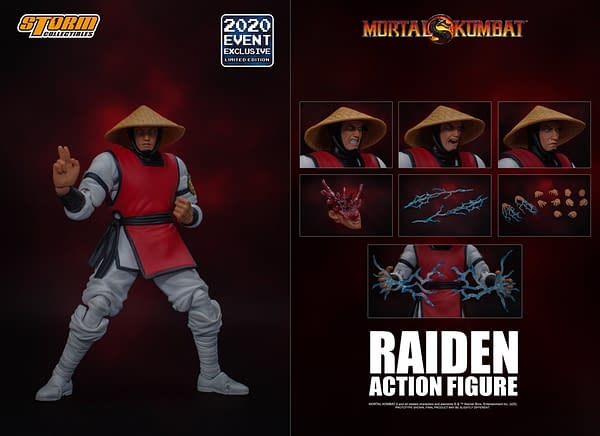 "Next is Raiden sporting his red Player 2 outfit! This figure is fully articulated and loaded with effects that allow you to recreate all of Raiden's iconic moves! Raiden is the God of Thunder and Protector of Earthrealm. Ageless and wise beyond measure, he leads Earthrealm's mortals in the endless battle against the forces of darkness. When Shao Kahn, Emperor of Outworld, threatened to merge his realm with Earthrealm, an overwhelmed Raiden implored the Elder Gods to give Earthrealm a fighting chance. Thus the Mortal Kombat tournament was created. For millennia Shao Kahn has been kept at bay, but nine consecutive losses to Goro have eroded hope that Earthrealm can be saved. Determined to prevent Armageddon, Raiden tirelessly quests to find a champion worthy of Mortal Kombat."
Raiden is fully articulated and features:
3 x Head Sculpts
6 x Pairs of Hands (one pair of hands with lightning bolt)
Lightning Bolt Effect
Raiden's Fatality Effect