Mr. Freeze Brings the Ice Age with New One:12 Mezco Toyz Figure
Gotham is about to have the blizzard of the century as Mr. Freeze has blown into town. Batman will have his hands full with this one and so will collectors as Mezco Toyz finally announced the long awaited villain. This is a figure we got a quick glimpse of at the New York Toy Fair and with a $120 price tag, you are getting your money's worth. Freeze will come with two head sculpts, a removable helmet, and plenty of frosty accessories. HE will have a removable helmet so you can showcase him in both helmet on a and helmet off modes. His ice suit will be equipped with LED features so you can really have him stand to from the rest of your collection. Mezco's version of Victor Fries is a pretty amazing take on the iconic character and with his light up freeze ray, handgun, and ice effect he will surely be one Batman fans will need to have.
Pre-orders for the Mezco Toyz Mr. Freeze Figure are priced at $120. He is expected to ship out in November 2020 and you can secure yours today and here.
"Their blood will freeze in my hands."
ONE:12 COLLECTIVE Mr. Freeze – Deluxe Edition
Mr. Freeze emerges from his frigid laboratory to join the One:12 Collective.
Outfitted in an armored cryo-suit, this complex technology is not only keeping him alive, but also augmenting his strength and durability to superhuman levels. The power pack attached to the back of the cryo-suit features light-up ice crystals.
Equipped with weaponry capable of causing more than just frostbite, Mr. Freeze comes complete with a freeze ray cannon with light-up function, freeze ray handgun, an ice blast FX that fits over the chests of other One:12 figures, and a freeze FX that fits over the heads of other One:12 figures.
Mr. Freeze is contained neatly in a cryo-chamber shaped tin, with a frosted window revealing the inside.
Dr. Victor Fries, also known as Mr. Freeze, was a cryogenics expert in Gotham City who was caught in a laboratory mishap in an attempt to cure his terminally ill wife. The accident drastically lowered his body temperature, forcing him to wear a cryogenic suit in order to survive. Utilizing this advanced technology, Mr. Freeze became a criminal with a taste for diamonds and revenge.
THE ONE:12 COLLECTIVE MR. FREEZE FIGURE FEATURES:
One:12 Collective body with over 30 points of articulation
Two (2) head portraits
Hand painted authentic detailing
Approximately 17cm tall
Eight (8) interchangeable hands

One (1) pair of fists (L & R)
One (1) pointing hand (L)
One (1) posing hand (R)
One (1) pair of holding hands (L & R)
One (1) pair of grabbing/gun supporting hands (L & R)
COSTUME:
Clear helmet (removable)
Armored Cryo-tech suit with light-up function
Belt with removable holster
Cryo-tech gloves
Cryo-tech boots
ACCESSORIES:
One (1) freeze ray cannon with light-up function
One (1) freeze ray handgun
One (1) ice blast FX
One (1) freeze FX
One (1) One:12 Collective display base with logo
One (1) One:12 Collective adjustable display post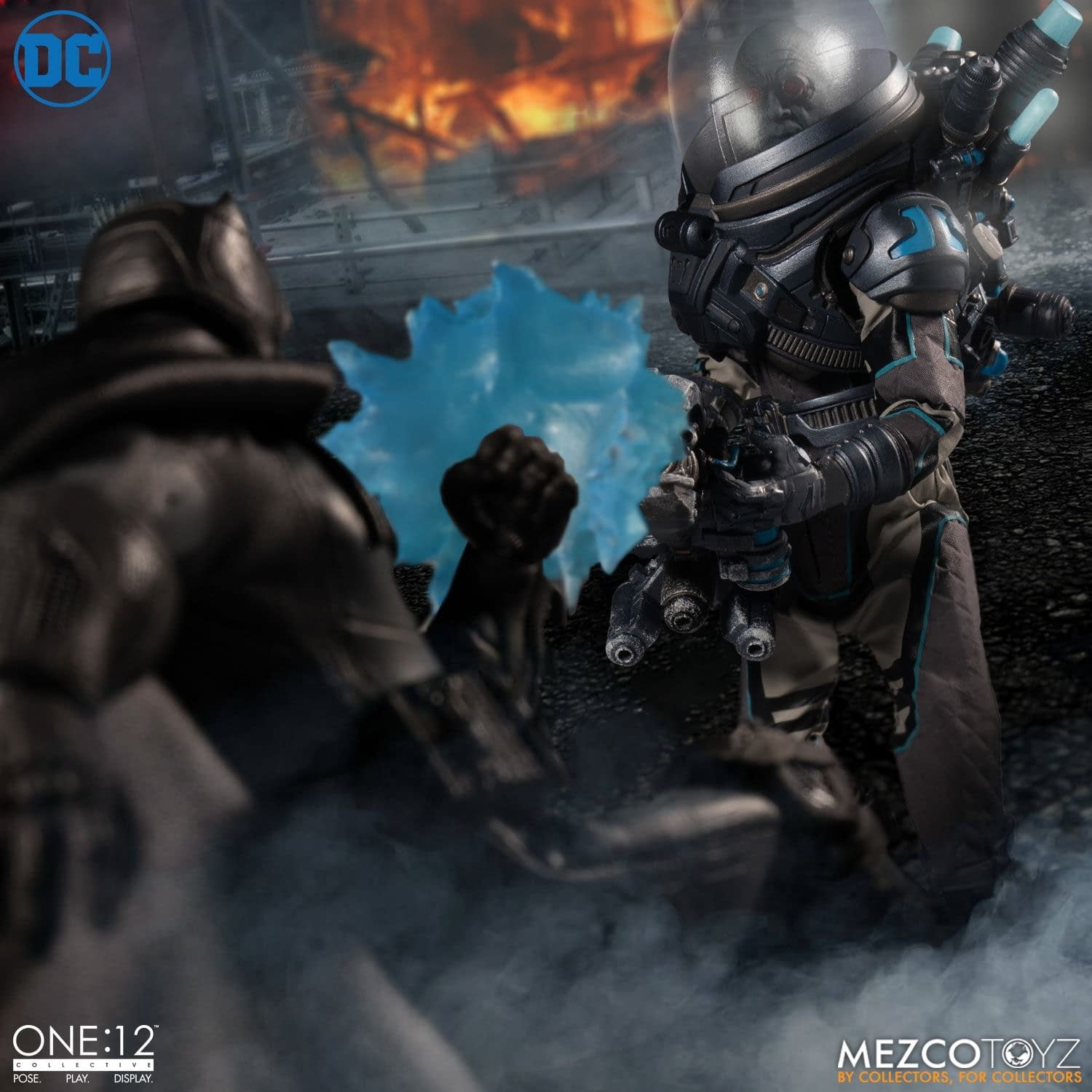 Each One:12 Collective Mr. Freeze figure is packaged in a collector friendly cryo-chamber tin, designed with collectors in mind.