Lets Take a Look at Some Scooby-Doo 'Doo Good' Merch From BoxLunch
The other day we told you about the new Scooby-Doo merch coming to BoxLunch stores this weekend. It is all part of the "Doo Good" initiative is aiming to help feed children and families who are less fortunate and get them the meals they need. For every $10 spent on the products, BoxLunch will be donating a meal to someone in need. Furthermore, part of the assortment will be a special Flocked Scooby-Doo Funko Pop that will provide 10 meals per Pop sold. BoxLunch was kind enough to send over a box of some of the items for us to show you, so let's take a look shall we?
First up is a Scooby-Doo Mystery Machine lunch box. I love the design molded to make it look like the iconic van. they even made the front look like the gang is looking out the windshield! The lunch box is insulated , and even has a separate pouch to keep your Scooby Snacks in. The real star though is the Scooby metal 17 oz. water bottle. I love these things, I take them everywhere, and it is a perfect size. This one costs $24.99 and is available here.
Also included in the box were a Mystery Machine t-shirt and drawstring bag, and totally wicked Mystery Machine crew socks. As a matter of fact as I type this I am wearing the comfy socks right now. They are so vibrant and eye catching. I love them. The drawstring bag is not my cup of tea, but it is made of canvas and seems pretty dang sturdy, instead of that mesh material that these usually are. The shirt has the big Mystery Inc. design on the back, with the cool Mystery Inc. gang led by Scooby on the front. The shirts offered are all 100% cotton and run you $28, while the socks are $9 and the bag $19.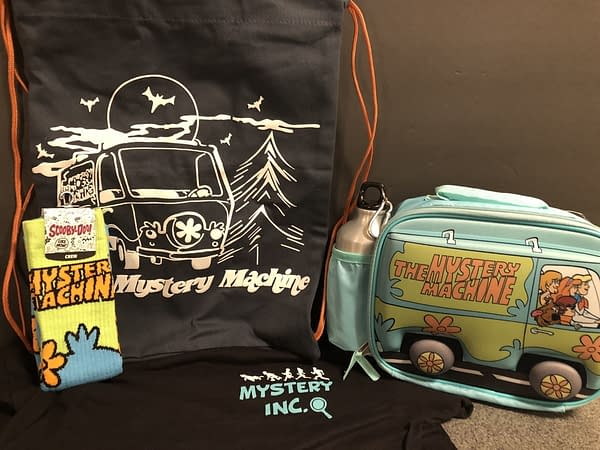 Overall this is some high-quality stuff. If you want to make a purchase this weekend and help out the cause, do so in store or online right here.