The Mandalorian and The Child Go 10" With New Funko Pop
Ever since the debut of The Mandalorian on Disney+ fans have been in love with these characters. The introduction of this mysterious bounty hunter and the Child have created a whole new influx of collectibles. The rush for The Child products was the biggest push since the introduction of the character was kept so much under wraps. The collectibles still continue after all this time but now it's the push for as much Beskar Armor Mandalorian collectibles as possible. Funko has been staying quite up to date with these new characters and mold with a couple of new waves of figures. Just when we thought they were out of ideas it looks like there is a new 10" figure heading our way. This 10" is set as a common release and will show off both The Mandalorian and The Child. He will be holding his little space companion in this Funko Pop while carrying the shine of his new armor. This will be a nice collectible for any fan of the series and the larger details on this figure are just right for any Mandalorian fan.
This is a Funko Pop design that has not even got a normal-sized figure yet. I hope we can see a normal version of this mold in the future though. The new Star Wars The Mandalorian with The Child 10" Funko Pop will be priced at $34.99. He is expected to release in October 2020 and pre-orders are already live and can be found located here. I doubt this will be the last Mandalorian Funko Pop we will see and I'm sure we will also be seeing plenty more of The Child too. What other characters do you think deserve to be added to this figure line in the future?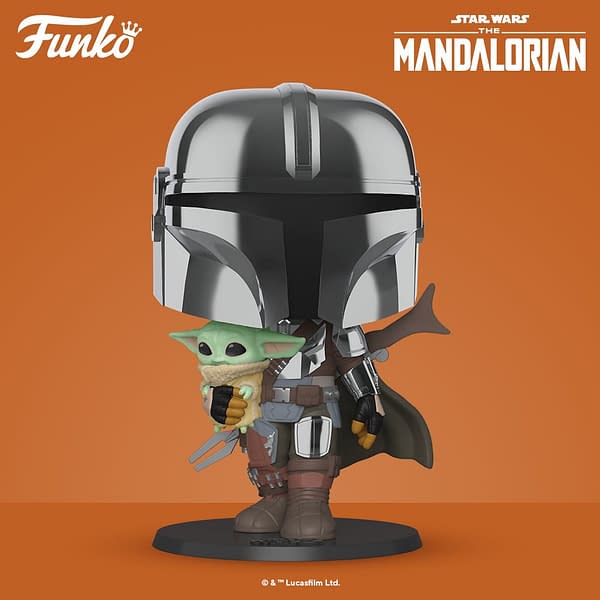 "Coming Soon: Pop! Star Wars – 10" Chrome Mandalorian with the Child."