Posted in: Collectibles, Sideshow Collectibles | Tagged: Antonio Banderas, blitzway, mask of Zorro, sideshow, sixth scale, zorro
---
"The Mask of Zorro" Returns Once Again with New Sideshow Figure
Zorro doesn't need superpowers to save the day from injustice and tyranny, he has his whip, his sword, and his accent. This figure is based on the 1998 movie The Mask of Zorro featuring Antonio Banderas. This sixth scale figure is from Blitzway and Sideshow and features very realistic features of Antonio, it's oddly quite uncanny. Zorro comes with two heads, one masked and one unmasked, and each one shows off Zorro's iconic facial features. The figure has a massive assortment of accessories too. From a set of long swords, a set of daggers, a whip, six interchangeable hands, a wanted poster, a newly designed base and much more. To top off all the perfection of this figure is the 30 points of articulation to pose him in as many heroic and classic positions.
Zorro fans can finally enjoy a highly detailed figure. I know this figure would look great in any collectors house just for how amazing the detail is and the amount of work put into a figure like this.
The price of Zorro is $279 and is set for release between January 2020 – March 2020. Preorders are up and live here.
Check out the Masked Crusader below!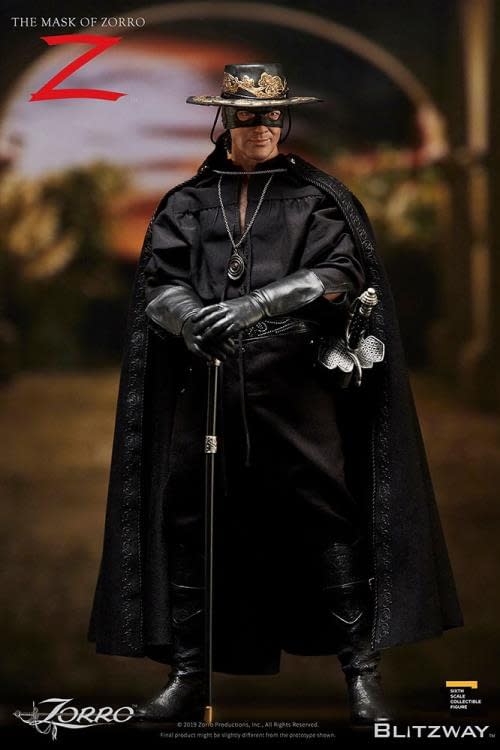 "Senorita, you've done nothing wrong. The only sin would be to deny what your heart truly feels."
A Hero of Mexico, Zorro, steps in to put a stop to the long tyranny of injustice! Wielding his sword and whip, the masked crusader fights in honor of the people to punish wrongdoers and restore justice to the people. Sideshow and Blitzway proudly present the Zorro Sixth Scale Collectible Figure (Antonio Banderas), the hero of the Mask of Zorro that captures the hearts of his fans!
There are two versions of the head sculpt, masked and unmasked, while each figure shows the tough yet humorous characteristic traits of the character. The highly detailed costume, various realistic and sophisticated props, and particular hands create a more dynamic visual of Zorro's character. Zorro's humorous and exhilarating action sequences enrapture our minds! Take a look for yourself at the mask of zorro who fights gloriously for the peace of San Tasco.
You know Zorro. He could be anywhere.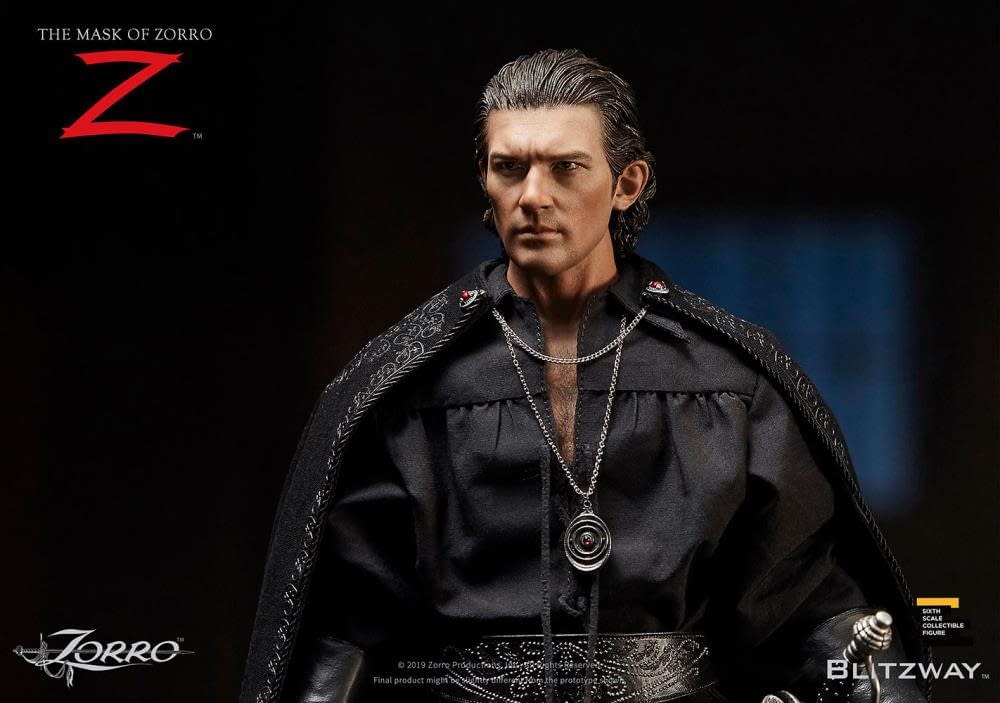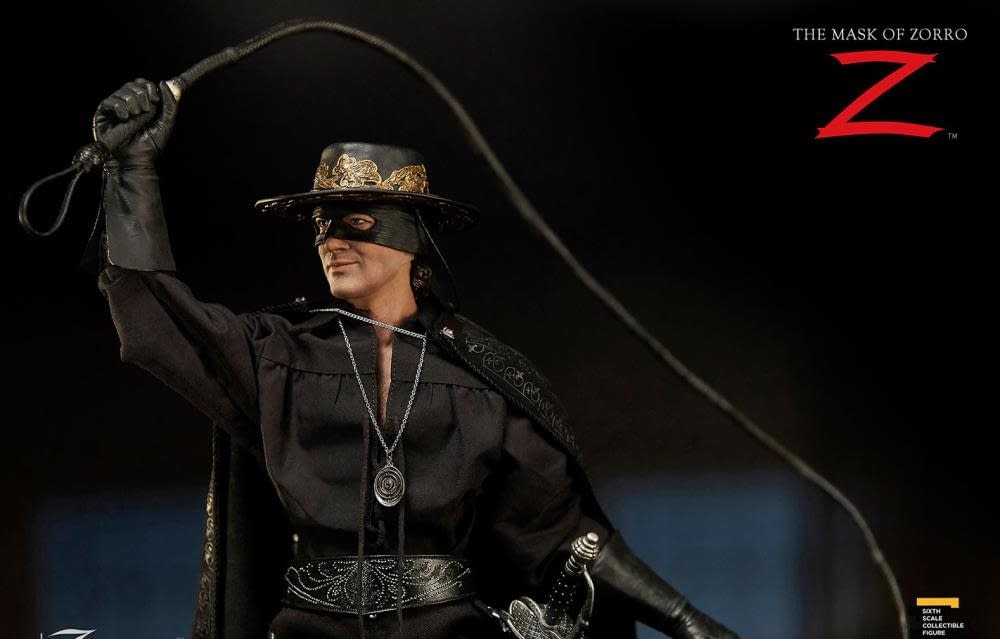 WHAT'S IN THE BOX?
The Zorro Sixth Scale Collectible Figure specially features:
Highly detailed likeness of Antonio Banderas as Alejandro Murrieta/Zorro
Two (2) Highly detailed likeness of Zorro heads – Masked head / Unmasked head
Newly designed and developed male body with over 30 points of articulations
Newly designed and developed figure stand
Six (6) interchangeable hands including:
– One (1) right grip hand for the sword
– One (1) right grip hand for a hat
– One (1) pair of grip hands for stick and whip
– One (1) left relaxed hand
– One (1) left open hand
Costume:
One (1) black shirt
One (1) pair of black pants
One (1) black patterned cape
One (1) black hat
One (1) pair of black patterned boots
Accessories:
One (1) necklace
One (1) moveable whip
One (1) set of long swords
One (1) set of daggers
One (1) belt
One (1) cane
One (1) map
One (1) wanted poster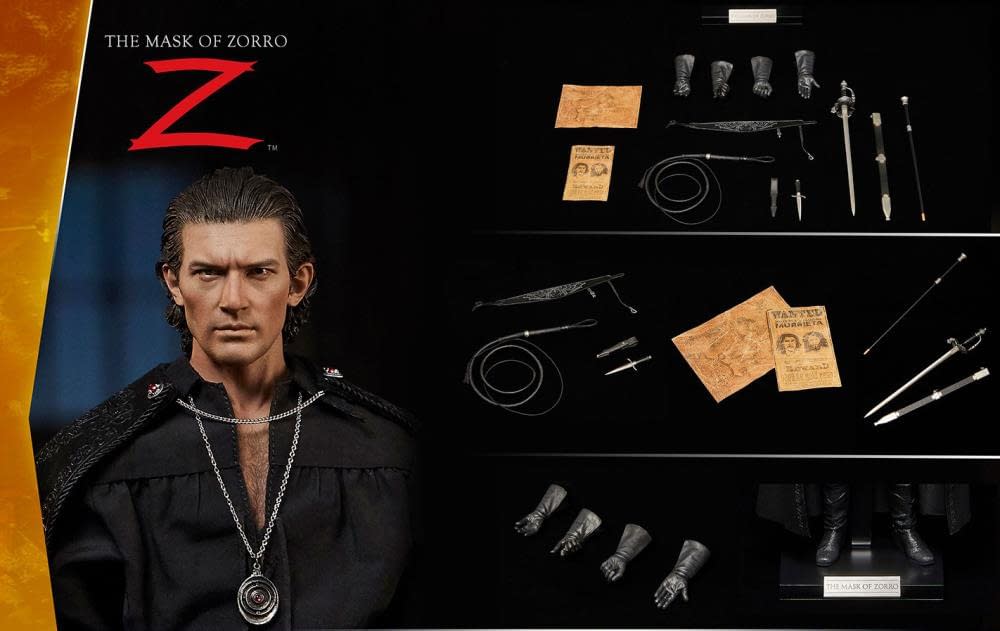 ---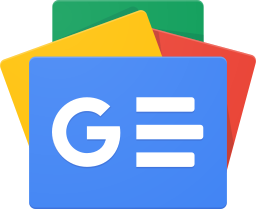 Stay up-to-date and support the site by following Bleeding Cool on Google News today!